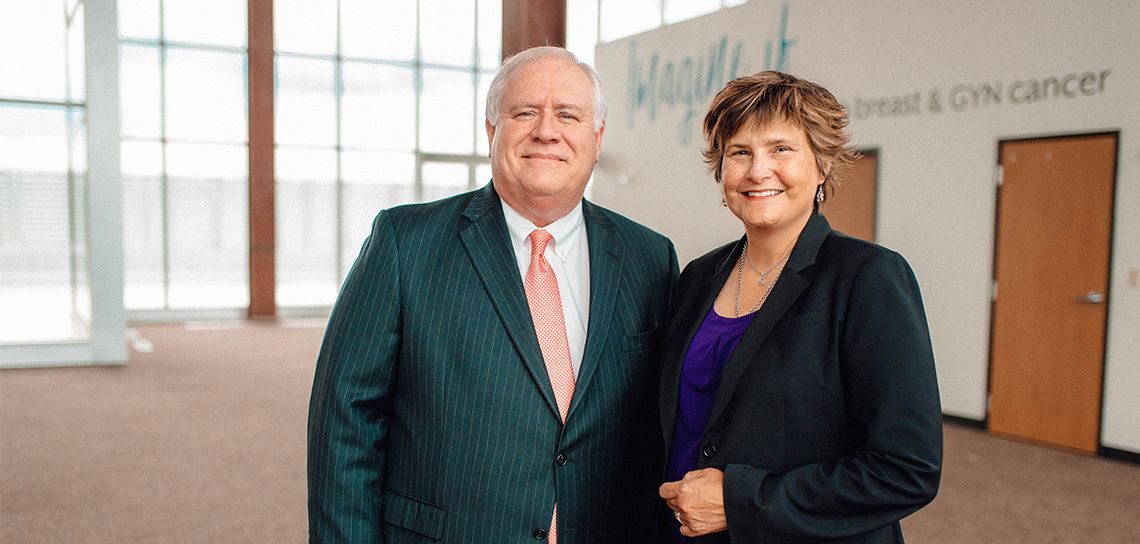 Woman's Hospital and Mary Bird Perkins create a hub to help women through cancer treatment and survivorship
---
On a Monday morning in mid-May, Tommie O'Donoghue jumped out of bed with surprise and alarm.
"How could I have missed it," she thought.
She had just conducted one of her regular self breast examinations and discovered a large, solid lump under her left breast.
O'Donoghue, 71, had defeated breast cancer in her right breast 27 years earlier and knew immediately this was not a good sign.
Her oncologist at Mary Bird Perkins-Our Lady of the Lake Cancer Center fit her in that morning and sent her straight to Woman's Hospital for a mammogram and ultrasound, and to meet with a possible surgeon. A week later, O'Donoghue watched as her doctor conducted a biopsy on her tumor. She had also watched her ultrasound. "I wanted to see what I was dealing with," she says.
The tumor had all the classing signs: solid, irregular, large.
"They said how sorry they were," O'Donoghue recalls. She was diagnosed with invasive ductal carcinoma, triple-negative breast cancer. "I had not done a lot of research on it, but I knew it was very bad."
She was right. According to breastcancer.org, triple-negative breast cancer is more aggressive than other types and is not a good candidate for hormonal therapy or treatments like Herceptin.
"The only thing you can rely on is chemotherapy bombarding it right away," O'Donoghue explains.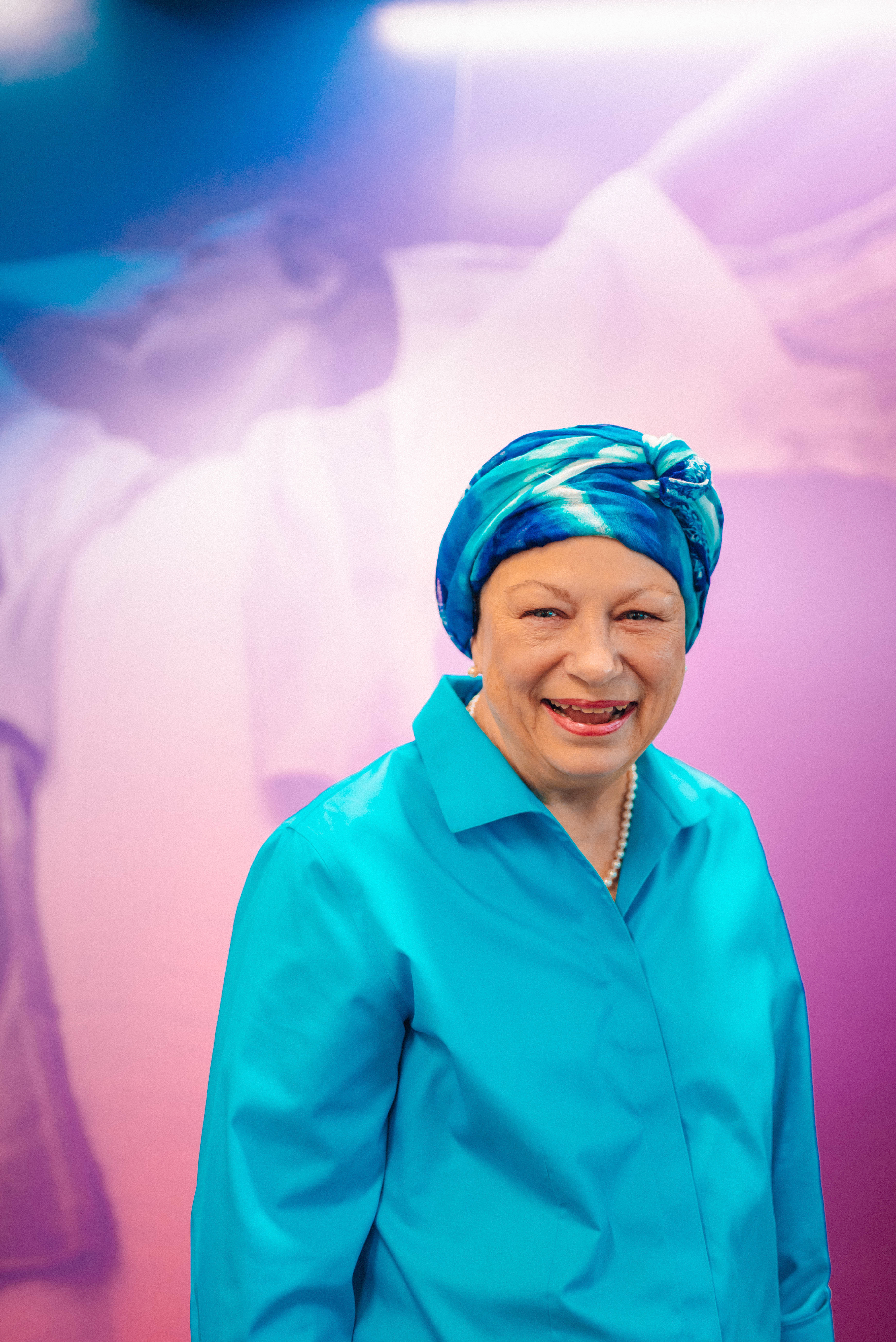 One month to the day after discovering her tumor, she and her husband pulled into the parking lot of the recently opened Breast & GYN Cancer Pavilion at Woman's Hospital for O'Donoghue's first day of chemotherapy.  The Pavilion was designed to house the expertise of both Woman's and Mary Bird Perkins-Our Lady of the Lake Cancer Center in a single facility dedicated to breast and gynecological cancer care.
"When I got out of the car that very day to go in, I was still saying, 'I'm not sure I'm going to go through this,'" O'Donoghue recalls.  "But I had such a wonderful experience from the second I got off that elevator, and I just said, 'I guess God is telling me this is what I was supposed to do.'"
Although her first four rounds of chemo were three weeks apart, she has found herself visiting the Pavilion at least once a week for wellness programs like mind-body medicine meditation and healing arts therapy programs. "They spend so much time making sure you get what you need," O'Donoghue says, explaining that doctors and staff streamline each visit so that she sees all the specialists she needs, from her nutritionist to her social worker to her breast cancer navigator.
"No one wants to go through chemo, but I have to tell you, I don't dread going for my chemo," she says. "There is no dread when you walk in that door, and that speaks volumes for the facility. You don't feel alone. You feel like you are part of a sisterhood."
When Mary Bird Perkins-Our Lady of the Lake Cancer Center and Woman's Hospital teamed up in 2011 to create the Pavilion, the vision was to combine the strength of each institution to provide advanced specialized care in women-specific areas.
"Sisterhood was a natural word that came to us when we were planning what this would look like because of that connection women feel with other women," says Linda Lee, vice president of Mary Bird Perkins-Our Lady of the Lake Cancer Center.
Lee says the Pavilion was thoughtfully designed to create a feeling of intimacy. "There is something that is organic about individuals diagnosed with cancer that when they are around one another, there is a kinship organic to the process of being human… We've created a space that is very conducive to that type of interaction," she explains.
Lee has worked at Mary Bird Perkins for eight years and through her career has served in various administrator and vice presidential roles, often overseeing cancer services. Losing her own mother to cancer was a turning point in terms of her own level of passion and commitment to working in the cancer realm.
"My mom sits on my shoulder every day and informs my work," she says. "And I'm not the only one, which is why the culture we have is rooted in putting the patient at the center of everything we do."
Kurt Scott, vice president of ancillary services at Woman's Hospital, says the unique partnership aims to remove barriers to cancer care in order to create a streamlined, convenient and stress-free experience. 
For the last 15 years, Woman's and Mary Bird Perkins have teamed up to provide mobile cancer screenings, and referrals are commonplace between Mary Bird's Essen Campus and Woman's Hospital.
"This is a natural combination, but one that is so unique in that it was decided that the best thing for the community and for our patients would be to come together in a partnership where everyone brings their expertise to one location to provide services to a specific group of patients," he says.
The Pavilion is a trailblazer in the world of health care. "To our knowledge, we are the only institution like this where it is a hospital-based partnership dedicated to breast and gynecological cancer care," Lee explains. "It was like putting together the pieces of the puzzle to give a complete picture."
Lee's hope is for every woman who visits the Pavilion is to experience a concierge feel of being guided through the process of treatment, wellness and survivor care. For O'Donoghue, that hope is already reality.
"Every experience I've had there has been nothing but pure love," O'Donoghue says, adding that she considers the Pavilion "one of the biggest blessings" in her life. On more than one occasion, a nurse, doctor or administrator has come out from behind his or her desk and burst through the swinging doors just to greet her.
"They go the extra mile to make themselves available, to make sure you are okay, and to make sure you are getting what you need," O'Donoghue says. "I have yet to walk through that door and not receive a hug."