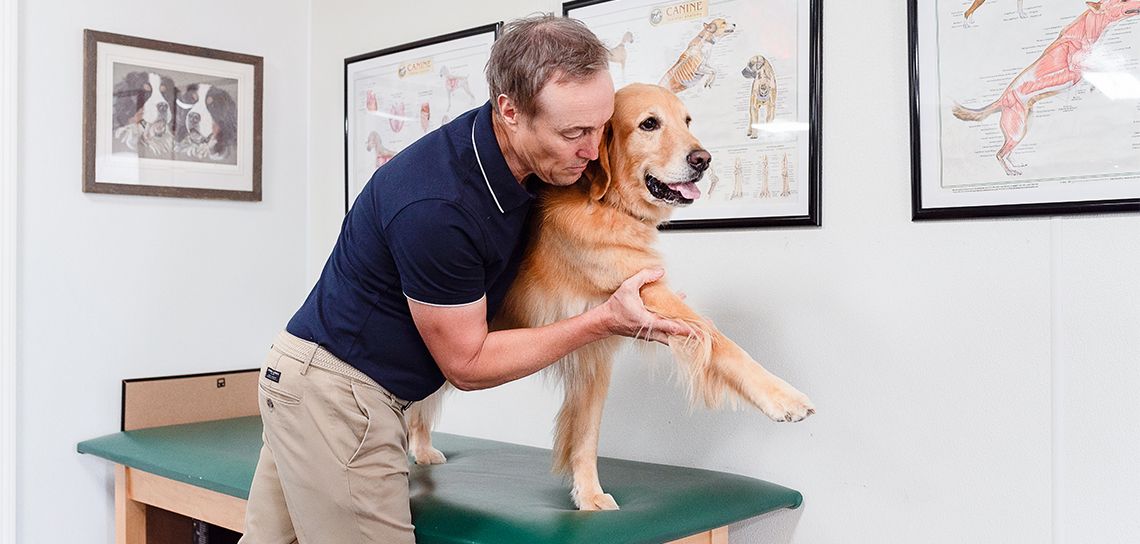 The new Well Paws K-9 Rehabilitation helps get dogs back on their paws again
---
Andrew Groome, Certified Canine Rehabilitation Therapist and owner of Well Paws K-9 Rehabilitation, has been a Baton Rouge physical therapist for the last 24 years. This native of England retains all the charm and wit one might expect while engaging listeners with his British accent. Be careful; his high energy is contagious. With a smile that arrives to greet you well ahead of the rest of his tall frame, his is a demeanor dogs cannot refuse.
"Dogs are my passion and our best friends," says Groome, which explains why a conversation with him must include a playdate with Millie, his beautifully coated golden retriever and course agility master for Louisiana Capital City Obedience Club.
This physical therapist's path to Well Paws K-9 Rehabilitation, which opened this year, was not a short one. But his journey from people to pets brings his wisdom and experience with physical movement together with his love of canine friends. The story of Well Paws begins with Cassie, his golden retriever who suffered from a progressive neurological disease. Groome, unwilling to accept that such a disease would limit her quality of life, was referred to a canine rehabilitation facility to begin treatment that would slow the progression of Cassie's disease. Because of her treatment, Groome was able to improve her strength and mobility. After that experience, Groome was sold.
"I spent two years working to earn my certification as a canine rehabilitation therapist at the Canine Rehabilitation Institute in Colorado," he says. "I'm currently transitioning from my work as a physical therapist to embark on this new career path. I'm tremendously excited about this change for me and for my new patients."
A quick look around his facility reveals his "Paws of Fame"—framed pictures of all the dogs he has rehabilitated. Groome wants people to think of him as a "physical therapist for dogs. I want my clients, the dogs' owners, to know that there is an option other than medication or just accepting a droopy hip or limp for each patient."
Candidates for canine therapy might include dogs recovering from an injury or a surgery or those experiencing problems related to aging or a musculoskeletal or neurological condition. Groome's connection with clients begins with an online pre-consult with intake form, an initial consult and a prescription of recommended services tailored to each patient's needs. "I want to work with clients and really get a feel for what they want out of receiving my services," he says. Services offered include laser therapy, massage and therapeutic exercises, as well as techniques like electrical stimulation and therapeutic ultrasound. Plans are also underway for hydrotherapy, which will include an underwater treadmill to aid patient recovery.
When asked what he wants to convey about himself, Groome says "Forget me" while pointing back to his "Paws of Fame" wall. "It's all about them and receiving the best care," he says. "I want Baton Rouge to know that we are in a fun, progressive partnership with the veterinarian, and we work alongside the owner to provide the best care so dogs can live their best lives. Happy, healthy pets make for happy, healthy owners. It's all about a relationship, really. We are a team and, together, we make pets better." wellpawsk9rehab.com