We tried HOTWORX, Baton Rouge's hottest new exercise craze
In 1-2-3, out 1-2-3, in 1-2-3, out 1-2-3. With three minutes before my workout is set to start, I put all my energy into my breathing through the 125-degree infrared heat, alone in a room the size of my closet. I wonder to myself if the split-second decision made at the front desk to elect Pilates over yoga was one I would soon regret. I've done hot yoga before, had sweat drip backward from my spine into my hair during downward dog. But that room was only heated to 95 degrees.
Proponents of hot yoga claim that the anabolic effects of rising body temperature help to quicken metabolism and detoxify your body. HOTWORX, patent-pending and brand new to Baton Rouge, claims to enhance these effects with the use of infrared technology. The heated exercise program promises the benefits of an hour-long hot yoga session in only 30 minutes, with additional advantages including increased calorie burn that continues even after you've left the studio, activation of regenerative processes in the body, healing capabilities and improved circulation.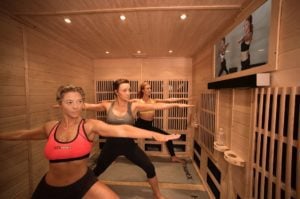 At exactly 4:30 p.m., three smiling girls appear on a TV screen on the wall in front of me standing on gray HOTWORX-issued mats identical to mine. They welcome me to the workout and jump right into it, moving from hold to pose to stretch with only short, 30-second recovery breaks in between, smiles never faltering even as the sweat visibly sparkles on their faces. The head instructor's soothing voice explains each rep and encourages me through it. She keeps repeating the phrase: "Just remember, you are changing your body. Your body is changing."
After heat and infrared, the third pillar of HOTWORX's 3D training is its exercise programs. Tailoring the sessions to most complement the sauna environments, the studio offers two forms of training: isometric exercise and high-intensity interval training (HIIT). Isometric exercise refers to postures meant to work specific muscles statically and includes routines at HOTWORX including ISO, yoga, Pilates, warrior (for athletes), core, buns, roll (a self-massage session using a foam roller) and meditation. These basic sessions promise anywhere from 200 to 600 calories burned in only 30 minutes. The HIIT sessions include 15-minute rowing and cycling classes, which promise an even more impressive calorie burn.
I had walked into the studio fully anticipating to take a yoga class, and was overwhelmed that there were so many choices. Spending only 15 minutes on a bike at the gym was a tempting option, but ultimately I decided I should start with something a little slower. On impulse I chose the next Pilates class, convincing myself it was a healthy medium.
Toward the middle of the workout, sweat is pouring out of my body and dripping onto the mat as I strain through a "superman" pose, my muscles twitching and threatening to violently vibrate if I don't rest them soon. "Hold it just for a little while longer," urges the gentle voice on the television above my head." You're almost halfway through. Feel your body changing. Feel it." I close my eyes and breathe in deep, pushing through, trying to ignore the tiny voice in my head saying, "You're alone in this room. No one will know if you take a break."
I've always been the kind of person who has the most successful workout when pushed on by a coach. Not quite able to afford a personal trainer, classes have been my go-to for the past few years. This Pilates class at HOTWORX was unique in allowing me to experience the encouragement of an instructor while working out in a semblance of privacy within the environment (and commitment) of a gym. Using virtual fitness trainers also allows HOTWORX to keep their rates lower, at $59 per month.
Thirty minutes later, I open the sliding door back into the real world, washed by a wave of 70-degree air. I am soaking wet and my muscles feel heavy and a bit like noodles. According to the smiling, sweaty trainer on the television, I should continue to burn calories for an hour or more after I leave. I think about this 45 minutes later once I am freshly showered, sitting on my bed, and enjoying the creeping feeling of you've-done-something-good-today soreness entering the muscles all over my body.
HOTWORX's two Baton Rouge locations, at 4410 Highland Rd. and 7673 Perkins Rd., offer the first workout for free, as well as pre-sale membership deals. See hotworx.net for details.