Veg out with plant-based possibilities at Capital City restaurants
---
Shortly after their new café, The Dish, opened in White Star Market in September, business partners chef Domini Bradford and sous chef Jessica Kisling confirmed something they'd suspected: Baton Rouge was ready for a modern vegan eatery. Bradford, a 30-year vegan chef, and Kisling, a civil engineer turned yoga instructor, weren't interested in serving synthetic meat substitutes but rather in transforming fresh vegetables, legumes, grains and other plant-based ingredients into Instagram-worthy dishes with big flavors.
The Root Veg Burger, for example, features a patty fashioned from hemp and roasted beets served between a warm vegan pretzel bun with vegan smoked Gouda and homemade sauerkraut and Russian dressing. In place of pork, the "BBQ" sandwich plate uses jackfruit, a nutrient-dense tropical fruit that vegan chefs deploy because it flavors nicely and shreds like meat. The Dish also has a bakery counter stocked with homemade desserts, which are not only vegan, but gluten free. During Carnival season, king cake slices sold out as quickly as they were made, says Kisling. "The second I'd put more out," she says, "someone would buy them."
Plant-based eating is a growing trend nationwide, and it's slowly easing its way into the dining experience in Baton Rouge. It's not that the trend is convincing greater numbers of people to embrace vegetarianism; rather, it's that more diners want the option of eating plant-based meals more frequently. Enthusiasm for the movement stems from a swirl of factors, including a gathering emphasis on local produce, and on vegetables in general. Farmers market shopping is commonplace. So is ordering or cooking the latest iteration of "it" veggies like kale, cauliflower and Brussels sprouts.
Then there's the issue of sustainability, especially among millennials and Gen Z consumers. For them, a plant-based lifestyle feels like a weapon against climate change. "Plant-based is a really big deal to young people," says Kisling. "We see it as part of taking care of the planet."
Meanwhile, more consumers also see plant-centric dining as a way to combat a variety of health concerns, from inflammation to auto-immune disorders and from high blood pressure to heart disease. "We've seen a trend over the years where people have not cut out meat entirely, but are eating more lean meats and more servings of vegetables," says Pennington Biomedical Research Center professor Catherine Champagne, who helped create PBRC's respected DASH Diet. Like the Mediterranean Diet and the Flexitarian Diet, the DASH Diet encourages diners to eat more fruits, vegetables and whole grains. These foods provide magnesium, potassium and fiber, Champagne says.
Elsewhere in White Star Market, there's evidence that patrons of the Mid City food hall expect plant-based options. Gov't Taco's roasted carrot and black bean taco headliner, the Magna Carrot, has been on the menu since it opened. Newcomer Empanola offers the vegetarian ratatouille empanada, stuffed with eggplant, tomatoes and other veggies. At ThaiHey Thaifood, dishes like the noodle soup khao soi, the veggie and tofu crispy roll, and coconut ice cream are part of growing lineup of vegan and vegetarian-friendly options, say founders Orawin "Nim" and Nathan Greene, who launched ThaiHey at the Lafayette Farmers and Artisans Market, where many customers pressed for plant-based options.
"People would ask all the time about whether or not something was vegan," says Nim. "Some of our customers in Lafayette are now driving over here to eat with us."
Around Baton Rouge, there's more to keep veggie lovers busy. Vegan Friendly Foods, which opened in 2018, offers a Southern cooking menu made vegan friendly. MJ's Café, the city's first vegetarian restaurant, recently expanded into a larger, permanent location on Government Street that now serves both breakfast and lunch. Owner Mary-Brennan Faucheux also plans to add brunch service this spring and dinner later this fall. Last month, she held a sold-out, five-course vegetarian Valentine's Day wine dinner that included dishes like butternut squash soup, quinoa citrus salad and spiced baked cauliflower with mushroom lentil galette and homemade chimichurri.
"When MJs first started in 2011, we were discouraged from even doing a vegetarian restaurant in Baton Rouge, but our founder [Maureen Joyce] was passionate," says Faucheux. "Fast-forward to now, and you can see real excitement out there for eating this way."
It's not to say that Baton Rouge has suddenly become a vegetarian's playground. Menus remain awash in seafood, beef and other proteins, but more restaurateurs are adding plant-friendly choices, says Louisiana Restaurant Association Greater Baton Rouge Chapter president Lisa Boudreaux-LeCoq, chef/owner of catering company The Gilded Artichoke.
"There is definitely more of an emphasis on adding menu items that appeal to people who want to eat plant-based," says Boudreaux-LeCoq. "Diners will ask about it for health reasons, or because it's what they prefer. And it's really big among younger people, so I think it's here to stay."
Mainstream restaurants have gotten into the act, too. Mestizo Louisiana Mexican Restaurant chef/owner Jim Urdiales has added multiple plant-based menu items, including five "power bowls" with different vegetable combinations as well as other entrees served with or without protein. At the recently opened BLDG 5, one of three shareable dinner boards, the Harvest Board, is exclusively vegetarian, a colorful arrangement of 10 grilled and roasted veggies, bread and spreads. It's just one of the plant-focused menu items here. "We find that a lot of diners will order the Harvest Board along with a board that has proteins," says co-owner Misti Broussard. "People like the idea of having lots of vegetables, even when they also want meat."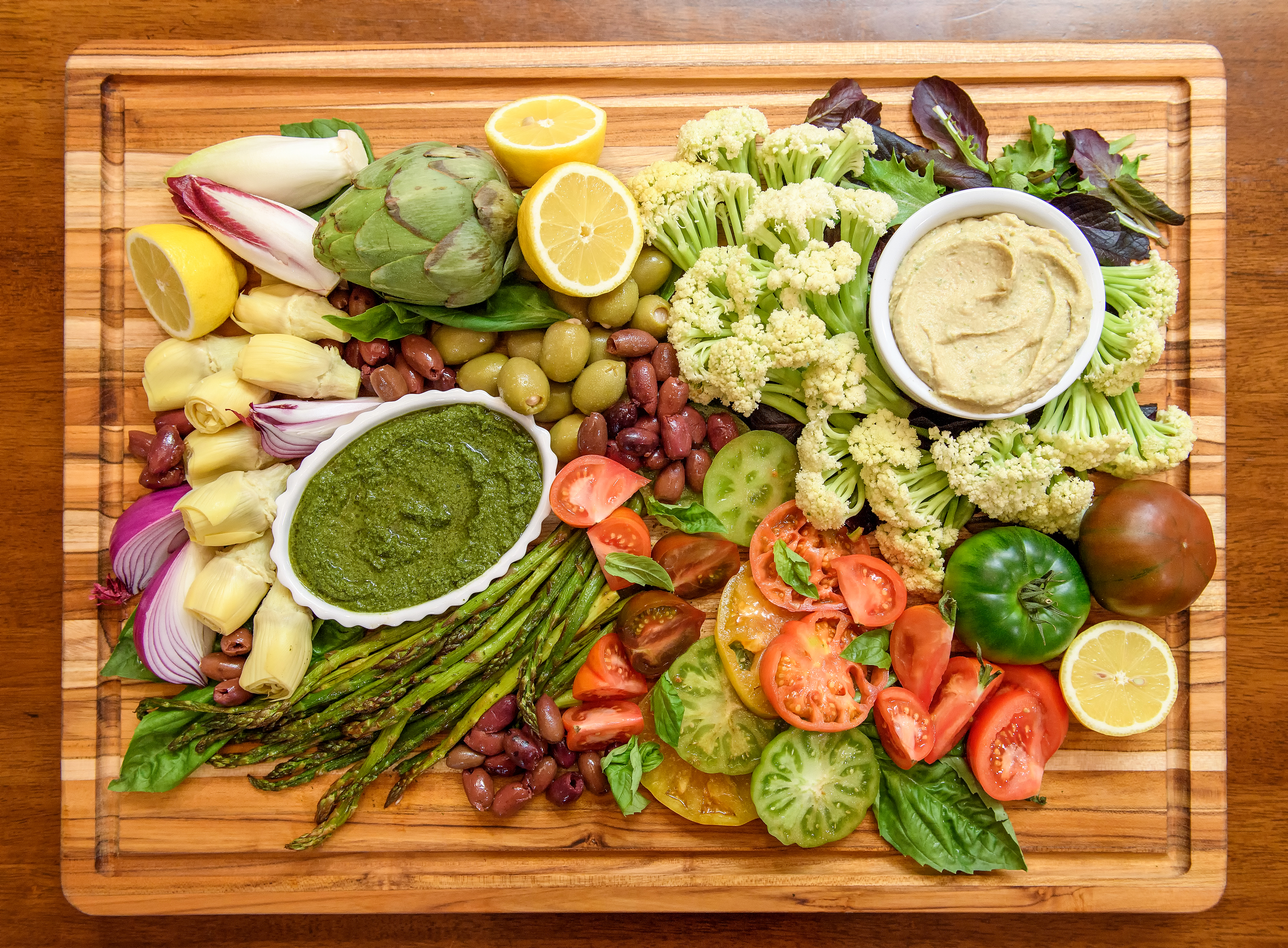 At Cocha, the inventive global eatery downtown, regular customers expect technique-driven vegan and vegetarian dishes made with local produce, says owner Saskia Spanhoff, who sources ingredients from local farmers. Spanhoff often buys from Mushroom Maggie's Farm and Fullness Organic Farm. The restaurant, which also serves meat and seafood, receives a regular produce delivery from Husser-based Covey Rise Farms. Louisiana's year-round growing season gives Spanhoff plenty to work with, she says.
"The quality and beauty of the fresh seasonal produce, even from when we opened three years ago, has grown significantly," Spanhoff says. "My customer base really demands this kind of eating at this point."
One Baton Rouge food company has also gotten into the act with a plant-based salad topper. Hanley's Foods, which has a line of natural salad dressings, is now producing artisan "Bacom Bits" made from fresh mushrooms, says founder Richard Hanley. The product is being made at the LSU AgCenter Food Incubator and is available online, in several Whole Foods Markets across the Gulf South, in local independent supermarkets and at the Red Stick Farmers Market. "We've had great response," says Hanley. "All-natural protein substitutes are big, and we've created something that has so much flavor and is good for you."
The plant-based trend has even altered the way Baton Rouge enjoys its favorite hot beverage. The 45 locations of Capital City-based coffee house CC's have seen a significant increase in demand for plant-based dairy products, says CC's president and CEO Celton Hayden Jr. "Soy, almond and coconut milk—it's telling. More and more of our guests are asking for them," says Hayden. "The trend is real. We serve a lot of Mochasippis with plant-based dairy."
---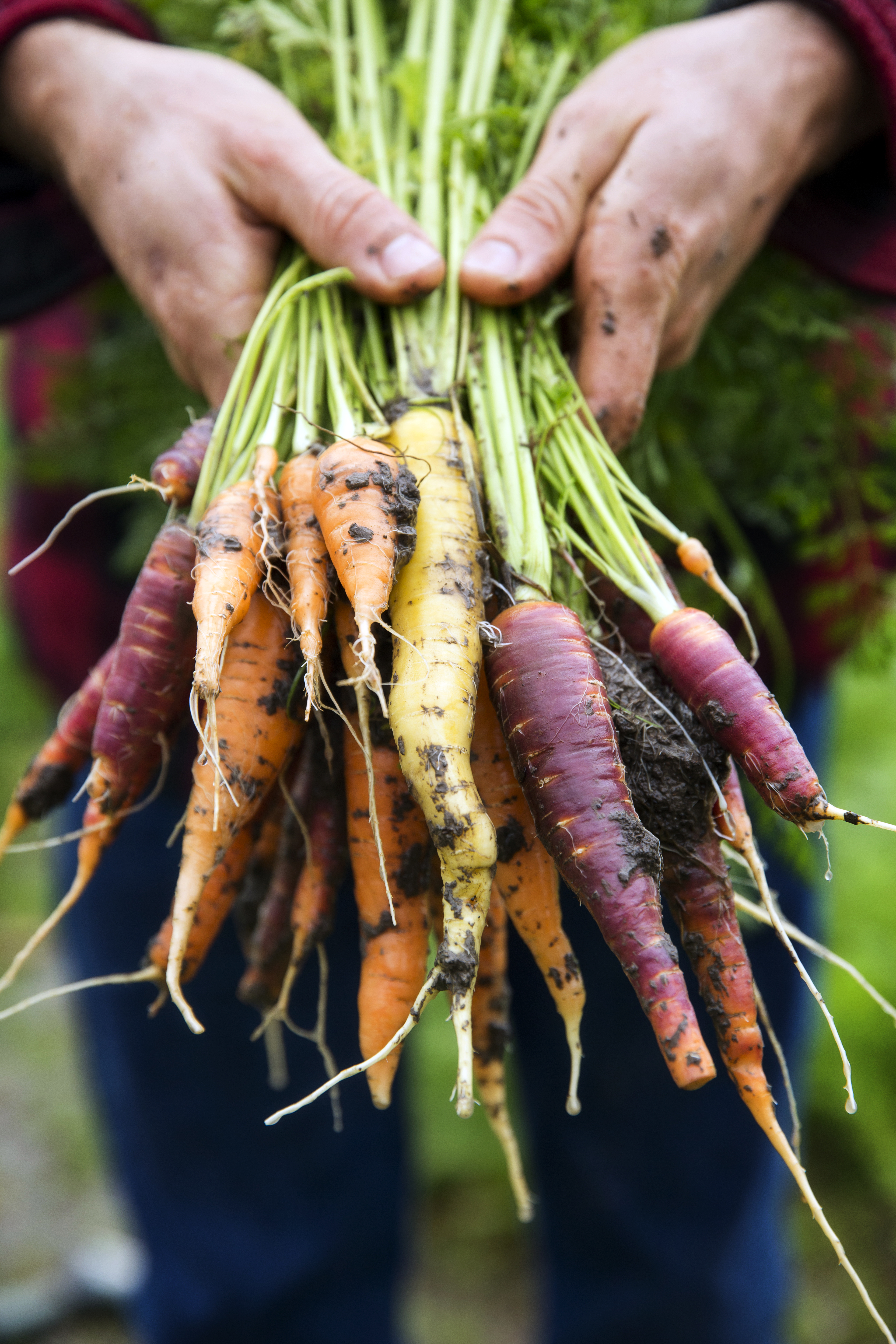 VEGAN VS. VEGETARIAN
"We're still explaining what those terms mean," says Mary-Brennan Faucheux, owner of MJ's Café, which caters to both kinds of diners. "There's a lot about plant-based eating that people don't quite understand, but we're happy to break it down for them."
The plant-based trend captures several different categories of eating. Here's what they mean, according to Harvard Women's Health Watch:
Vegan: Solely plant-based diet that passes on animal proteins of all kinds, including eggs and dairy
Vegetarian (or lacto-ovo vegetarian): Diet that skips meat, fish and poultry, but incorporates eggs and dairy
Pescatarian: A vegetarian diet that allows fish
Flexitarian (or semi-vegetarian): A diet that still includes animal products, but selectively