Urban Green: Biggz Kidz brings kids back to nature
The woods are lovely, dark and deep, but the chance to appreciate them outside a bedroom window or an office balcony has become a rare occurrence in the urban centers of Baton Rouge. Concerned that young children in the city might be missing out on an opportunity to appreciate their natural environment, Zefferino vonKurnatowski, the owner of Biggz Professional Tree Care, decided to create a program to bring them closer to the world beyond the sidewalk.
Biggz Kidz, a monthly series of classes for 4- to 6-year-olds offered in partnership with the YMCA of the Capital Area, aims to foster an environmental identity by teaching kids about the ways plants impact their health and nourish the earth, even in a busy city. By encouraging a connection with nature and offering hands-on scientific engagement with green space, vonKurnatowski hopes to provide avenues to cognitive, linguistic and social development that may be difficult to attain elsewhere.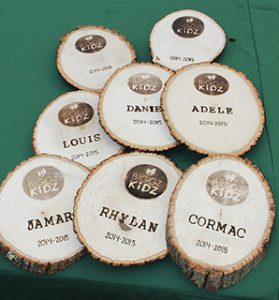 "Studies exist that suggest that children diagnosed with ADD or ADHD experience a decrease in symptoms when walked through an urban park or a grove," vonKurnatowski says. "Even in hospitals, patients with views of nature and trees seem to recover faster and require less pain medication."
And vonKurnatowski isn't alone in his optimism. Corinne Gradine, coordinator and manager for Biggz Kidz, often enlists LSU students to help create lesson plans, ensuring that the young students take advantage of even the barest landscapes. In fact, Gradine says, urban forests often require special attention and protection to thrive in their unique environments.
"The cool thing about urban forestry is that we don't ignore the one tree growing in the middle of a giant parking lot," Gradine says. "For a lot of kids, that is their nature."
Founded in 2013, Biggz Kidz is still a new venture, but vonKurnatowski and Gradine already have plans for the future. Together with their mascot, Tyrone the Tree, they aim to bring educational skits into classrooms to help educate and inspire for years to come.
For more information, visit biggztreecare.com.