Travel Journal: Talladega Superspeedway
---
Seen through the eyes of: Kori Fogg Juban
Who went: Me, my kids Riley and Charlie, my fiancé Nathan Robert, and my parents Kenny and Lynn Fogg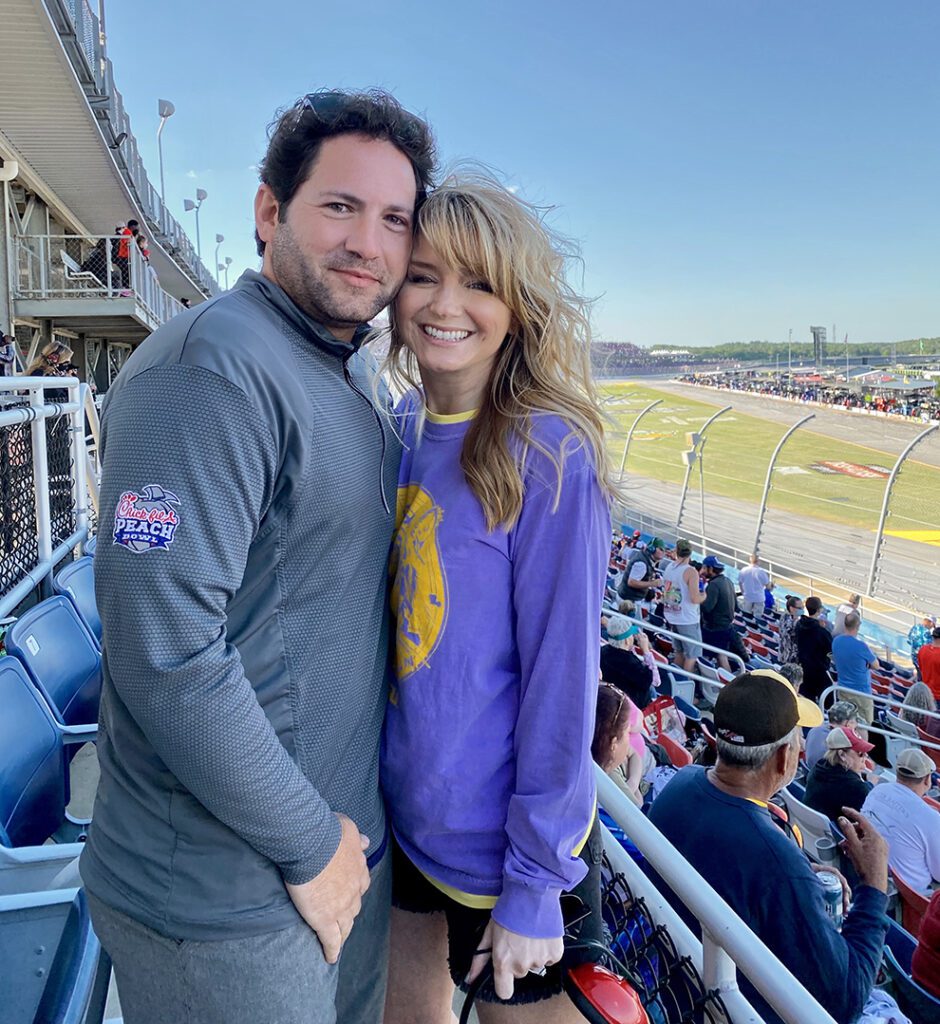 We went because: My dad is a big NASCAR fan, and he and my mom have traveled to races all over the country. Growing up, he would bring me to one of the races at this track every year. We would travel in the RV and camp near the track. I have fond memories of hanging out by the campfire with friends and watching the races with my dad. I wanted my kids to experience this with him as well. He recently retired, and they've been dying to go on a trip in the motor home, so this race was the perfect opportunity for just that. We surprised them after school the Friday before the race. They were thrilled!
Hotel recommendations: C & C Campground. It's about a quarter of a mile from the track, providing perfect views for morning coffee and a nice, short commute on race day.
Where to eat: The campground! One of the best parts about the experience is the community feel and hospitality of fellow race fans. For years, another family from Denham Springs parked their RV near my parents' RV and would cook for the duration of the weekend. Whatever was on his menu would be the thing to have. Unfortunately, they weren't there this year, so my crew's favorites were Nathan's grilled chicken and my parents' lasagna. But if you're not up for cooking, there is a food truck on site that serves a fantastic breakfast! The biscuits and bacon were amazing! There are also concessions at the track.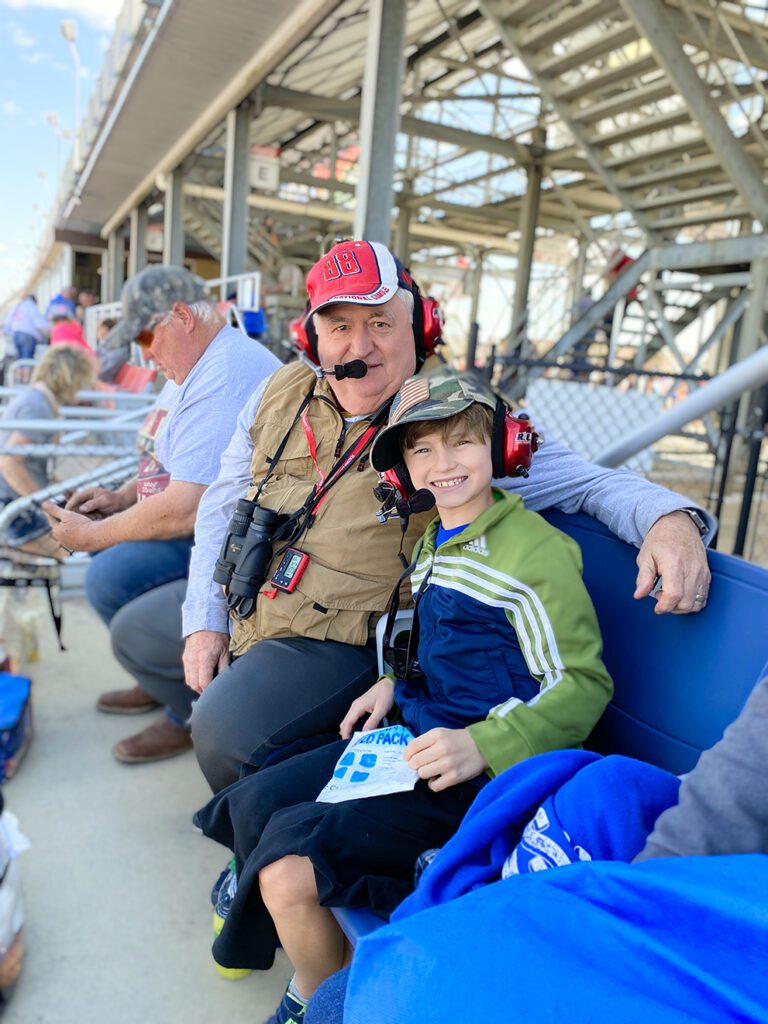 Item of clothing you shouldn't leave home without: Your favorite driver's shirt and noise-canceling headphones.
Favorite local attractions: Talladega Superspeedway itself! It's the longest oval NASCAR track at 2.66 miles, which makes for fastest speeds, exciting racing and lots of wrecks. Everybody is always waiting for "the big one." There are races on Saturday and Sunday.
Worth the splurge: The garage experience. This allows you access to the garage area where crews are working on the cars.
Not worth the splurge: Fanvision. This is portable video equipment which allows you to watch replays or tune into your favorite driver, but it's too bright to see the screen (there are only day races at this track) and unnecessary because there are several Jumbotrons around the track which show live racing and replays.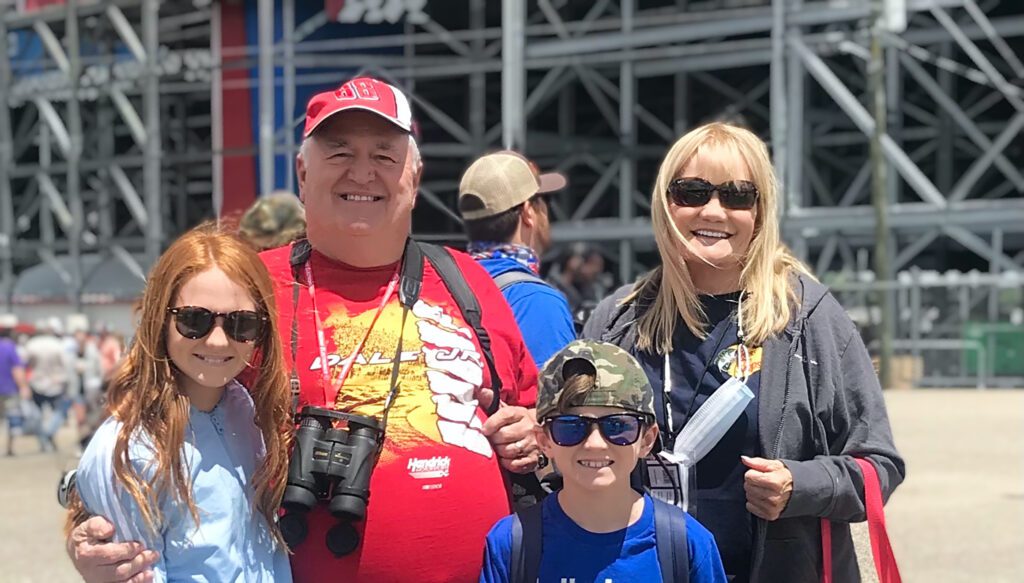 Something surprising we learned on the trip: Nathan and the kids were surprised not only at the cars' speed and closeness to each other, but also at the sounds and feeling of the vibration as the cars passed by. There are also beautiful mountain views from the track.
Insiders' tips: Rent a radio scanner at the track. These allow you to scan communication between any driver and their pit crew. It's really cool to hear them strategize and take cues from their spotters. Also, check out the drivers' trucks where they each sell their own merchandise.
We would suggest this trip to others because: It's so much fun! When you're watching a NASCAR race on TV, you really don't have an appreciation for how fast they're going and the skill it involves for these drivers do what they do. Seeing a race in person changes all of that. It's a loud, exciting, memorable experience, for sure!