Seen through the eyes of: Victoria Heinen
Who went: My parents, Monty and Tiffani Heinen, and I, along with my four younger sisters Anna, Isabella, Caroline and Maria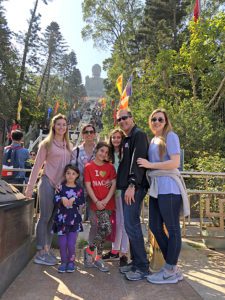 We went because: Hong Kong has the second-best fireworks show for New Year's Eve, and the Great Wall has always been a dream destination for my family.
Hotel recommendations: We stayed at the Renaissance Hotel in every city. The hotels were very nice and offered breakfast in the morning, which was very convenient. I would make sure to pack light clothes to sleep in, because no matter the temperature outside, during the winter season, all hotels put their heaters on and it can be slightly hot when sleeping.
Where to eat: We hired a tour guide who took us to local places to eat and helped us order traditional Chinese food.
Favorite dish on the menu: Tea
Item of clothing you shouldn't leave home without: In Beijing during the winter season, the temperature drops to about 10 degrees Celsius, so I wouldn't leave without a heavy coat. In Hong Kong and Macau, the temperatures were drastically higher. I was comfortable in a T-shirt with a light jacket. Shanghai's temperatures were in the middle. I would definitely wear layers; it was chilly outside, but all buildings had heaters inside.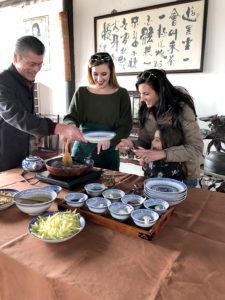 Favorite historic landmark: My personal favorite was the Great Wall of China. It is a must-see! I would suggest taking the lift up and riding the toboggan down. My sisters and parents truly enjoyed this. Make sure to wear hiking or sturdy shoes, as there are many steps and some are uneven.
Local attraction worth a drive-by: In Shanghai, we went to two different local parks, which were really interesting experiences. One day we visited a "matchmaker park." This is where the parents of unwed children place an umbrella with the child's resume and a description of the companion they would like for their child. At another park, we experienced a normal day for the elderly in China. They were scattered around the park in groups playing cards and racquetball, dancing, singing and practicing their tai chi.
A great experience off the beaten path: In Shanghai, our tour guide took us about an hour away to a water city called Tong Li.  We dressed as traditional Chinese empresses, took a cooking class, tea tasted, and ended the day with a boat ride around this traditional Chinese city.
Worth the splurge: In Hong Kong, we rented a private yacht to watch the fireworks. This was by far the best location; we were able to see them all so well! On land it is very difficult to find a spot to see everything, and you would have to camp there all day to make sure no one takes it.
Not worth the splurge: Sleeping in. Do everything while you are there!
Something surprising we learned on the trip: Many people have never seen Americans before, so it is not unusual for them to come up to you and ask to take pictures with you, especially if you are traveling with a large family like mine.
Insider's tip: I would have a local tour guide pick you up at the airport and plan most of your events. Not many people speak English, and it would have been very difficult without the guidance.
We would suggest this trip to others because: This trip was a once-in-a-lifetime experience! You truly get to immerse yourself in their culture. You really just can't learn these things from a textbook or movies.