Travel Journal: Canada and Alaska
Seen through the eyes of Candy Be
Who went: My husband Robert and I, our children Sara and James, and some other family and friends—19 people in total!
We went because: We had never been on an Alaskan cruise, and it was a must-do for us. All our families have traveled together across the globe, to Costa Rica, Hungary, Italy, Spain, Greece and Montenegro.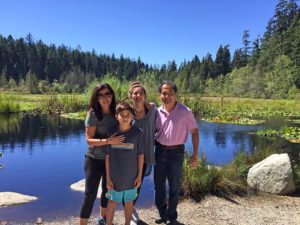 Hotel recommendations: In Vancouver, the Fairmont Pacific Rim; in Seward, Windsong Lodge and the Kenai Fjords Wilderness Lodge on Fox Island. Next time we'd love to try one of the VRBO rental homes close to Seward.
Where to eat: Tracy's King Crab Shack in Juneau, or fish and chips in Seward.
Favorite dish on the menu: King Crab Bucket!
Item of clothing you shouldn't leave home without: Raincoats
Favorite historic landmark: Hubbard Glacier
Local attraction worth a drive-by: Between Seward and Anchorage, along the Turnagain Arm waterway, you can see where inland surfers ride the bore tide.
A great experience off the beaten path: Taking a sea plane from Ketchikan to Prince Edward Island to bear watch and see salmon swimming against the current to spawn.
Worth the splurge: Whale watching in Juneau, rock fish and salmon fishing in Seward, a Kenai Fjord tour in Seward, and kayaking in Icy Strait Point.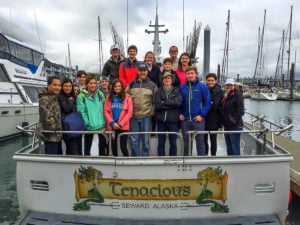 Not worth the splurge: My kids would disagree, but summer dog sledding in Seward.
Something surprising we learned on the trip: As salmon swim against the current, upriver, their bodies deteriorate and are no longer edible. When they reach the spawning grounds where they were born, they mate and die.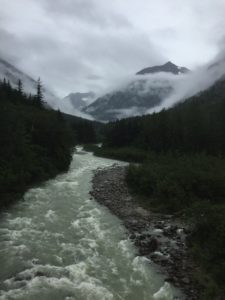 Insiders' tips: To see the salmon migration, go in late July or early August. Book directly through outfitters to get better-priced, private tours. You will end up in big buses and large crowds otherwise. Consider staying in Seward as a base (not going on a cruise), because most every activity, plus lots of hiking and biking, can be done out of Seward—and you won't get seasick.
We would suggest this trip to others because: Alaska is picturesque and adventurous, seemingly otherworldly. We plan to return and rent a home somewhere close to Seward in the summer.