Travel journal: Augusta, Georgia
Seen through the eyes of: Dixon Wallace McMakin
---
Who went: My dad, Wally McMakin, and I, along with Dr. Sumit and Niraja Patel and Dr. Bobby and Jenea Hastings
We went because: Seeing Augusta National Golf Club and experiencing the atmosphere of the Masters tournament made this a unique and truly bucket-list vacation. It is so rare to get a ticket or a pass to the tournament that when you get one, you must make the trip.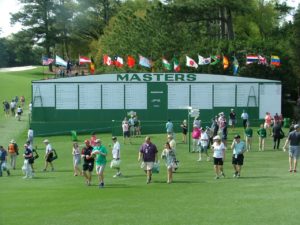 Hotel recommendations: Mad props to Pat Quigley with Green Jacket Sports here in Baton Rouge for providing us with our lodging and transportation for the days in Augusta. I would highly recommend having an expert like him get you a place and transportation so you don't have to worry about that during the trip.
Where to eat: There are 25 items on the menu at the concession stand at the Masters. Total cost of all items is $56.50. Believe me, I tried my best to eat each and every one of them. Best place to eat on the course was when we stopped at the concession stand to the left of the 18th fairway and took a picnic under the shady pine trees.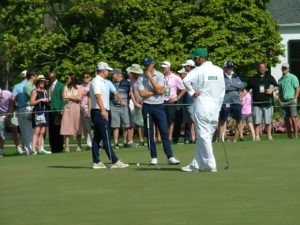 Favorite dish on the menu: Of course when you hear of the Masters, everyone says to eat a pimiento cheese sandwich, and while I tried one, it did not fit my taste buds. The chicken biscuit for breakfast and the egg salad sandwich for lunch were my favorites.
Item of clothing you shouldn't leave home without: Very important to check the weather for what the course will be like the day you are out there. For us, the weather was fantastic, and I am glad we brought sunscreen and comfortable shoes for walking. The course is 7,435 yards (4.2 miles) long and you will walk all of it and more.
Favorite historic landmark: While I would consider the entire course a "historic landmark," I made certain that our group got photos at the famous Founders Circle at the end of Magnolia Lane. They have photographers on site to get professional photos of you and friends.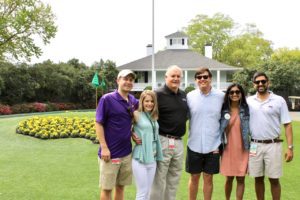 Local attraction worth a drive-by: Even though you can't drive down Magnolia Lane, you can drive by it on Washington Road and dream just for a little how magical it must be to drive down it to the clubhouse.
A great experience off the beaten path: We ate in North Augusta, which is actually in South Carolina. You don't realize how close Augusta is to South Carolina until you are up there. We ate at Manuel's Bread Café in the Hammond Ferry area. It was a nice little community that has the feel of a small beach town.
Worth the splurge: Each and everything you buy in the merchandise tent. As of now, you can only buy official Masters gear while at the tournament. Be prepared to spend a nice chunk of change on anything and everything you can imagine with the Masters logo. Besides shopping for friends, some of my items were a Tervis tumbler, Masters flags, a coffee mug and a green rain jacket.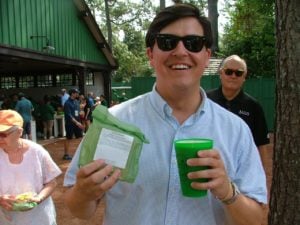 Something surprising we learned on the trip: They might call Disney World the "happiest place on Earth," but whoever coined that phrase never went to the Masters. Every single person working and helping at the course would greet you with "Welcome to the Masters; have a great day" or "Welcome to the Masters; what can I help you with today?" Disney has nothing on Augusta National.
Insider's tip: Like we did, going to a practice round is just incredible because you can bring a camera (on tournament days, no cameras are allowed) and take photos all day. I have never been to the actual tournament days of Thursday through Sunday, but the photos and memories from that day will be something to treasure for a lifetime.
We would suggest this trip to others because: Whether you are a golf fan or not, you most likely have heard of the Masters and/or watched it on TV. Being able to see the course live, with the beauty of it all and the different elevations, is really something you can't imagine just seeing it on TV.  For us, it was a father-and-son bonding trip with best friends. You won't forget it once you've seen it all.