Travel journal: Amsterdam & Prague
Seen through the eyes of Carol Meche
Who went: My husband Stephen and I, along with my mother-in-law Mickie, my sister-in-law Katie, and their cousin Charlotte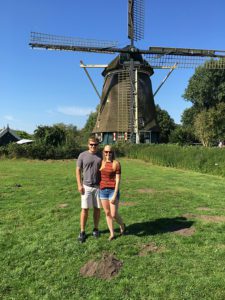 We went because: Charlotte planned a monthlong backpacking trip through Europe to celebrate her graduation from the University of Georgia. We all decided to tag along for different amounts of time.
Hotel recommendations: In Amsterdam, we stayed at the Hotel Hortus. It was just a short tram ride from the city center. In Prague, we rented an apartment from Old Town Square Apartments. It was close to the center of the city and really nice.
Where to eat: In Amsterdam, grab a beer at the Brouwerij't IJ. It's the brewery with a windmill on top! Try some Surinamese food while you are in the city, too. It's cheap and delicious. We went to Roopram Roti—the chicken roti was super tasty. As far as cafés go, I highly recommend both Lavinia and Melly's Cookie Bar. In Prague, get gelato at Puro. The salted caramel is to die for! Potrefena Husa was a great choice for traditional Czech food—try the beef tenderloin or svickova. Restaurant Mlejnice is another great option for Czech food.
Favorite dish on the menu: In Amsterdam, try stroopwafel, poffertjes, beer and cheese! In Prague, sample some local beer. They also have tons of places selling something called a trdelnik, which isn't even native to the country but it's delicious. It's sort of like a churro mixed with a pretzel. It is hollow so they will fill it with whatever you want, like Nutella and ice cream.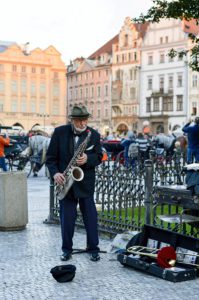 Favorite historic landmark: I loved seeing Anne Frank's house in Amsterdam, as well as the windmills. The entire city of Prague is basically a huge historic landmark. It is one of the most beautiful places. We really loved seeing the Castle and St. Vitus Cathedral. Also, the astronomical clock in Old Town is a must!
Local attraction worth a drive-by: In Amsterdam, we really enjoyed the Rijksmuseum. In addition to famous artwork, they have a library that I think is breathtaking. There is absolutely no talking allowed when you walk in, which makes the experience even more special. Definitely walk along the Charles Bridge in Prague. It's a beautiful way to see the city.
Worth the splurge: Countryside Tour with Mike's Bike Tours of Amsterdam. You ride from the city out to a country farm to see a local farmer make cheese and wooden shoes. It was one of the best things we did in Amsterdam. This actually isn't a splurge because it's free, but take the Sandeman's Free Walking Tour of Prague. It's just a couple hours and you will learn so much about the history of the city and its people.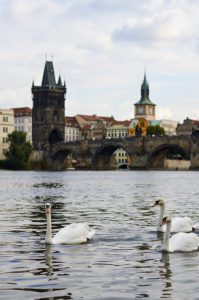 Something surprising we learned on the trip: Amsterdam was a lot safer than I imagined it would be. We also didn't know that the city is built on a swamp, which is what makes the houses lean. Prague has an amazing history! It is also incredible affordable. On our first night there, all five of us ate for maybe $10 per person. We had appetizers, beer, full entrées and dessert.
Insiders' tips: In Amsterdam, pay attention when crossing streets or walking along them. It can be easy to mistake a bike path for a walking path, and you will get hit if you don't move out of the way. They also have incredibly skinny and steep stairwells in all the buildings. Try to bring a small suitcase.
We would suggest this trip to others because: Both cities were beautiful and enchanting. The people were incredibly friendly and welcoming. Both places offer so much to be discovered, whether you appreciate the outdoors, art, history or food.