The Midas touch: Todd Graves brings Baton Rouge flavor to DC Mardi Gras
---
Todd Graves has been on the road a lot lately.
The Baton Rouge native and Raising Cane's founder opened 80 new locations of his chicken finger restaurant in the last year alone, bringing the total to 360, while traveling weekly to meet with his corporate team in Plano, Texas. He took his wife, Gwen, and two children to the Middle East to visit Raising Cane's international locations in Kuwait, Bahrain and Dubai and traveled to Greece for fun—part of a bucket list of international destinations that also included Tanzania, where he made lasting friendships with two Masai warriors, and to the River Jordan, where he was baptized with good friend and restaurateur Ruffin Rodrigue.
But what keeps him anchored is Baton Rouge.
"I feel comfortable, warm and inspired here. It's a really special place. I love the culture and the people," says Todd. "I could never be away from my friends and my family long enough to live anywhere else."
Born and raised in the Capital City, the incredibly energetic Todd is as pro-hometown as it gets. Despite generous offers from the state of Texas to move Raising Cane's to Plano in 2009, he resisted. A large corporate team now works from Plano—an indisputable restaurant industry hub—but the company headquarters (and the Graves family home) inflexibly remain in Baton Rouge. Todd has also made a full-throttled effort to give back to the community with more than $10 million thus far in local donations, including a recent $1 million gift to Southern University.
Several months ago, Todd got a call from his longtime friend Garret Graves, the Louisiana 6th District Congressman. Garret is serving as the chairman of Washington, D.C., Mardi Gras, the 70-year-old event in the nation's capital that places Louisiana's culture, food and pageantry on full display. Garret had the responsibility to select this year's royal court, and he asked Todd to serve as king.
"I've always thought the world of him," says Garret. "I love the fact that that kind of personal commitment and drive can yield the incredible success he has achieved. I'm a big fan of people who come in with disruptive models, and who don't do things by the book, and that's Todd."
The congressman also jokes that numerous voters have mistaken him for the Raising Cane's founder.
"After the election, one woman asked me to take a selfie with her," says Garret. "And then she told me how much she loved my chicken fingers."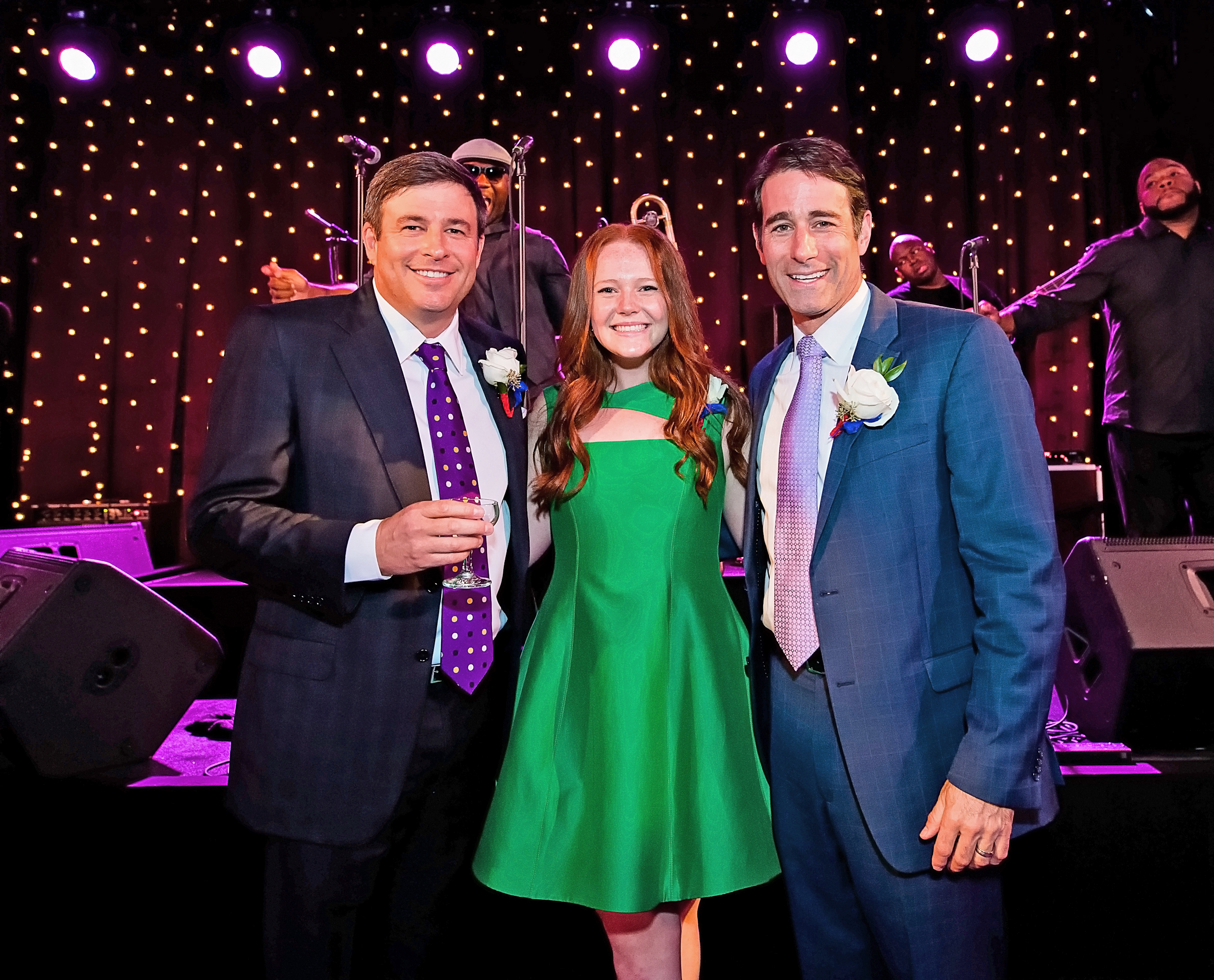 The story of Todd Graves' entrepreneurial persistence in the face of naysayers is well documented. Graves's first business plan for a quick-service chicken finger restaurant concept with a focus on quality and a restrained menu was rejected by a university professor and a long line of lenders. He earned cash after college the hard way—as a boilermaker in California and a salmon fisherman in Alaska—and opened the first location of Raising Cane's on Highland Road at the North Gates of LSU with that cash and an SBA loan.
Expansion came quickly and steadily, first in Baton Rouge and then in an erratic pattern of locations across the country. Graves wasn't interested in growth by proximity—he chose new sites based on relationships. He had a clear notion of the company's uptempo culture, and he needed his franchise partners and store managers to feel the same way. It's been a guiding principle for 20 years.
"I believe in doing one thing," Todd says, "and doing it better than anybody else."
To say Graves is passionate about Raising Cane's doesn't fully capture his nagging motivation to keep growing and improving the company—even after 21 years. He describes it as the thing he was put on Earth to do.
"At some point, I figured out that my purpose in life is to spread love through chicken fingers," he says.
It's not just about the climbing revenues, which have now tipped $1 billion; it's what he can do with that success that drives him. The more his company grows, the more people he's able to employ and the more money he can give back. Raising Cane's has 18,000 employees in 32 states in the U.S. and the Middle East, and to date the company has donated $25 million to the communities in which it operates.
Todd is passionate about his purpose. Several years ago, Raising Canes formalized its philanthropic activity, identifying five focus areas: schools and education, pet welfare, feeding the hungry, active lifestyles and support to entrepreneurs. Todd has developed a reputation among nonprofit leaders for being an engaged and hands-on donor, says Carl Stages, executive director of the BREC Foundation. Support from Raising Cane's helped build four BREC dog parks in Baton Rouge. Moreover, Todd and Gwen Graves led the effort to raise $90,000 used for improvements to BREC's College Town neighborhood park, a model for public-private partnerships for neighborhood parks.
"Todd is very passionate about the projects he takes on," says Carl. "He sees good ideas in other communities across the country, and he works to bring those to Baton Rouge."
Todd is also a longtime supporter of Big Buddy, the after-school program for disadvantaged youth. In addition to donating cash and food to the organization, Graves has served as a Big Buddy mentor to one of the program's participants and has danced in its Dancing with the Stars event.
"He is a total grass-roots supporter," says Big Buddy Executive Director Gaylynne Mack. "Anytime we call for anything, he's always there. And it's not just him. It's the culture throughout the organization."
This philanthropic culture at Raising Cane's is significant. In fact, each local market is able to drive its own donations to local causes. In addition, Todd is dedicated to creating a positive workplace environment where crew members are verbally acknowledged for doing well, where they have a good time on the job, and where they have access to fun activities outside of work. This work-hard, play-hard mantra has been Todd's mindset from the start. And he relishes the opportunity to host parties for co-workers, friends and family right here in Baton Rouge.
"The great thing about living in the city you grew up in is that you have so many memories," he says. "I can literally be on my way to work and pass Ivar's and say, 'That's where I was when I asked Gwen out for our first date, or that's where Ruffin and I stayed up late that night.'"
The ride home from the Raising Cane's offices in the downtown IBM Building is also strewn with touchpoints. Driving down River Road, Graves says, he can see through the window of the Louisiana Art & Science Museum the massive triceratops skull he bought from a noted fossil hunter and placed on loan. On Nicholson Drive, he passes Tiger Stadium, the site of countless moments celebrated with friends and family. Across the street, he can glance at another local restaurant success story, Walk-On's, whose founders Jack Warner and Brandon Landry he mentored.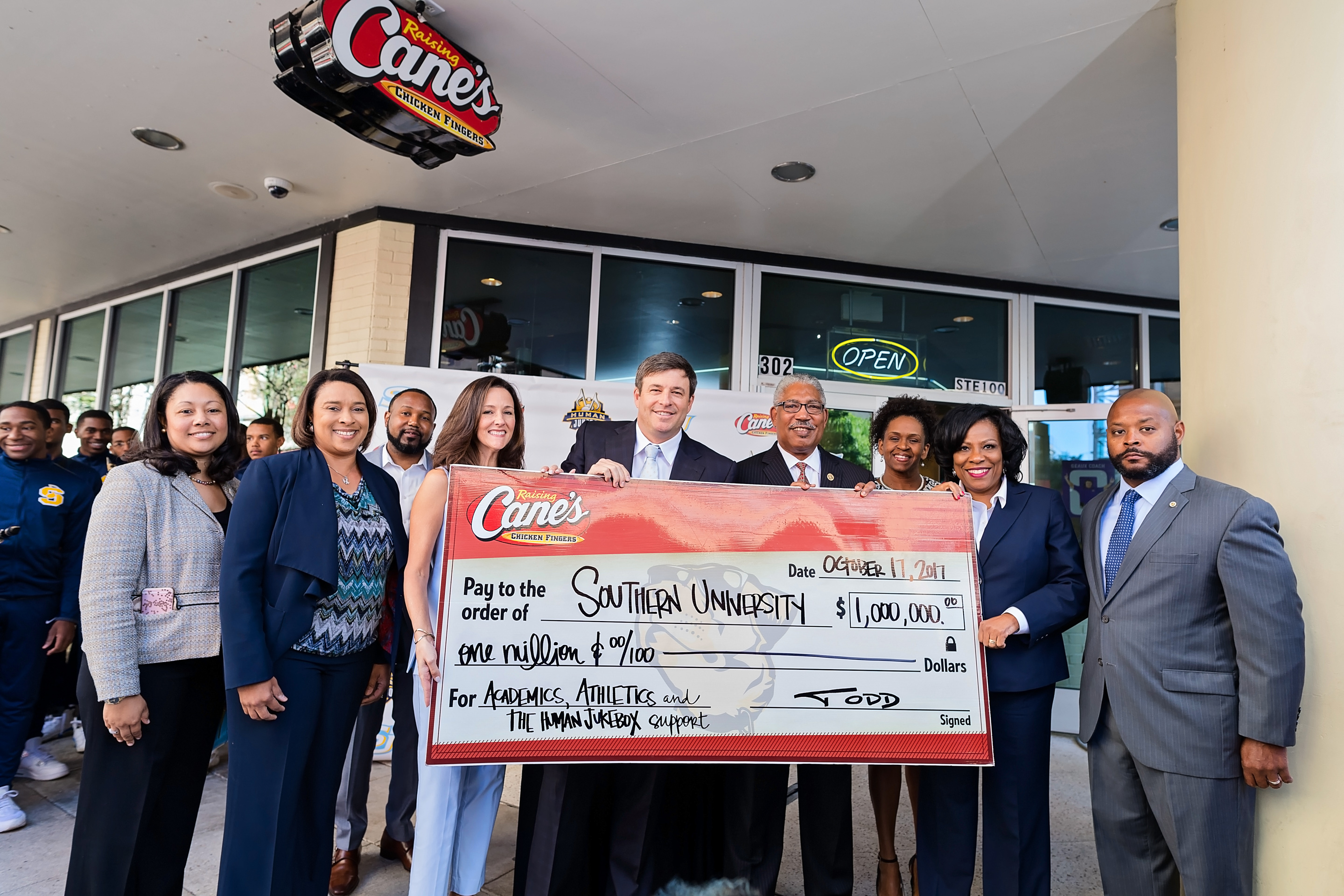 Success, he says, has brought financial security and the ability to make a difference in causes that move him. It's allowed him to dream big—and play big with enviable trips and niceties, like the triple-decker treehouse at his College Town home designed and constructed by Treehouse Masters builder Pete Nelson. But he's quick to say that he has no more fun these days than when he did before the business was a success.
"I had a duck camp with my friends…. this old trailer, and we had no heat and we'd open up the oven," Todd recalls. "We have a nicer camp now, but we don't have better times or as many stories as we did then."
But Todd is sure that there will be plenty of stories to tell once the last mask of Washington Mardi Gras is tucked back into the suitcase. Although the multi-day celebration is the state's premier gathering of movers and shakers, Todd's friends say he usually keeps his politics to himself. His attitude about the event is to bring the culture of Baton Rouge into full view and has asked his two favorite chefs, John Folse and Peter Sclafani, to cook.
"It's a great honor for Todd and well-deserved," says Rodrigue, a close friend of 25 years. "It'll be the hardest ticket in town to get."
---
Check out some of Todd Graves and his family's unforgettable parties at home in our story here.