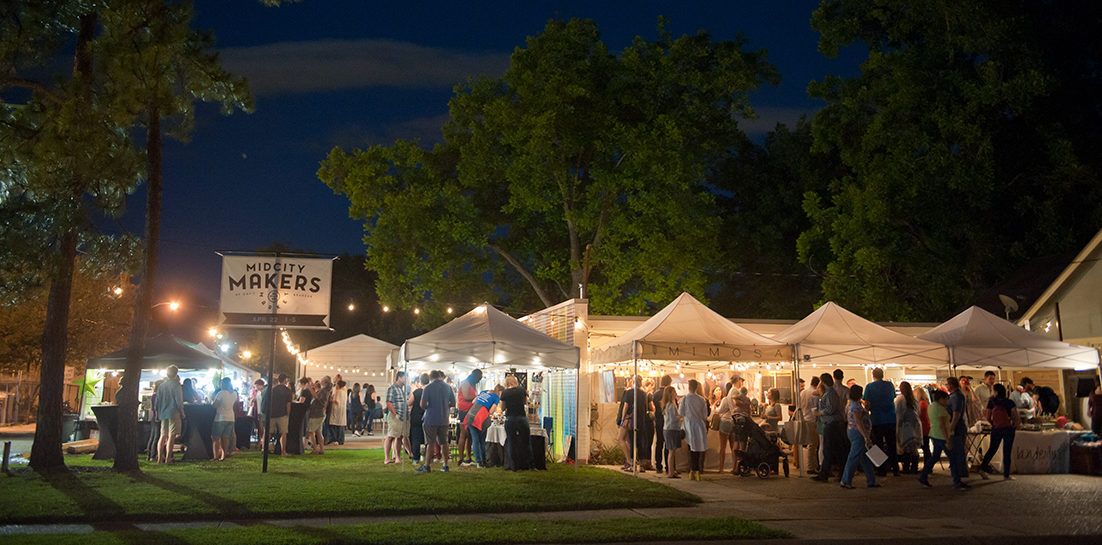 The thriving Mid City Makers Market highlights Baton Rougeans' hunger for handcrafted goods
---
Madeline and Dawson Ellis' idea for a home trunk show quickly morphed into a monthly maker bonanza in Mid City.
Last December, the Ellises began devising ways to show off the jewelry they make through their business, Mimosa Handcrafted. They figured a trunk show in their backyard, featuring a few friends and some fellow craft makers, would help them capitalize on the Christmas shopping rush.
But as the Ellises kept inviting more friends to the show, it soon became too small for their house. They moved the event to a Mid City building they own at the corner of Eugene and Government streets. They opened the festivities to the public and to more makers, and they enlisted friends Justin Lemoine, Paul Claxton and Matt Dawson to help them run the ship and create a logo.
Just like that, the Mid City Makers Market was born.
"This fell together in like two weeks," Madeline Ellis says. "We went from just a little trunk show at our house to having this shoulder-to-shoulder, packed event."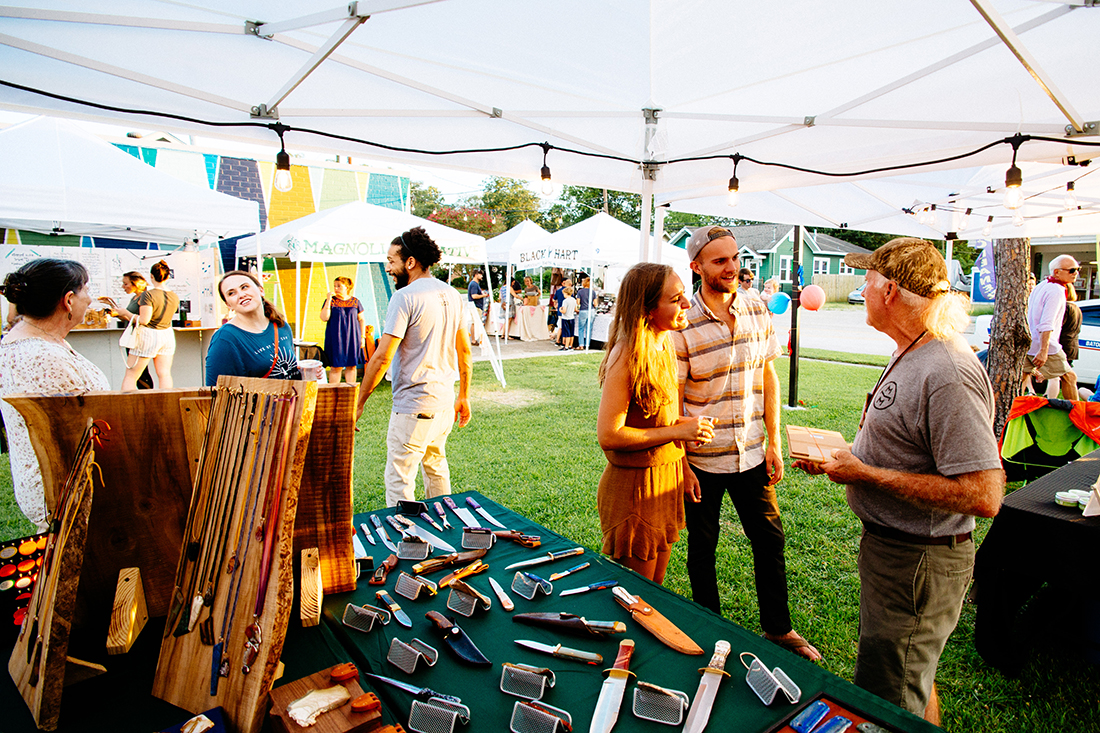 The reaction to the market has been a pleasant surprise, Ellis says. What started as a one-off idea with a dozen makers has grown into a monthly show that features 30 local artisans each time—out of 59 vendors who rotate in and out because of space limitations. "It's just made it really obvious that there was a need for something like this in Baton Rouge," she says.
Ellis attributes the success to a few factors. For one, there was a bigger market in south Louisiana for handmade crafts than she expected. She says applications to participate in the event skyrocketed once it was made public. People from all the way down in New Orleans even showed up for the first market.
The event is meant for all of Baton Rouge, though Ellis admits it helps that it's in Mid City. "A lot of makers who are at the market live in the area," she says. "A lot of people who have been going to the market live in the neighborhood and just walk to it."
Ellis also credits the holistic experience the market provides for both shoppers and makers. For customers, there's food, live music and even a kids' corner for a family-friendly experience. The Ellises also enlisted Radio Bar as a sponsor to serve water, spirits and snacks to the vendors, and they provide simple supplies like hand sanitizer and plastic covers in case of rain.
Ellis and her crew are also careful when they select which vendors can participate. Potential vendors can apply online, and Ellis and her crew comb through each submission to find dedicated makers who create quality, handcrafted products—and lots of them.
"We try to curate it so that it's people that we feel like when a shopper or somebody shows up that they're really kind of blown away," she says.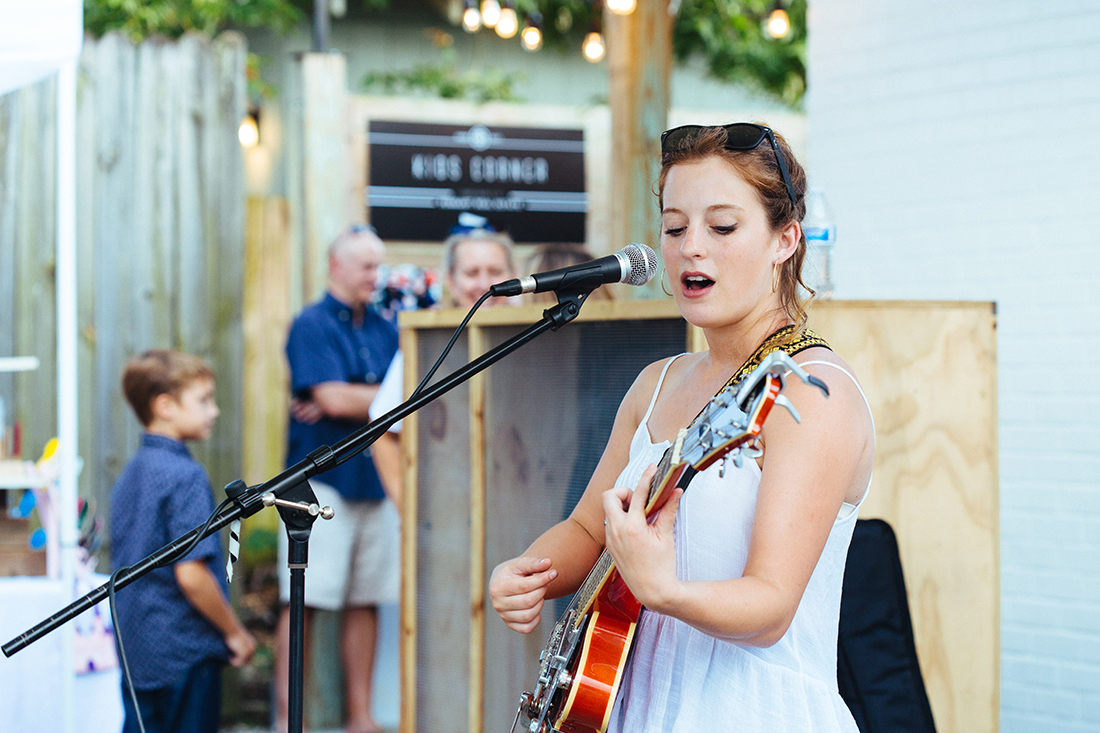 Products available at the market cover a wide range of crafts, including jewelry, honey, woodworks and fashion. Notable vendors at the most recent market on July 8 included artist Chad Schoonmaker, Hands Producing Hope, and Elsie's Plate and Pie.
Product diversity factors into the vendor selection, Ellis says. The market can't have too much of one type of item on display, particularly because space is limited.
"We don't want to have like 50 people who make wood bowls," Ellis says. "But there are several other markets in town, so we try to link them up with those and not just say no."
The Mid City Makers Market has been a boon for Black Hart Handcrafted Soaps and Luxuries, which has participated in the event since May.
Katie Swann, owner/designer of Black Hart, opened her online business—which crafts soaps, beard oils, lip balms and other bath-related products—in January. Until she found the market, her customers were mostly friends and family.
"It wasn't until the market that local people started hearing about me and buying things," she says, noting that she now has repeat customers who recognize her at the market.
While the market is meant as a platform for local artisans, giving back is also a priority for the Ellises. The market offers a table each month for a local nonprofit to spread the word about their services, and vendors can choose to give 10% of their proceeds at the market to that nonprofit. The Greater Baton Rouge Food Bank will have a donation box at each event, and the market is also working with the forthcoming Knock Knock Children's Museum to collect materials for the museum's Maker Shop.
Going forward, Ellis says she wants to find ways to expand the market's physical space so more vendors can participate each time. She's also looking into growing the market's online capabilities so makers can sell their goods via the Mid City Makers Market website.
"The idea is to keep the market going, and we're pretty open to whatever we have to do to keep it going and growing," Ellis says.
The next market is set for Aug. 12. For details, visit midcitymakers.market.