The Creatives: Illustrator, animator and graphic designer Krist Norsworthy
---
Krist Norsworthy
Hometown: Baton Rouge
Ages: 37
Artistry: Illustration, animation and graphic designer
Online: kristnorsworthy.com
---
Lapping against a mound of sandbags, the water climbed higher than Krist Norsworthy's threshold. Evacuation time. Two more moves followed quickly as the Norsworthy family escaped the 31 inches of rainfall in 15 hours that swamped much of the Baton Rouge area. The artist was fortunate, and his family was able to harbor another one for weeks after the devastating storm.
Like a lot of traditional blues musicians might, the illustrator turned the pain of hardship experienced en masse in August 2016 into power.
On the stroke of Norsworthy's pen, the floodwaters no longer push violently into homes, they pour from a piano, a throne for a regally large pelican, rushing out in notes and fleur-de-lis-crested joy on the poster he created for the 2022 Baton Rouge Blues Festival.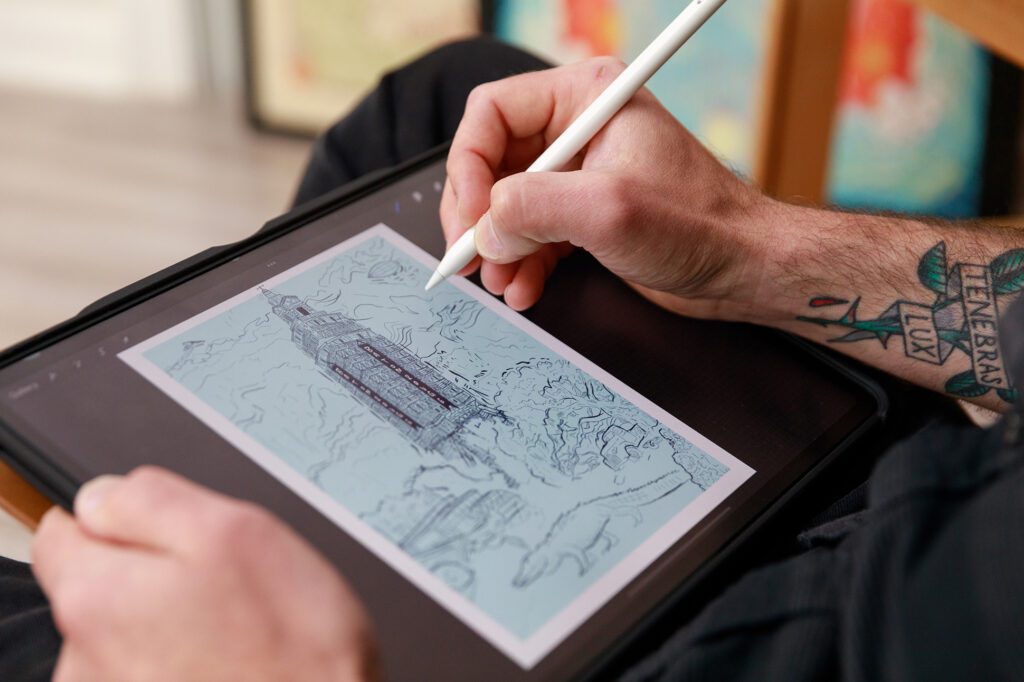 The artist has designed content for the local festival the past three halting years for live events, a longtime goal of his. With short flowing lines recalling Van Gogh's ethereal movements, Norsworthy sculpts imagery like sparks that feel fresh and vintage. From the organic lines to the muted palettes, his work is shot through with a lived-in, lived-through resiliency. Un-trendy but never uninspired. It's Louisiana-inspired without the tourism kitsch. 
A blend of hand-drawn and digital layers, Norsworthy's graphics now animate music videos, social media promos and even films—including work for Rolling Stone "Artist to Watch" Cashavelly Morrison. But none of it is too distant from the daydreaming sketches that marked the margins of his high school textbooks and notes. His brain connects with his illustration better when he begins with pencil and paper, he says.
"Sometimes I sketch something without fully realizing what it is or its potential, but I always go back and ask questions of it—'What could this ultimately be?'—and that's important," Norsworthy says. 
While one college instructor always critiqued his work by saying it "all looks the same," it's a knock that Norsworthy now shakes off with ease. "I do want my work to look like it's from me," says Norsworthy, who aims to host more pop-up shows of his work and complete a children's book in the near future.
A working graphic designer, Norsworthy sees his art as visual storytelling with a depth beyond its own advertising intents. He encourages creatives to never wait around for inspiration before getting to work. "I just try not to overthink it when I start a project," he says. "The inspiration comes through the process."