Mary Johnston
Hometown: Lake Charles
Age: 24
Artistry: Flower arrangements and floral art
Instagram: @merryfloral
---
"I would have been doing this more, but we are recording," says Mary Johnston, reaching up to the gnarled elbow of an oak tree branch and snapping off a stem studded with dark green leaves, then adding it to the growing arrangement before her. "I love to forage. It's amazing, I notice so many textures and leaves and flowers now. They're everywhere."
Truth be told, her eyes have darted up to that branch more than a few times before she makes her move while discussing her ultra-involved upbringing in Lake Charles, where she "did everything but play football," and how she left the Interior Design Department at LSU after two-and-a-half years.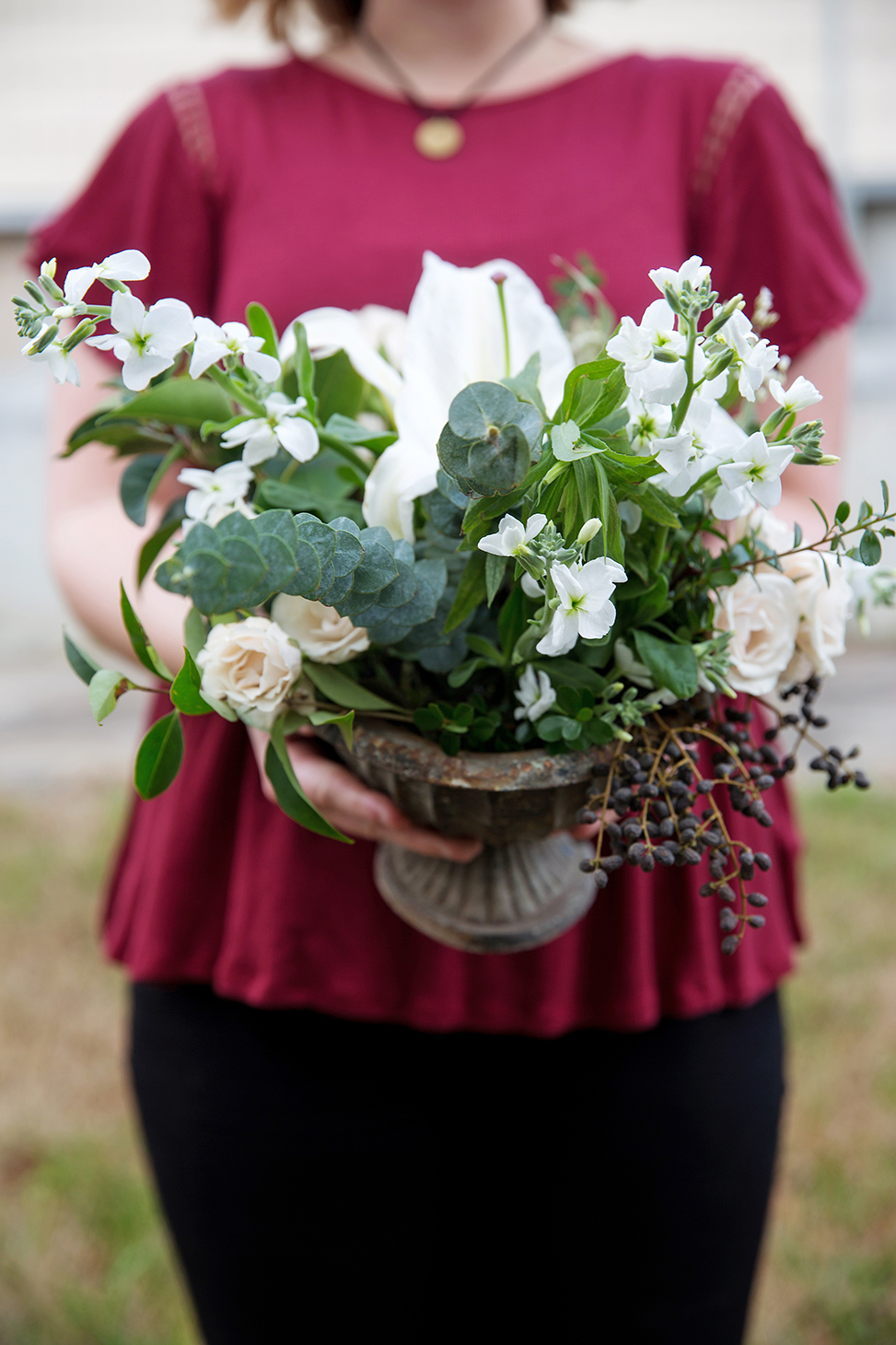 When she first attended workshops at Floret Farm in Seattle last summer, Johnston envisioned putting those skills to use years down the line when she could open her own shop. Something organic and homey. A garden out back for picking, and artists inside for arranging. But after returning from Seattle, she began posting her work on Instagram as Merry Floral, and inquiries for wedding centerpieces and bouquets rolled in.
"I'm in a race against myself," she says. "I have 12 weddings booked. But I don't have a logo or a website or a master business plan. I'm working on an LLC. Still, I would not recommend waiting to any young creative. I mean, when is the perfect time?"
The LSU alumna's hands move swiftly in and out of eucalyptus leaves and hydrangeas. She's prepping this piece for new restaurant Eliza, where she was invited to host a pop-up on Valentine's Day making boutonnieres and corsages.
Recently she completed a 20-foot garland and arbor piece for a wedding at the LSU Rural Life Museum, and she collaborated on a photo shoot with local nonprofit Hands Producing Hope. The ability to partner with other creatives has been a constant encouragement for her early work.
"You get to breathe whoever you are and what you believe into their dream," she says. "And if they ask you to do that, it means they believe in what you are doing."
Johnston is excited to complete her brand's look and expand her web presence this spring, even as she's motivated by something more fundamental: the purpose she finds in floral arrangements and the intimacy of a gift extended.
"I've always loved collecting flowers, and I feel so loved receiving them," Johnston says. "It's one of the most precious things to give. It's not a hard thing to give, but you have to be intentional."