The Creatives: Fiber artist Mary Anne Duncan
---
Mary Anne Duncan
Hometown: Ponchatoula
Ages: 28
Artistry: Fiber art, macramé, weaving
Online: @madboho on Instagram, MadBohoShop on Etsy
---
Quick sketches direct most of her designs, but when fiber artist Mary Anne Duncan is really inspired by her process, she gives the piece a chance—a chance to speak to her, to evolve in the very moment of creation.
"It's almost like I'm not thinking in a way, just flowing," says the artist behind MAD BOHO's macramé wall hangings and woven art.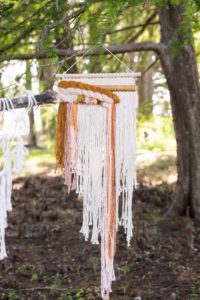 That flow is refracted in the undulating sands and desert sky hues of her work. Inspired by the folk art and interior design of the 1970s—her mom always called her "Grandma" for her love of that bygone era—Duncan uses warm earth tones that bring a certain softness but never overwhelm a space. She hangs her work in her home for days before putting them up for sale. She enjoys making sure every piece feels just right.
"Any color that makes it seem like the outside is inside in some way is what I love," says the Louisiana native who is most creative after a morning walk.
Duncan has dabbled in a lot of creative endeavors over the years—interior decorating, baking, plant arranging, and as a barista for a local roaster. "Those things felt so repetitive to me," she recalls. "I kept looking for what excited me."
One day in late 2017 while scanning Pinterest, she was struck by a vintage image of a macramé wall hanging and thought, "I could make that." A few YouTube tutorials later, and Duncan was buying material and making her own. A year later, MAD BOHO, a combination of her initials and bohemian outlook, was born. Duncan soon began creating commission work for friends and selling at pop-ups and online.
"At first, I was insecure because I had followed a lot of artists on Instagram," she admits. "But the thing is, don't doubt yourself. You have your own unique voice. Your work will be different, and that's how it should be."
With White Star Market now closed, Duncan is looking for new places to sell her pieces and host workshops. She recalls frustrating days when she couldn't find her own artistic niche and identifies with eager creatives struggling to express themselves. Duncan hopes to teach weaving and macramé to inspire more of that expression in Baton Rouge.
"I know creativity keeps me grounded," she says. "It helps me in so many ways to have an outlet, and I want to be able to share that with other people."