The Creatives: Fabric artist Amy Renee Nicosia
---
Amy Renee Nicosia
Hometown: Baton Rouge
Age: 44
Artistry: Accessory designer and fabric artist
Online: amyreneenicosia.etsy.com, @amyreneenicosia on Instagram
---
Even with more than three dozen completed bags stacked neatly and ready for market, alongside fields of cotton patterns, sturdy duck canvas raw material and her trusty all-analog straight-stitch Juki in front of her, the most important thing in Amy Renee Nicosia's sewing workshop might be the overgrown scrap stash in the corner.
"I never throw mistakes away—I just rip them up," says the fabric artist and entrepreneur who ships accessories all over the world from her popular Etsy shop. "This is a constant-learning art form, and I just look at those mess-ups and think, 'Maybe I'll go back to this one day when I'm not mad at it anymore.'"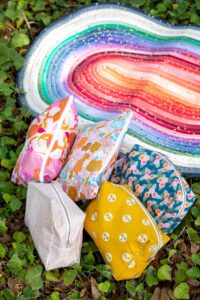 That patience is a key to Nicosia's creative process, an impromptu journey she began in 2015 after leaving her day job at a small private school to spend more time at home with her four children. Now with her children older—only her 17-year-old daughter is still at home—Nicosia is back working at the school but spends about three hours a night after dinner making zip-up cosmetic clutches, drawstring makeup bags, and a variety of floral and geometric purses. For a hobby she picked up on whim less than a decade ago, Nicosia is surprisingly prolific and creatively restless.
She only commits to markets that are for handmade goods, rather than mass-produced products. She's not afraid to try new things.
"I just like to be creative, and when I feel like I'm not, I have to do something else," she says. "It's always on to the next thing."
Bold with just about every creative choice, Nicosia's ombre cotton rug is an oval floor-piece that looks like some combination of rainbow and interstellar cinnamon roll. She's working on designs for glittery, rock-layer-like tumblers, and has been making hundreds of chair pockets, colorful sleeves that saddle the backs of school chairs for storing books, binders and writing tools. 
"Coffee and B-12 keep flowing," she says. "I feel most creative on the weekends, but I'm a night owl."
Though she laughs that her Juki can "sew through anything," Nicosia meticulously changes her needle daily, and when a market is looming, she'll create late into the night, building on the brilliant chaos of color and pattern that surrounds her as her talent and her work fit like the perfect stitch. 
"Find something you're good at that not many people are doing," Nicosia advises other would-be creators. "It's really important to find your niche."