The Creatives: Stained glass artist Amy Book
---
Amy Book
Hometown: Baton Rouge
Age: 37
Artistry: Stained glass
Online: staylitlightingandglass.com, @staylitlightingandglass on Instagram
---
Marked by a healing cut here and an old burn there, the heavily ringed hands of self-taught stained glass artist Amy Book slide past the first and last fleur-de-lis she says she'll ever create, pause to consider the modernist sunflower-and-lime slices of color arranged in a bright sunrise on her work desk, and grab her cutter like a gunslinger. 
Though stained-glass work is not actually concerned with cutting, it is concerned with scoring—scoring along the pattern, then gently breaking the surface with geometric precision.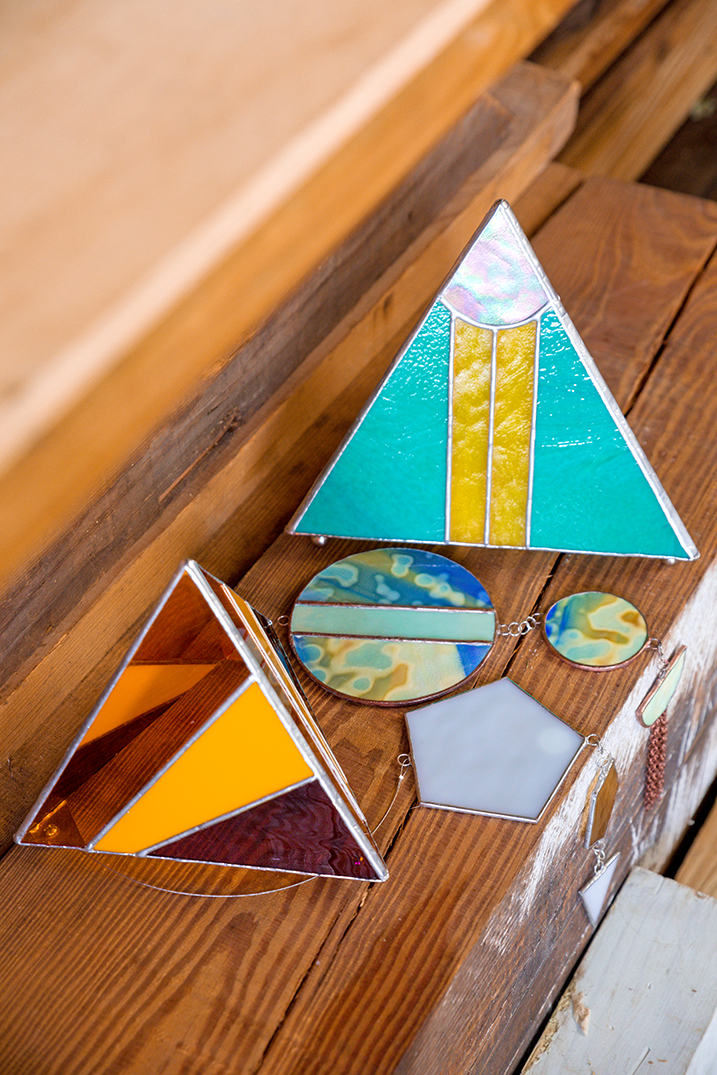 "At least, that's the idea," Book says with a short knowing laugh that more than hints at the intense hours of trial and error she's spent working in her garage. "It takes some practice to get it just right. But I like that. I don't like things that come too easy; I get bored fast."
Taking on challenges is not new for the mother of two who launched this side hustle as a brand, Stay Lit Lighting & Glassworks, in the summer of 2020, making scenic window-hanging suncatchers and vivid pyramid-shaped lamps. A favorite is an orange burst of light inspired by the famous Japanese woodblock print "The Great Wave."
It was under apocalyptic conditions during the flood of 2016 when Book took up glasswork after her friend lost two beloved horses to the rising waters off Greenwell Springs Road. Her friend almost drowned trying to rescue the animals, so Book created for her a stained-glass piece depicting one of the lost horses as a gift of encouragement.  
"I wanted to make something for her that wasn't focused on death but on hope for the future," Book says.
It took some encouragement from others, then a long conversation with God, Book says, before she decided to turn her creativity into a business. "I thought, 'I'll always be making things, so if someone wants to buy something I make, that's great.' But money wasn't the motivator."
Stained glass is interactive in ways a lot of art is not, changing depending on the time of day, the point of view or where the piece is placed. "It really seems alive sometimes," Book says.
That lively feeling is the same hope Book wanted to impart to her friend mourning the loss of her horses in the flood, and it strikes at the real motivator for her brand. "Of all the media I've worked in, glass is the closest embodiment of God speaking light into existence," Book says. "The hope for me is that people see this light in my pieces and it reminds them of what lives inside of everyone, and that we are to share it."
That sharing suits Book, who likes to get her hands dirty—or cut, or burned, in the case of her stained-glass making. "I'll never have pretty fingers," she says. "But these are hands that make things."