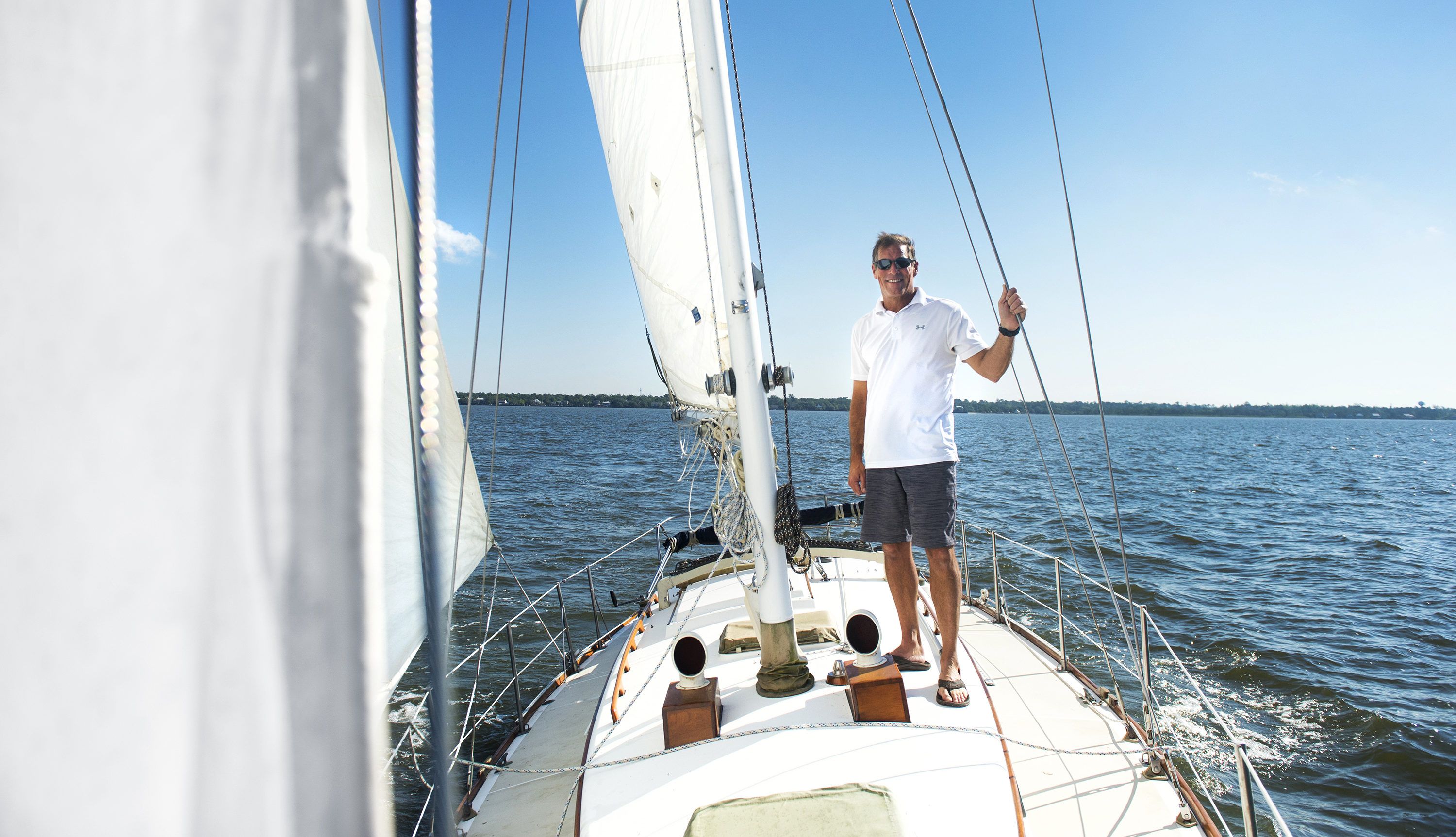 Smooth sailing: Hank Saurage finds both exhilaration and relaxation on the water
---
Stepping onto his 33-foot Cape Dory, Hank Saurage's smile is as wide as the lip of Lake Pontchartrain appears to be on a sunny spring morning on the Northshore.
"One of the first times I got out on a boat, I was scared to death," Saurage admits with a short laugh. Of course, he was a very young boy at the time, and the dark swells far off the Pensacola coast appeared towering to his untested eyes. "But the thing is, with anything, you've got to get scared once, and that's when you come to appreciate it. Sailing is no different."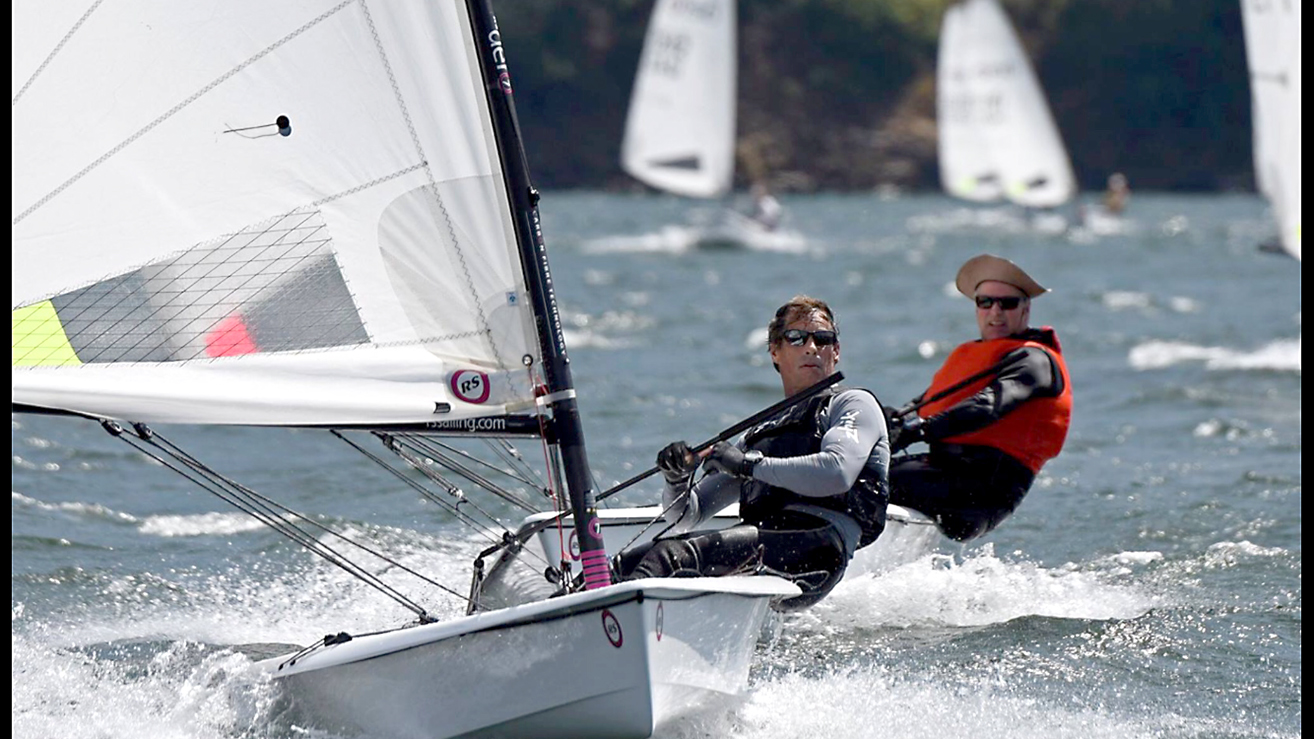 When LaSalle claimed this lake and the rest of the Louisiana territory for France 350 years ago, he did so from the deck of his three-sail barque longue, La Belle, while on an expedition that saw his crew encounter natives already traveling the Mississippi River and its connected waterways in dugouts—hollowed-out tree trunks whose economy made them the evolutionary ancestors of the Cajun pirogue and the modern canoe.
While industrial delivery and transportation via locomotive, air or interstate have made our urban culture's need for boats dwindle, the indigenous desire—that explorer's spirit on which the state of Louisiana's modern lineage was legitimately forged—remains firmly buried inside many.
For lack of a better harbor, boats are in our blood.
Saurage is a prime example.
"You never really master this," the 55-year-old commercial real estate broker says of sailing, as he readies his white and warm wood-trimmed boat, called Mirage, to push it out into Lake Pontchartrain. The boat is a well-kept relic from 1981 and evokes memories of time spent with an adventurous father. With a handsome face that clearly loves the sun, Saurage still somehow looks a decade younger. He moves across the bobbing deck with speed.
The night before, he slept on this boat in preparation for today's early sail. He spent his night searching for alligators in the dark.
There's not a cloud in the sky this morning, but there is a drone capturing video or pictures over the water. It's that kind of blue sky day.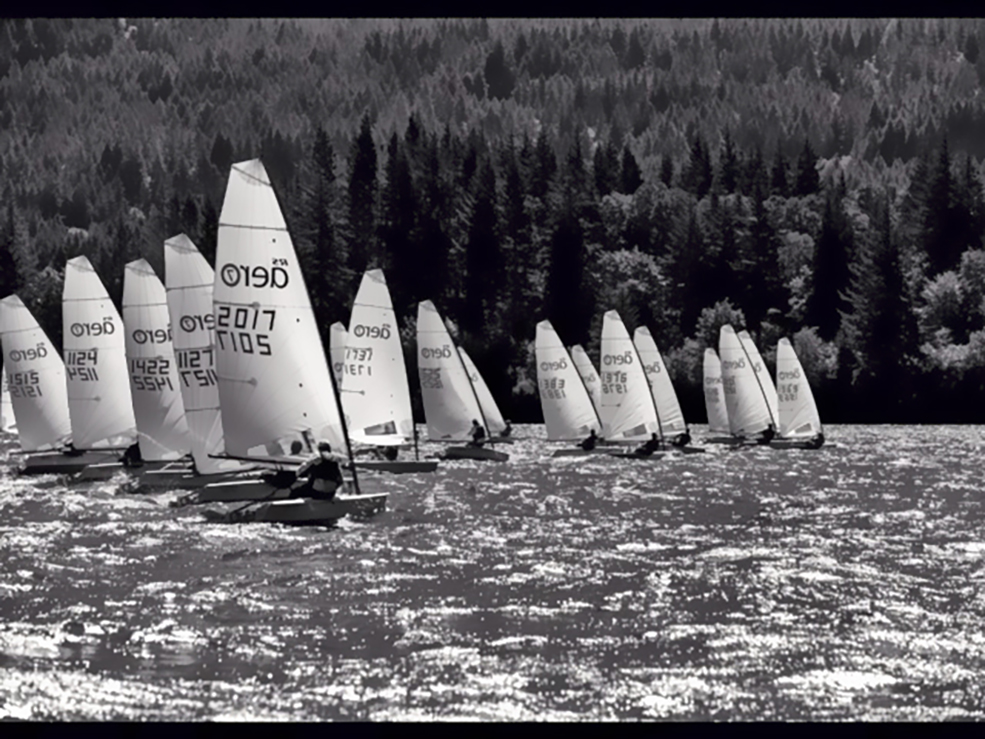 Saurage hoists high an American flag so weathered the patriot red of the stripes has dimmed to the color of wet flamingo feathers. He surveys the boat that his father gave him a few years ago after being diagnosed with ALS—pretty much the only thing that could keep Norman away from sailing. Saurage's father died in 2015 after a one-year battle with the neurodegenerative disease, and Hank's affections for the vessel seem larger than the boat itself, as if his care for it is in every way a reflection of his love for his dad. Regardless, Saurage's words are always anchored in the moment.
"It's just a great boat—a classic design," he says. "These lines are nice. I wouldn't say it's sexy, but it's sure not ugly."
Skimming around the lake like this is a getaway for Saurage. His wife Laurie and two daughters enjoy it, too, but for shorter stretches. They don't quite connect with sailing the way he does, the way on certain days, Saurage says, he simply needs to.
The Baton Rouge native boats around the lake on the yacht when he wants a quick getaway—"It always works," he says—but his true passion is racing. And it's the adrenaline of the chase that has held Saurage's interest all these decades.
"This is why I got into real estate," Saurage calls out from behind the helm. That line sounds like a joke, but it isn't. After school and years of, as he once put it, "pulling weeds out of flowerbeds at Community Coffee"—the company his family founded and his younger brother Matt oversees—Saurage sought a career in the mid-1980s that would afford him both financial security and a flexible schedule.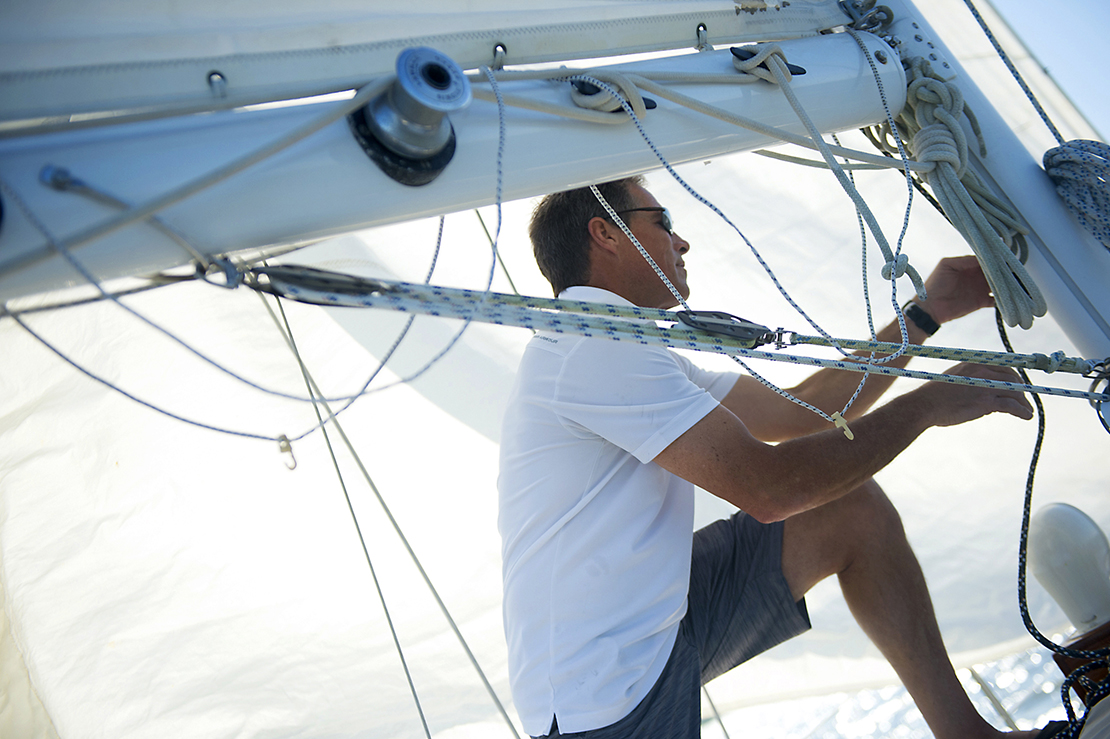 Saurage, now managing partner of Saurage Rotenberg Commercial Real Estate, has been racing boats for 45 years. That's more time on the water than he's spent in his chosen field.
"It feels strange to say that," he admits of his nearly lifelong passion.
He still competes in sailboat races regularly, but at his peak in the 1990s and early 2000s before becoming a father, Saurage would make as many as 25 regattas a year.
He barely recalls his first race, because he began at age 10 when experienced sailors his family connected with at Pelican Yacht Club on False River started letting young Hank tag along on trips and races all along the Gulf Coast.
"I was really fortunate there were older, more experienced people who took me under their wing," he says.
Highly competitive by nature, Saurage now won't let his daughters beat him at anything, not even ping pong. "I tell them they won't learn anything if I let them win," he says. "And you know what? My oldest is getting pretty good."
Saurage admits that sailing is not much of a spectator sport, however. But that's not the point. To love sailing is to participate in it, to submit to the horizon line even as it utterly reduces you, to wrestle with the wind, to breathe in unison with the movement of the vessel beneath your feet, to feel every wave like a forceful and fleeting tide in your chest.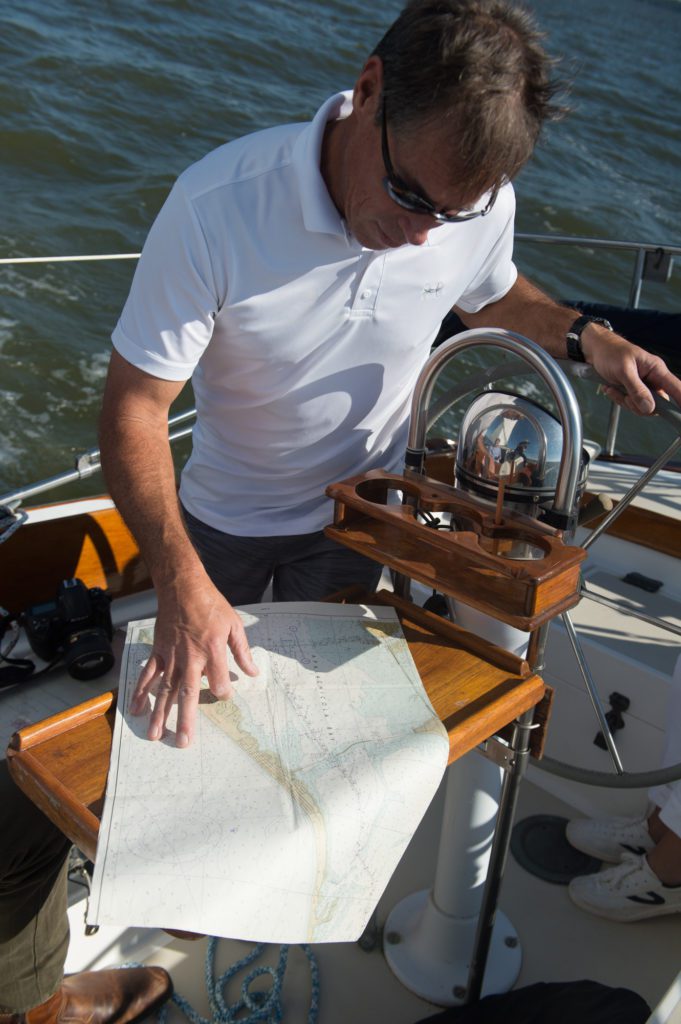 "This might sound funny, but I'm not super religious," Saurage says. "I go to church most Sundays, and that is good, but there's just something about being out here on the water, alone with the wind and the silence. This is my bonding moment with the higher power. Just being. It's so peaceful."
The word "yacht" derives from an old Dutch term that means "hunt," and anyone who ventures out on the water like this must be in search of  something special. A father, a gator, maybe even God.
Despite a few rookie visitors aboard, it is clear Saurage is one such seeker. He's nimble, adaptive, ready for anything and completely at ease while in command of the sails.
Saurage was doubtful there would be enough wind to do anything but motor around this morning, so when the wind begins to pick up, a look of boyish joy grows over his face. Five knots turn into six. Then eight. He cuts the engine to run on wind power. Silence strikes, then comes the inviting fade-in of waves lapping against the rocking of the hull.
"Wait till you see what the big sail does," he says, unfurling a second massive canopy in low ripples that crackle in the wind across the bow. "That's the key out here: always be learning. Because conditions change constantly. See, the wind picked up, and we had to adjust."
Saurage says he can order his social life into two sets of friends: those he works hard and plays hard with in Baton Rouge—he's an avid golfer, too—and those often international friends he has met while competing at large regattas in sandy paradises like the Bahamas, the British Virgin Islands and Peru.
"You learn a lot about yourself doing this," he says. "And ultimately, you see what you can really do."
Last August, Saurage found out what he could do in some of the harshest conditions he's ever faced in a race: high winds ripping through the Columbia River Gorge at Cascade Locks, Oregon, just outside of Portland. It's a craggy and elevated emerald terrain sliced through by a choppy artery of current. Windsurfers, the really wild ones, just love it.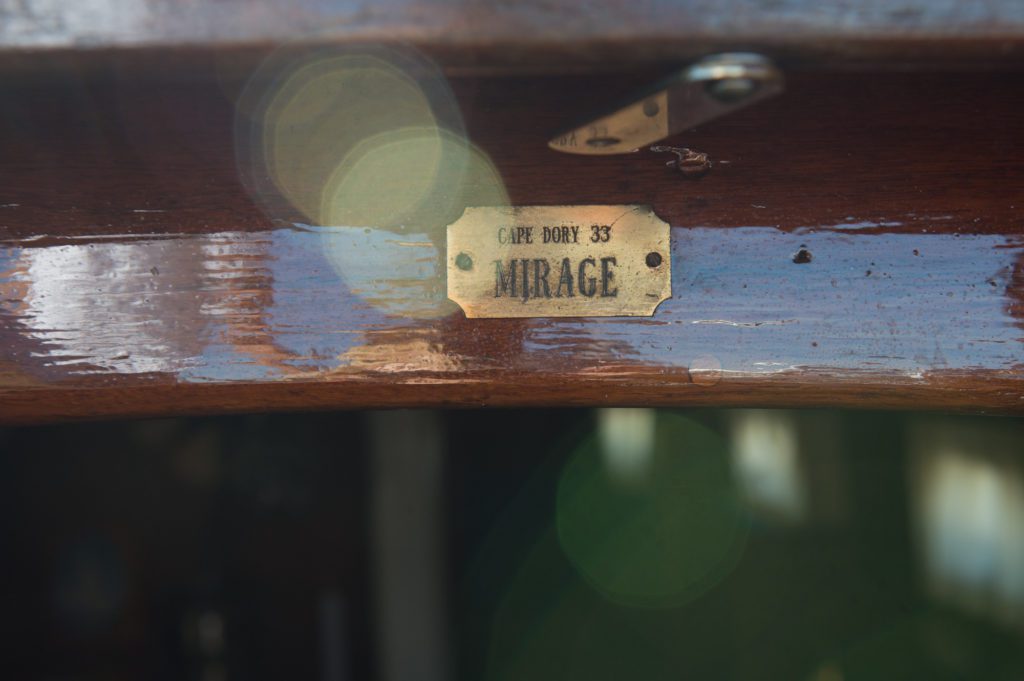 "You spend a lot of time doing this," he recalls, clenching his arms in a stiff flexed pose. "But it's fun. That's what we live for. Fifteen to 20 knots? That's when I come alive."
The race was part of the 2016 USA National Championships, and in his RS Aero 7, Saurage clocked the fastest time.
After only an hour on Lake Pontchartrain, he points Mirage back toward the shore. It feels like it's been a day.
"Time flows differently out here," he says. "Not that I ever check my watch."
When his first daughter was born, Saurage took a hiatus from the sport, but now in his 50s he shows no signs of slowing. He casually mentions the Sunfish race he'll be competing in the next weekend. "People hear 'Sunfish' and they think 'beach boat,' but these are slightly more complicated, and they might be my favorite boats to race."
That Sunfish is sitting in a trailer with a few other small boats at the Saurage house in Baton Rouge.
Though he has a few national championships under his belt, along with other regional and state sailing trophies back home, Saurage has yet to capture a world title. The way he talks about that fact underlines that this is one hunt Saurage has not given up on.
"I have a lot left in me," he says. "I'm not going to stop. You'll have to drag me out of the boat."