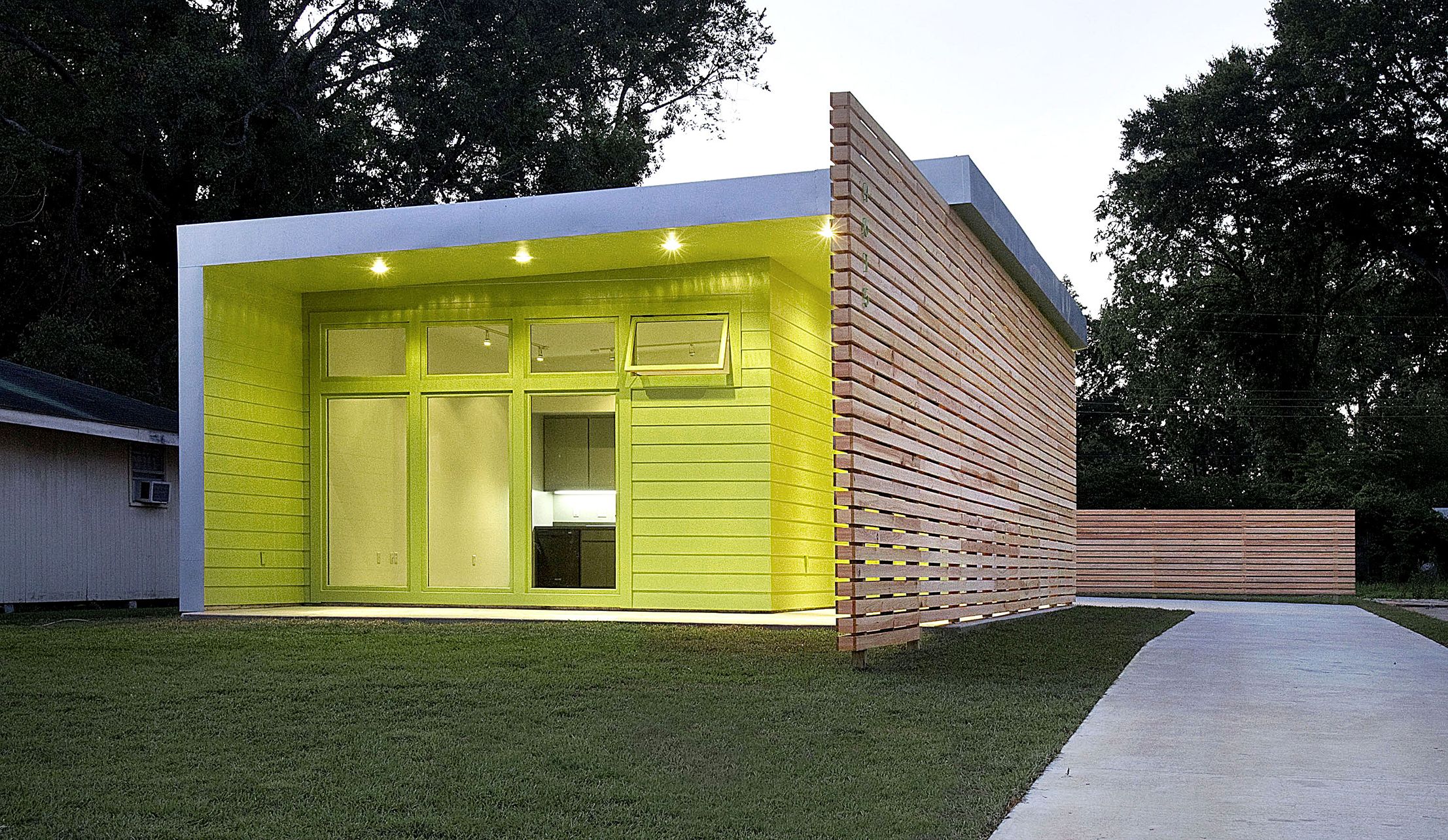 Small homes, big dreams: Tracking the tiny house movement
Local design and construction firm PlusOne has made a name for itself nationwide by creating unconventional and often small homes, including the "Kiwi House," set in Baton Rouge's Valley Park neighborhood. The home was built for only $98 per square foot and contains house-width main rooms and a wooden privacy screen along the side porch. The design won the National 2011 American Institute of Architects Small Project Award.
A movement of tiny house living is sweeping the nation, but is it bound for Baton Rouge?
Just how many square feet of space does one need to stay sane? It depends on the person, of course. If the popular TV show Tiny House Nation is proof of anything, it is that a subsection of Americans are drawn to the idea of living small—sometimes in an effort to make an environmental impact, sometimes to save money, and sometimes to get away from it all. While these small structures can be full of style and clever details, will they find a home in the South, and Baton Rouge in particular? With our history of shotgun houses and a tendency to sprawl outward from city life, will we take kindly to the idea of tiny homes? Here, we take a look at local adaptations of small space living.
---
The not-so-distant past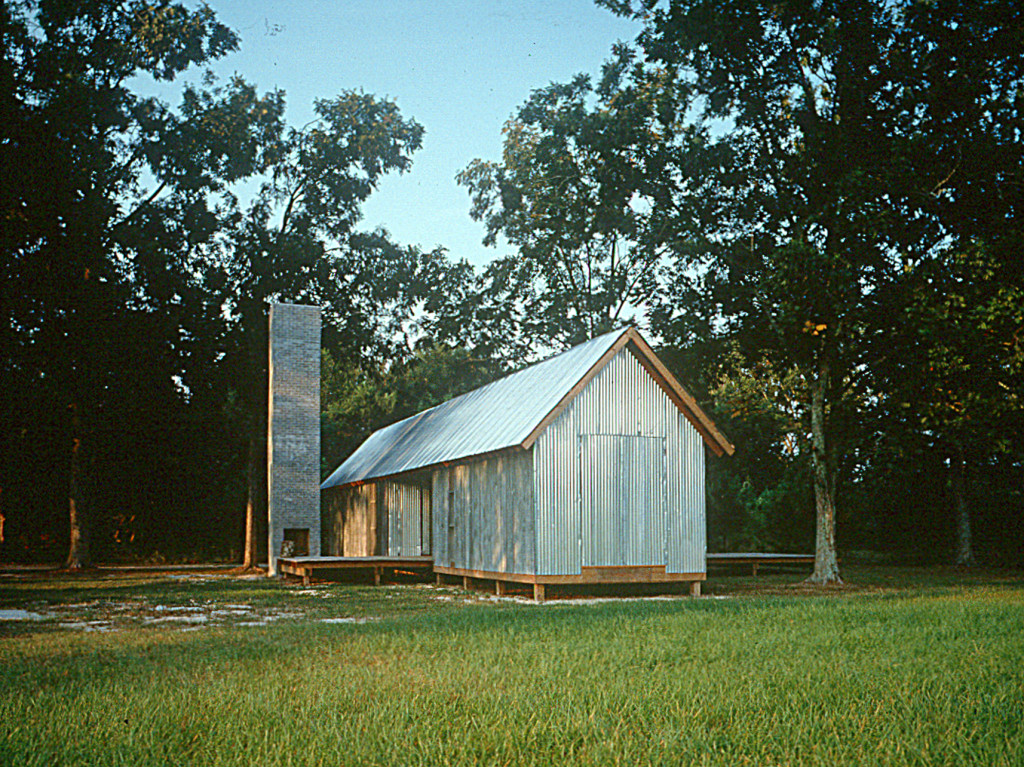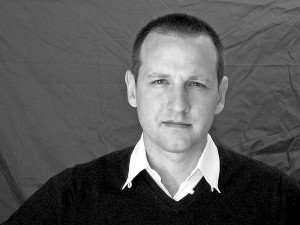 "It's a lot easier to design a powerful project when it's small," says architect Stephen Atkinson of his 1999 creation, the "Zachary House." The house was designed as a modern cabin in the woods on his parents' property as a place to return to after the Zachary native went away to the Harvard Graduate School of Design. The 550-square-foot house earned a citation from the Progressive Architecture Awards and the attention of national design magazines. What was created as an autobiographical homage to his Southern childhood, along with the idea of escaping into the wilderness on a Thoreau-like immersion into nature, launched his career.
Atkinson, who is now based in Palo Alto, California, and has become known as a specialist in smaller houses, says the forefront of the tiny house movement was very much rooted in that idea of the retreat he imagined—"reducing your life to the bare essentials"—but is now gaining momentum for its environmental motive. For him, though, "I see the tiny house in more of an artistic way than a sustainable way."
It was for that reason that he refused to mass produce the plans for his modernist dogtrot, choosing instead to share them only when a couple in North Carolina agreed to replicate it as closely to the original design as possible, and charging them extra for making changes to the design. He'd already mourned the loss of the Zachary House when it was moved off the property, damaged and then adapted to suit the new owner.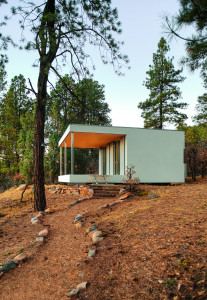 "The ideal small house is a way to enjoy nature, when you can live mostly outside," argues Atkinson. "You spill out on vacation, but as a main residence it seems like an exercise in self-denial, which does not resonate with me." He believes that cities like Baton Rouge would have difficulty embracing tiny houses outside of retreats, explaining that though they make perfect sense as a solution for homelessness in an urban area, there are infrastructure issues, such as a lack of public transportation and the need for car parking spaces, that block a movement towards tiny house neighborhoods in the city.
---
The present
Fritz Embaugh, CEO of local design and construction firm PlusOne, says he sees smaller space living as a growing demand among clients. "We tend to be drawn to what we consider more 'smart design,'" says Embaugh, who does custom work and attempts to cater to how clients live now and how they'll be living in the future. "We ask, 'What will our clients' needs be 10, 15, 20 years from now?' A young client might view a tiny house as a great solution right now, but it may be foolish not to recognize that
they may one day want room for children."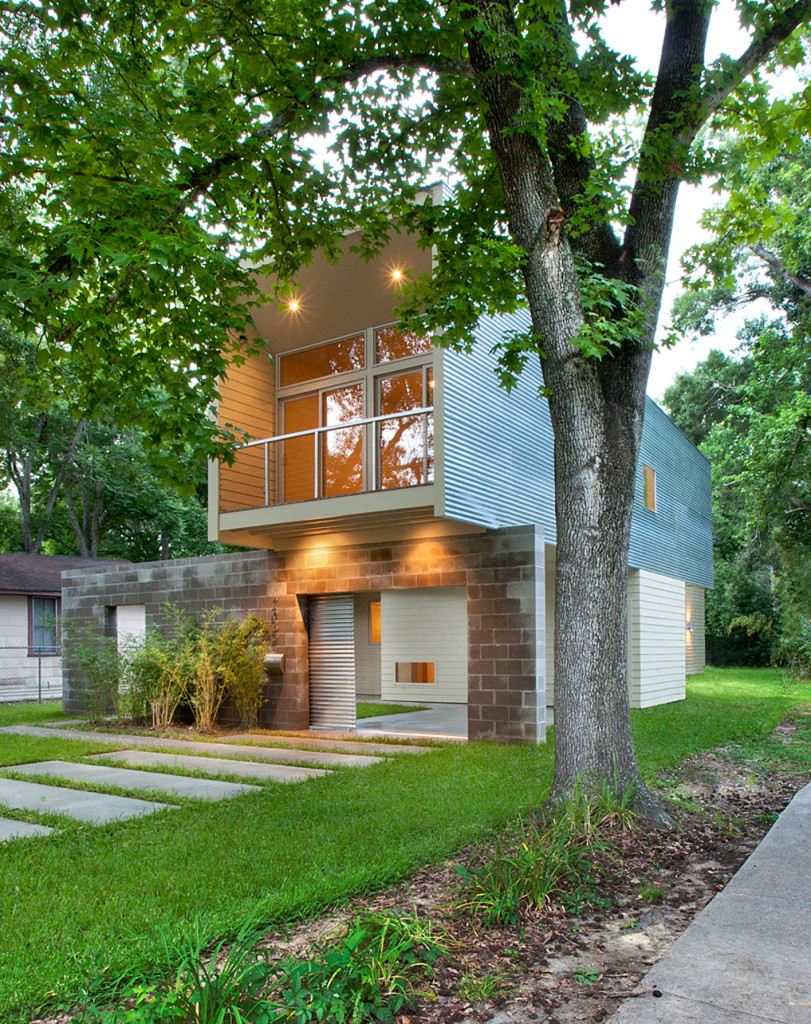 For Embaugh, a smart use of space and a house that can evolve is a more critical factor than a specific square-footage requirement. His work on smaller spaces, especially in making them feel larger than they are, is prevalent in a Valley Park home coined the "Kiwi House." The small home was reimagined after a tree fell on the original structure during Hurricane Katrina. PlusOne worked to create a laundry room that converts to a fourth bedroom for guests and a front porch space that is shielded from morning sun but still allows owners to spend time living outdoors and interacting with their neighbors.
While he hesitates to think Baton Rouge will see tiny house neighborhoods appearing in the near future, he is drawn to the ecological nature of small space living and has designed several projects that use shipping containers. None have been constructed yet, but Embaugh revels in the thought of using the surplus of watertight steel structures to create modern structures for small space living in the future.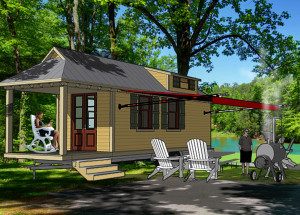 Larry Walsh, another local designer and builder, is at the ready should Baton Rouge warm up to the idea of tiny housing. He believes his designs, called The Quarters, which feature 560- to 800-square-feet homes, are ideal for backyard guest homes. Walsh says he doesn't see anyone taking the risk and building a neighborhood of tiny homes anytime soon, but he wanted designs prepared should it happen. The Quarters add a cottage look to what has been a modern movement.
---
The future?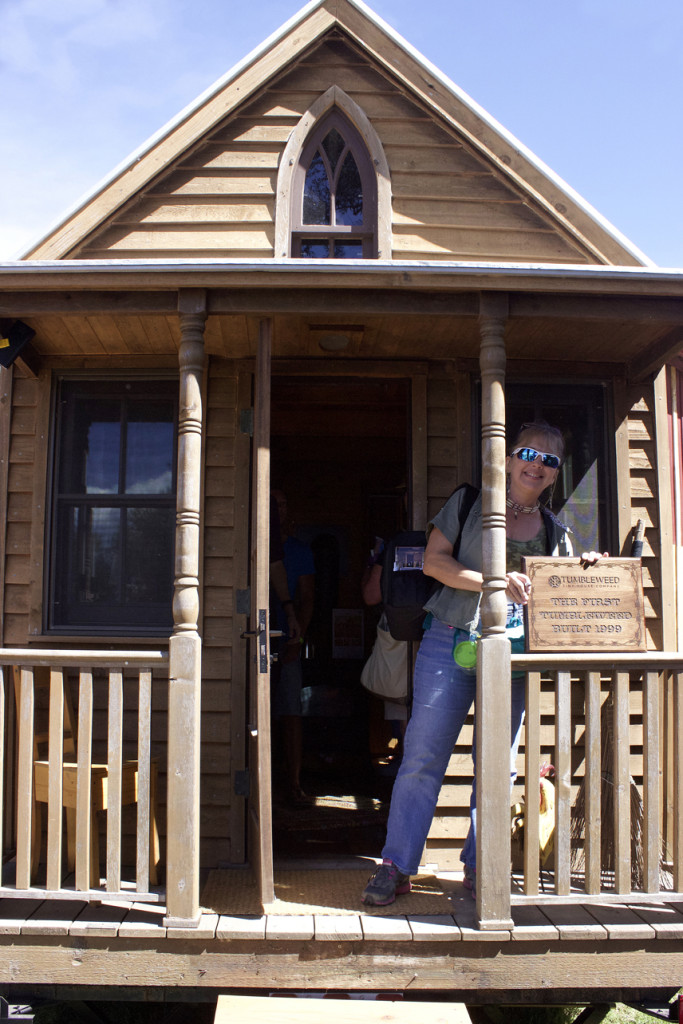 Baton Rouge native Roze Hanks found what she calls "my people" in August at the Tiny House Jamboree in Colorado. It was a crowd of 40,000 like-minded folks, all either living or planning to live in tiny houses. "It's a really serious lifestyle," Hanks admits. Her brain is working a mile a minute, planning the 8½ x 24-foot house of her dreams. There's the trailer to consider. The framing. The spray foam and siding. It will need to be built to withstand a Category 3 hurricane, but if one is headed her way she to plans to haul her home to a new location. It will also use a door from her grandparents' house that still has burn marks from a fire.
Hanks, who grew up camping, says that five years ago she realized she was only occupying 10 square feet of her 1,000-square-foot home. She heard her air conditioner kick on and off and found herself disgusted with the wastefulness. Longing for a simpler life that meant reducing financial demands and increasing life experiences, she found herself drawn to the idea of a house on wheels. "It's an emotional and mental swaddling," she says of her desire to live in a tiny home on wheels. "It's a way of getting back to the things that were happy and innocent before life got complicated and difficult."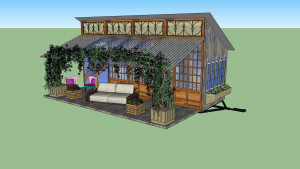 Hanks has become so taken with the tiny house movement that she is traveling and consulting with people interested in building tiny houses and developing communities. She is now in Texas, where she seeks to establish a tiny house community and is building her first tiny house this fall. She hopes it may one day have a home in Baton Rouge. The trick is where exactly that will be. Many neighborhoods contain zoning regulations that prohibit smaller structures as main living spaces. Ideally, she thinks Denham Springs or somewhere between New Orleans and Baton Rouge would be fantastic for a tiny house neighborhood, and she is hoping to drum up more supporters to make it happen. ■
See geauxtiny.com for renderings of Hanks' tiny house design.