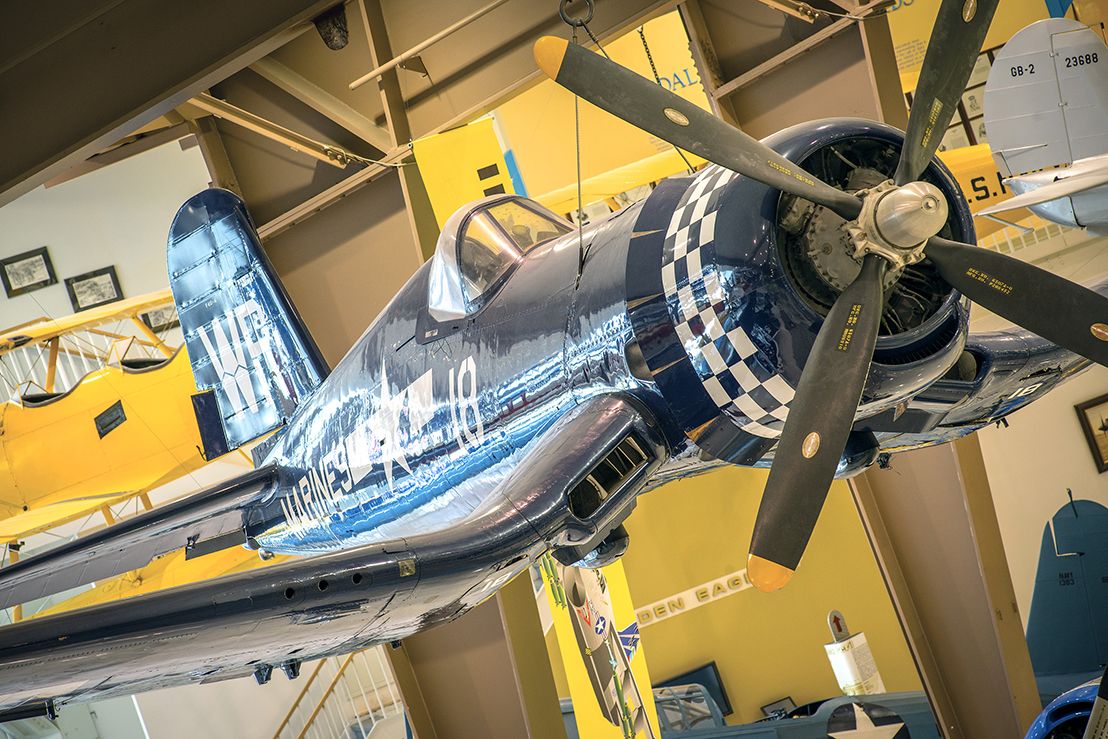 Sky's the limit: Imagination takes flight at National Naval Aviation Museum
---
Each time Hill Goodspeed looks up at the NC-4 flying boat looming large inside the National Naval Aviation Museum in Pensacola, he finds himself mentally transported to a cloudy sky somewhere over the Atlantic Ocean. Goodspeed has worked as the historian for the museum for more than two decades, but just like any little kid who visits, he can't shake the excitement that comes from seeing his favorite exhibit.
"It was the actual first aircraft to fly across the Atlantic, though it performed the feat over multiple days in May 1919 as opposed to Charles Lindbergh's nonstop flight of 1927," says Goodspeed of the unusual aircraft, which has been on loan from the Smithsonian National Air and Space Museum since the 1970s. "When you look at the airplane, it is incredible to think that it flew at a top speed of 85 miles per hour when it crossed the Atlantic."
A vacation to the Florida Panhandle is a summer staple for a lot of Louisiana folks, and the National Naval Aviation Museum—located aboard Naval Air Station Pensacola—is a popular itinerary item for visitors, thanks to its unique combination of fun, educational and historic offerings.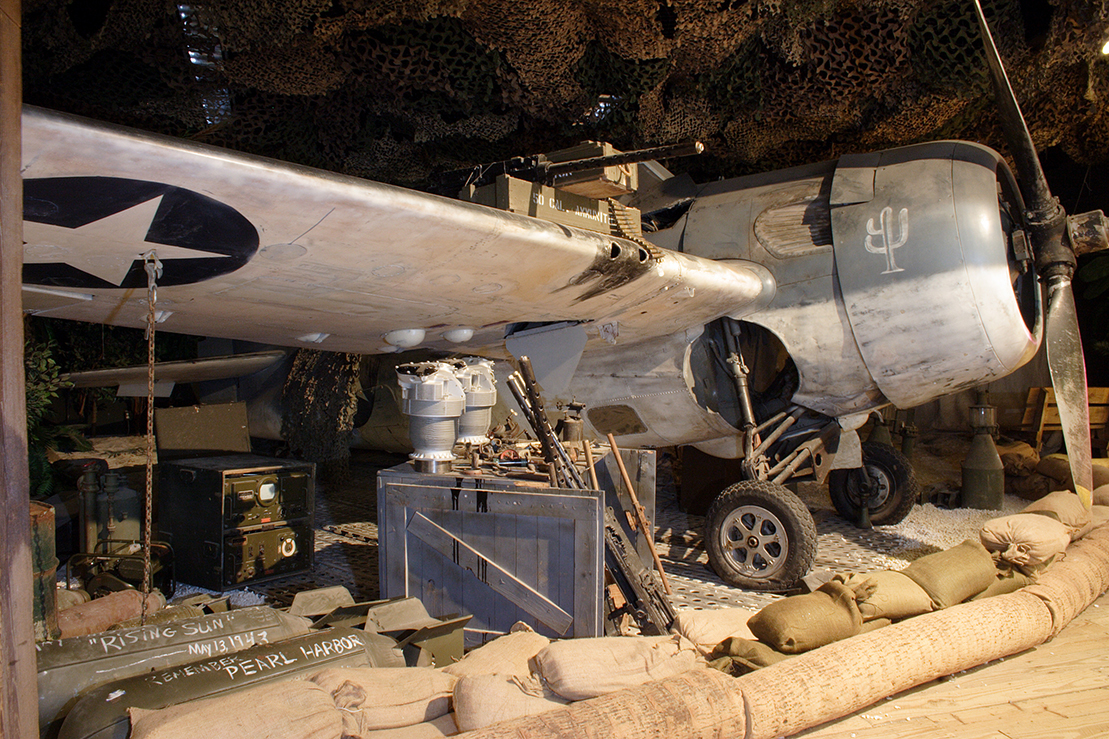 There has been a lot of growth since the museum's opening in a small World War II-era building in 1963. There was no such thing as social media back then, but 21st-century visitors can take interactive virtual tours on mobile devices even before they step foot inside this Gulf Coast institution, which now encompasses over 350,000 square feet in two exhibit buildings. Every year, more than 1 million visitors tour the museum, many of whom are out-of-state travelers like recent University High School graduate Luke Shiroda.
"I have been to the Naval Aviation Museum many times, but I'm always more impressed each time I visit," Shiroda says. "As someone who enjoys watching Top Gun every time it is on TV, I love it, and I think the museum and Naval Air Station provide people of all ages an experience like none other."
The museum's most popular attraction, called "Sunken Treasures," re-creates an underwater scene containing the wrecks of two aircraft that crashed in Lake Michigan during training in World War II. The exhibit has not significantly changed in nearly a quarter century, but it still draws a crowd because of its subject and the fact that it is immersive, says Goodspeed, who with a surname like his seems to have been destined for a career in aviation.
But even as "Sunken Treasures" remains steady as she goes, many other museum attractions are evolving with the times. "The major difference in exhibits now is that visitors want to interact with the stories from history, not simply be told about events that happened," Goodspeed says. "We use touch screens and develop multimedia applications as part of many exhibits, and that will only be more widespread as we carry out exhibit redesigns. Virtual reality and augmented reality are not out of the realm of possibility in the near future."
Though there are more than 150 restored aircraft onsite, visitors will find that the museum goes above and beyond the world of flight. Vintage uniforms, weapons and medals are all on display, along with a propeller from the USS Intrepid, an anchor from the USS Antietam, and other larger-than-life objects. Exhibits bring back to life scenes including an early 1900s penny arcade, a World War II-era general store, a jungle island in the Pacific theater, and the Apollo moon landings. The youngest museumgoers can climb aboard a play structure modeled after aircraft carrier equipment and appropriately dubbed "Kiddie Hawk." And the museum restaurant, the Cubi Bar Café, doubles as an exhibit in its own right; this replica of a famous officers' club in the Western Pacific has the vibe of the old aviator haunt complete with squadron plaques and helmets lining its walls.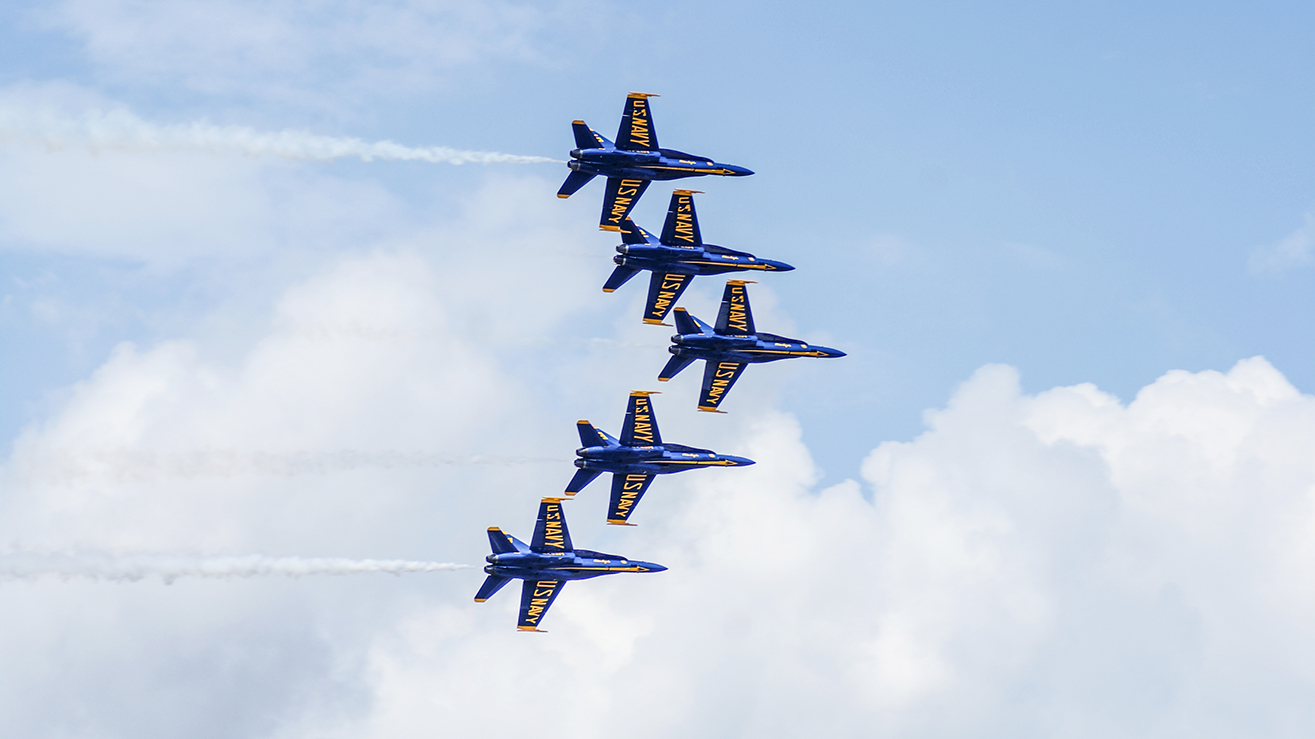 "We are now working on a modernization of our World War II display to include more artifacts and multimedia elements as well as better interpretation as to why the years 1941 to 1945 were so important for naval aviation and its role in national defense," Goodspeed says. "It is a phased project that will open in sections until the planned completion in 2020."
Goodspeed adds that a B-25 Mitchell bomber painted to commemorate the 75th anniversary of the Doolittle Raid—a secret 1942 operation during which 25 bombers attacked the Japanese Home Islands—will be on display throughout the summer.
From big planes to big screens, the museum's recently upgraded Giant Screen theater offers action-based films in full 4K resolution, the first system of its kind installed in an institutional theater. Then there's the HD Motion-Based Simulator, which merges the movie-going experience with movements like horizontal rolls and vertical climbs, and the MaxFlight 360 Simulators, which provide the sensation of air-to-air combat and stunt flying.
If all that flying leaves you dreaming of becoming a member of the Blue Angels—the Navy's world-famous flight demonstration squadron based right here in Pensacola—there's a chance to get closer to the real-life action on most Tuesdays and Wednesdays, when visitors can view the Blue Angels practices from the flight line behind the museum. Following some practices, members of the team step down from their cockpits to greet fans and sign autographs. By the way, the Blue Angels will also dazzle sky-watchers on July 8 as they perform in the annual 2017 Pensacola Beach Air Show. But even when the skies are calm here, there's always something soaring inside the museum itself.
"I think that aviation embodies much of what we are as Americans, with all of its technological advances and the spirit of adventure that defines it," Goodspeed says. "Also, aviation is addictive, and once you've been bitten by the aviation bug, you are hooked."
The National Naval Aviation Museum is free and open daily from 9 a.m. to 5 p.m. For details, see navalaviationmuseum.org or call 1-800-327-5002.