From the September issue: Pompom powerhouses
Stepping off the sidelines and into the spotlight, competitive cheerleading is taking the Baton Rouge community, and the world, by storm. With newly established Olympic recognition, the high-stakes stunts and tumbling that make up all-star cheerleading routines are shattering the age-old stereotype of eye-candy cheerleaders by legitimizing the athleticism of the sport.
In recent years, local cheerleading organizations, such as Louisiana Cheer Force, have seen increased interest thanks to the efforts of competitive cheerleading pioneers like LSU cheerleading veterans Darren and Nicole DeMoss, who helped set the stage for the expansion of the sport.
Amid the rise of the all-star cheerleading scene in the 1990s, the DeMosses founded their company, Worldwide Spirit Association, to create an outlet for affordable and accessible competition.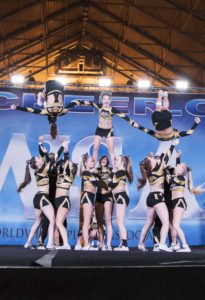 "Once it had grown where everyone wanted to do it, you didn't have to be, per se, 'the rich' to do cheerleading because companies like ours offer competitions at the local level," says Nicole. "So you don't have to fly to Florida or Atlanta and stay in a hotel. You can compete right here in Baton Rouge."
While Baton Rouge may not be an established cheerleading mecca (yet), medal-worthy performances at competitions such as the prestigious Cheerleading World Championship in Orlando are putting Louisiana on the all-star cheer map. However, according to Nicole DeMoss, the real take-away from competitive cheerleading is not the trophies, but rather, the values gained through team work and personal commitment.
"To get to see these young middle school girls, what cheerleading does for them—it's incredible to watch them blossom from the beginning of the year to the end of the year," she says. "They become like different people."
To learn more about local all-star cheerleaders and the world of competitive cheerleading, check out the cover story from inRegister's September issue, available on newsstands now.