Separation survival guide: Parents discuss coping with kids heading away to campus life
---
"I want her to fly, spread her wings, and follow her dreams," says Lisa Lee. She's discussing sending her daughter Delilah off to college for the first time. "But at the same time I'm nervous and excited, and though I'm happy for her, I'm still worried."
Lee is feeling all the emotions a parent goes through during the months before and after a first-year college student leaves the nest. A number of Baton Rouge parents are experiencing the same ups and downs as the opening of the school year approaches. And it really does not get any easier, even if you have been through it before, according to Kelly Field.
"Our second daughter Aubrey just graduated from University High and will begin her freshman year at Alabama this fall," Field says. "I think that the most important thing that you can do as a parent to prepare your child to go away to school is to foster independence. My generation is very hands on as parents, and a lot of times it seems easier to just do things yourself rather than take the time—and worry it won't get done correctly or even at all—to teach your child how to do something."
Field suggests having the child fill out the college applications, orientation registration, housing forms, sorority rush forms and all the rest on their own. "You can double-check it before it's sent off, but always have them do it themselves!" she says. "Once they're 18, have them make their own doctors' appointments for immunizations, their own dental cleaning appointments, even car maintenance appointments. This is all good training for living away from home."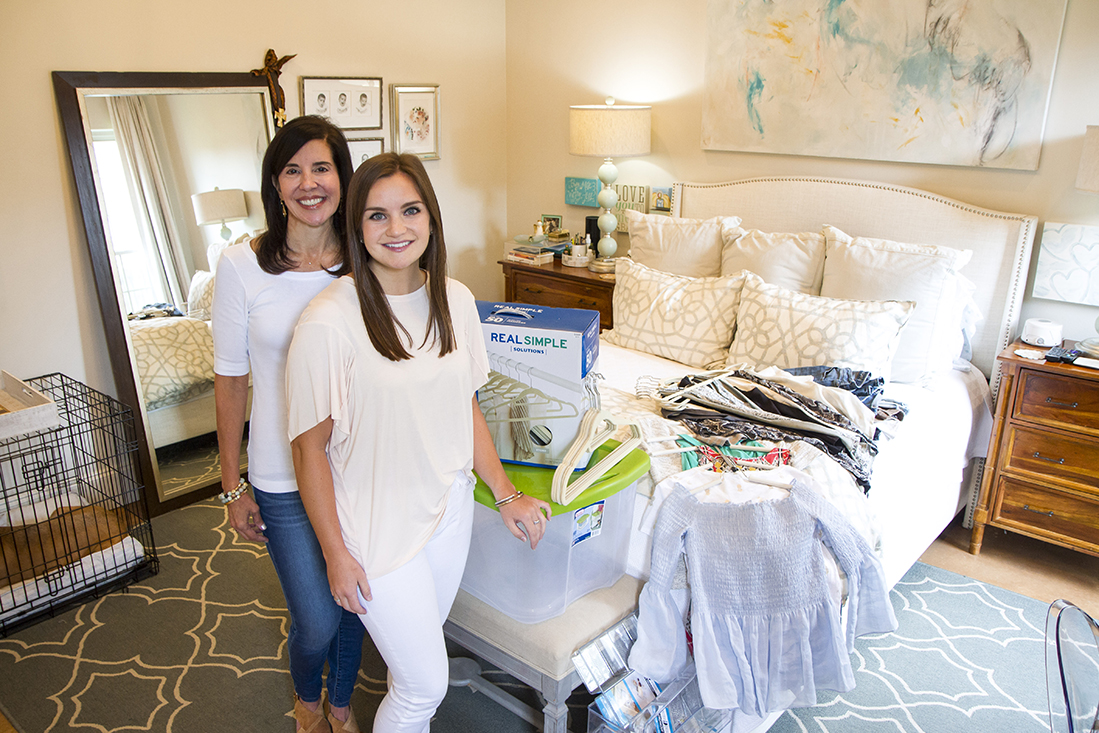 Then there's the question of money. Maybe your teen has had a summer job. Part-time gigs and work study can also help boost the bottom line. But it's just as important to take the time to develop a monthly budget—and make sure there's a little bit of breathing room for having fun. It is college, after all.
As Consumer Reports explains, "Whether you're saving up for that pizza or a spring break trip, a budget can help define financial goals and build good money habits that will last a lifetime. Understanding your cash flow, tracking spending and distinguishing between needs and wants can go a long way toward setting a realistic budget. Some experts advise keeping discretionary spending under 15 percent to ensure there is enough left over at the end of the month. And having an emergency fund can reduce the stress when waiting for the next check."
Another consideration is what to take to college—and how to get it there. Back in my day (don't ask), I insisted on bringing my skates to LSU, and now I suggest that it's a positive no-no! But once you have decided what clothes and other essentials to take, how do you get it all together?
"The best advice I can give is to literally pack everything by category, including clothes," says Amy Howe, a local organizational expert. "Pack all items in sturdy plastic bins with handles for ease of loading and unloading. Make sure to label all bins for ease of unpacking efficiently. Definitely use slim-line felt hangers in the closet to maximize space. Once you know your bed height, go to a store to buy under-bed storage that will pull out like drawers. Have all bedding washed and ready to go on the bed."
Even once the basics are covered, parents might not be feeling completely at ease. Kelly Field has been through it before with daughter Anna. "When I think back, I was all over the place with my emotions," she says. "Some days I was just thinking of how exciting going off to college is and all of the wonderful things you experience. And then the next day I had knots in my stomach thinking of all the things that could go wrong! I prayed a lot—of course you always pray for your children."
Field adds that the thing she emphasized most as Anna got ready to go off was to do her absolute best in school. "By doing her best, she would have many opportunities after college and have the lifelong satisfaction of knowing she did all that she could," she says. "You only go through college once, and you want to do it right! I also encouraged her to get to know her professors and people in her classes. Be outgoing and step out of your comfort zone. Be friendly with everyone, even if your first impression says that you probably wouldn't be friends."
Field says Anna wasn't the only one learning a lot from the going-to-college experience. "It has been great to see her get over her homesickness and grow from the experience and mature," she says. "She has grown to love the University of Alabama, and it has been a great experience for her—which was hard to admit at first coming from two parents who love LSU! A friend told me years ago how much fun it is to have grown children. She said you always think how special it is to have babies and little children, but she never realized how much she would enjoy her adult children. I can say now that I agree!"
Every parent has his or her own details with which to cope, but this is an experience that will remain in their mind for years, just as it will in the minds of first-time students. So pack your bags and get ready, get set … GO.