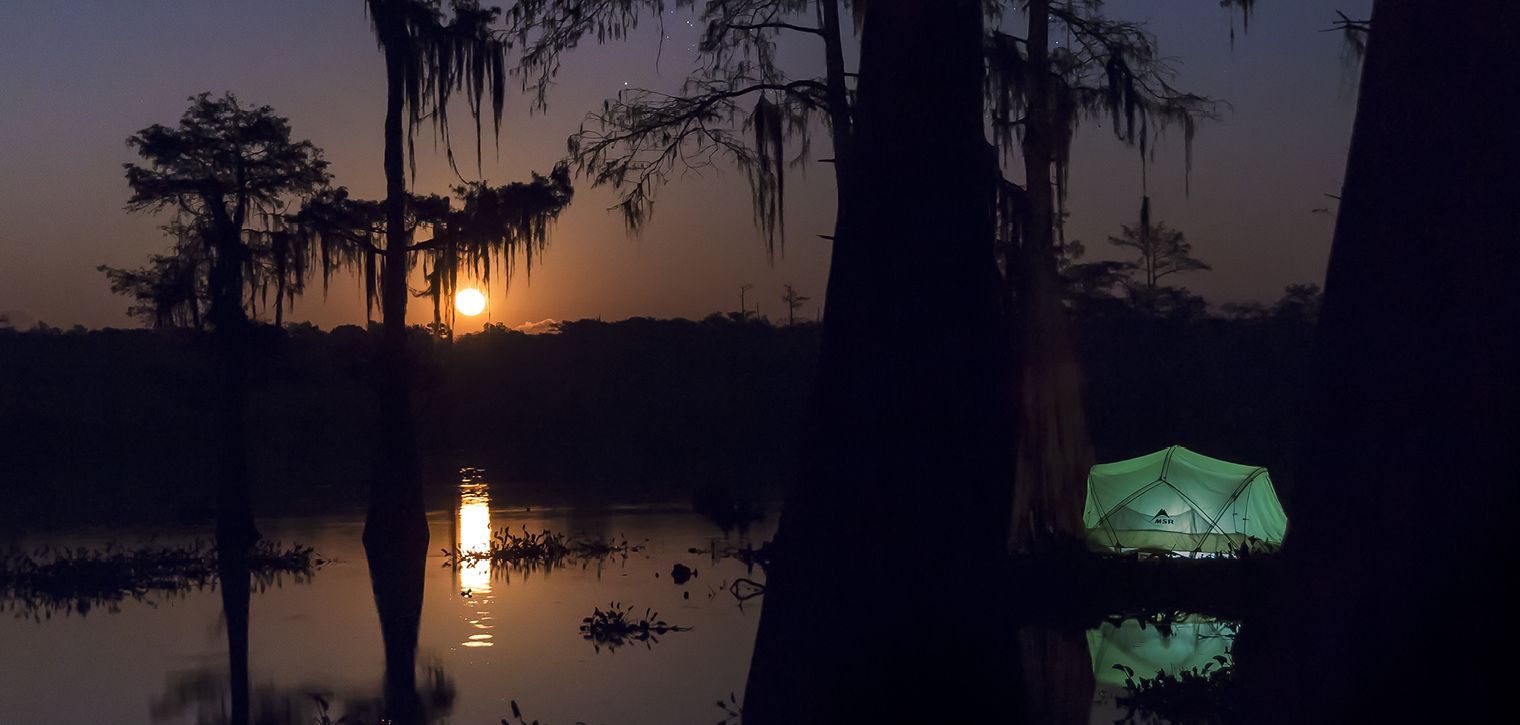 Secrets of the Swamp: An unforgettable journey is only a quick jaunt away in the Atchafalaya National Heritage Area
---
You're sitting bumper-to-bumper on I-10. The voices on your favorite podcast have turned from colorful to cloying. Your eyes are blinded by the brake lights ahead as the minutes fade away from your day like the sliver of sun dipping below the trees. You're stuck.
You look down over the ledge of the bridge. Blinking, your view comes into focus on the dark far below. Is the water rising to meet your gaze? It could be. It feels that immense.
Suddenly, you catch a ripple and a wake. Maybe it was a heron. Maybe a gator. You'll never know. It's finally time to step on the gas. 
Other than the 22 million pounds of crawfish pouring out of the region every year, this is the extent of most Baton Rougeans' experiences with the Atchafalaya Basin. Temporary, unintentional, even frustrating.
And yet since 2006, Congress has officially honored it as far more than this. 
---
As the Atchafalaya National Heritage Area, the region spanning Simmesport—where the Red River effectively becomes the Atchafalaya—south through 14 parishes, down to the Gulf of Mexico, is recognized as a place where a unique combination of natural, cultural, historic and recreational resources mark a cohesive and nationally distinctive landscape—one worth protecting and knowing.
Atchafalaya is a Native American word meaning "long river," and though its Cajun cuisine and music are well-known, the basin's remarkable stats are less so. It is the nation's largest river swamp, bigger than the Florida Everglades. It drains 41% of the country's river system. And it is home to hundreds of plant, animal, fish and bird species.
The Atchafalaya National Heritage Area is one of only 49 such designated lands and waterways in the U.S., and adventure seekers arrive from all over to satiate their curiosity about this odd, wild and wet corner of the world. 
"This isn't your city park, it's real nature," says Ben Pierce, executive director of Swamp Base, Boy Scouts of America's outpost for adventure treks and conservation projects in the Atchafalaya. "But with that challenge comes a wealth of opportunity and beauty. There's so much to see that it's easy to get 'lost' in this place. It touches your soul."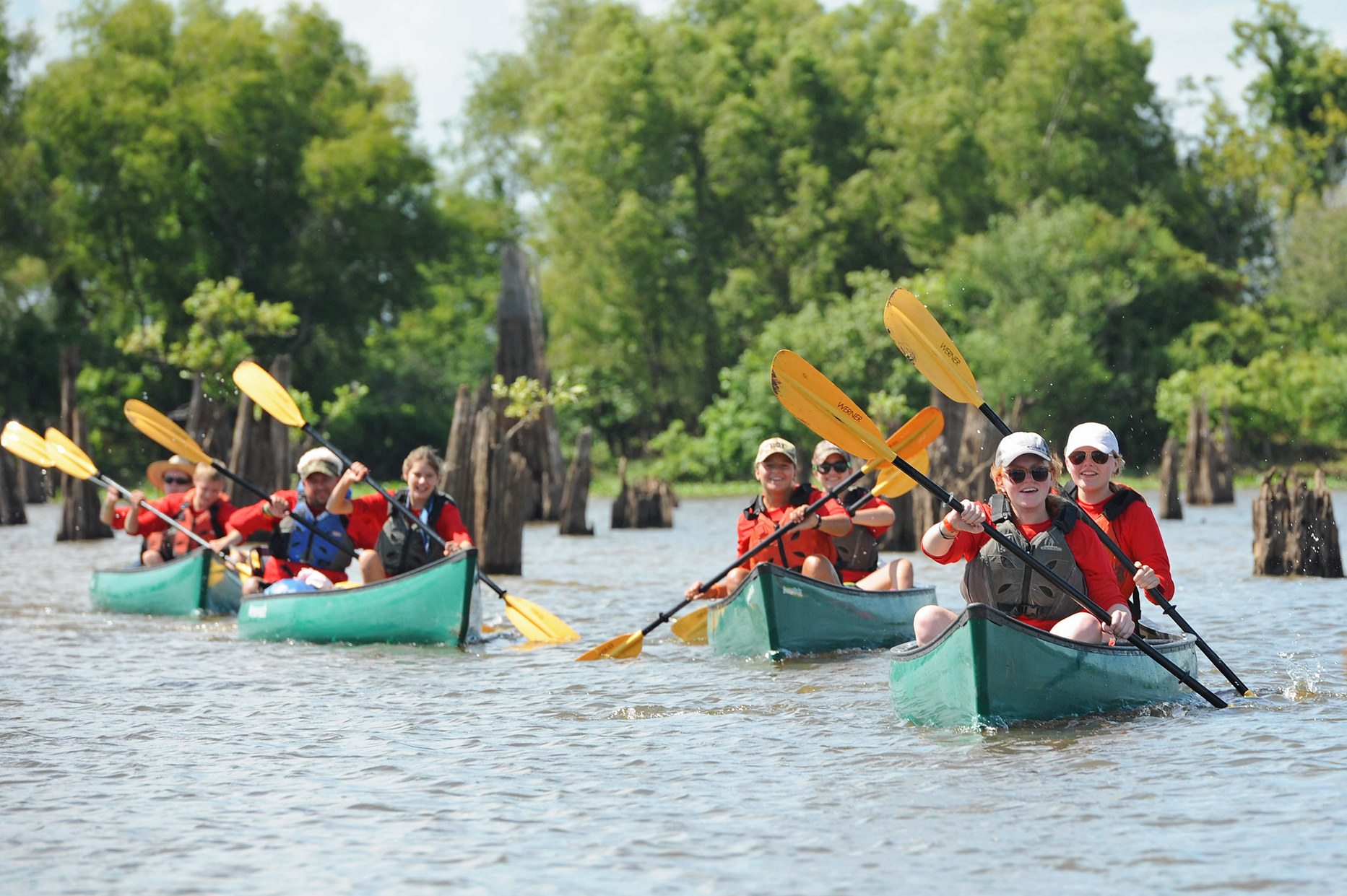 Pierce and his group lead 60-mile, 6-day paddling and camping adventures for Scouts from all over the map. He's seen lives impacted out on the water.
"You learn more about who you are as a person," Pierce says. "You learn how to help and how to ask for help, how to share resources. It's a physical and emotional adventure, and the experience is one that people will tell their grandchildren, but the lessons learned are the most important thing."
The Lafayette native studied landscape architecture at LSU, and during a stint in Asheville, North Carolina, he was inspired by the creative urgency for nature conservation there in Appalachia. Upon returning to south Louisiana more than a decade ago, he says it was important for him to get involved. Massive trash cleanups and overnight adventures through the Boy Scouts became his calling. But ordinary adults and newcomers can experience the Atchafalaya, too. They just need preparation, precautions and a guide, Pierce says. 
"A traditional swamp tour is actually a really beneficial introduction and not too touristy," he says. "The guides know what they are doing, they know the history and flora and fauna, and they get you fired up to be engaged with it all."
Pierce's group offers boats and equipment to adults and families out of McGee's Louisiana Swamp and Airboat Tours, a popular outpost on Henderson Swamp. There, travelers can take guided tours, airboat rides, photo excursions and even 2-hour canoe rentals for more independent adventurers.
"It's such a fine way to get lost in the peacefulness of the area," says Katrina Collette, general manager at McGee's. "We direct them to the Cypress Forest, where the oldest living cypress trees flourish. The quietness, along with the birds and other wildlife, gives our guests memories they can treasure for life."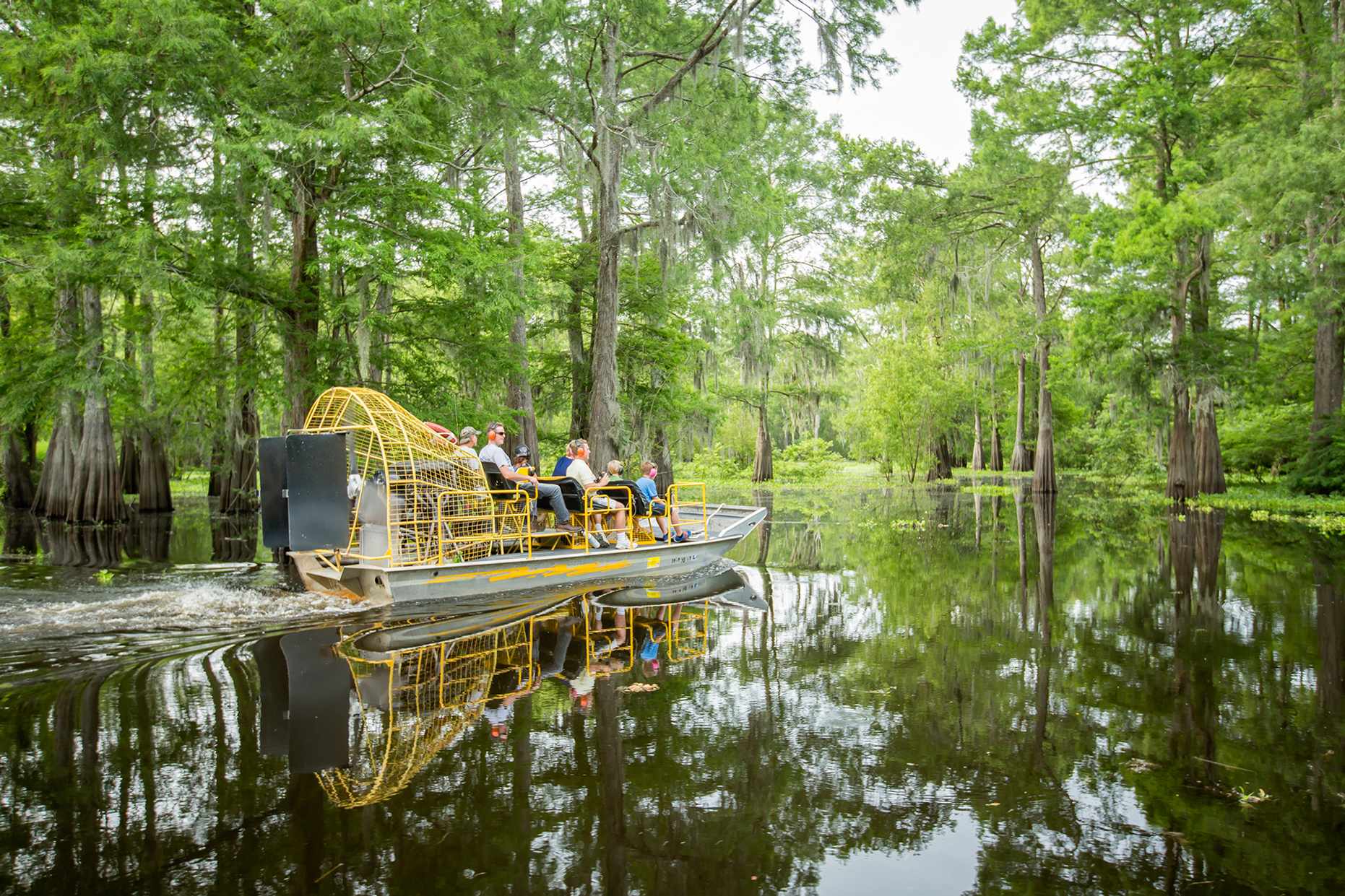 Collette says regardless of what visitors choose to do, her goal is for each to experience the warmth and friendliness of the Cajun people and their way of life.
Artist Leslie Charleville is no stranger to the basin. A native of Rosedale, she works with harvested alligators and fresh catches from the Gulf for her life-size Japanese-style ink art pieces that honor the wildlife of the Atchafalaya. 
"From Cajun to Creole to Acadian—they all overlap in the basin," Charleville says. "We don't have modern amenities and entertainment, but we have the basin. And that trumps anything you'll find anywhere else."
Charleville calls the Atchafalaya residents the salt of the Earth, and one such lifelong resident has earned that reputation far beyond the basin. With two small gators and decades of swamp-spun yarns in tow, Gene Seneca is something of an ambassador for the Atchafalaya, preaching its charms and histories across the country. Yankees call him the Gator Whisperer.
When he's not traveling, he's home turning cypress into birdhouses, crosses and furniture, or out on his boat taking photos on the water. 
For the uninitiated, Seneca, like Pierce, recommends Henderson Swamp and McGee's, but he's quick to offer to be a guide to anyone who asks him. "Get there early for the sunrise," Seneca says. "There's a tranquility out here that is hard to find anywhere else. Now, I'll fish all day, and then nap and catch the sunset, too, on the same day. That's unbeatable."
Like they did for Seneca, who became obsessed with picture-taking after retiring from a telephone company in 2000, camping, kayaking and especially birding in the Atchafalaya can turn amateur photographers into artists. "Buying a boat again in 2000 and getting out on the water changed my life," Seneca says.
More than 420 species of bird have been identified in Cameron Parish south of Lake Charles alone. It's the largest nesting concentration of bald eagles in the South, while across the basin, roseate spoonbills constantly color the treetops. In spring and fall when the rice fields drain, seagulls and sandpipers arrive.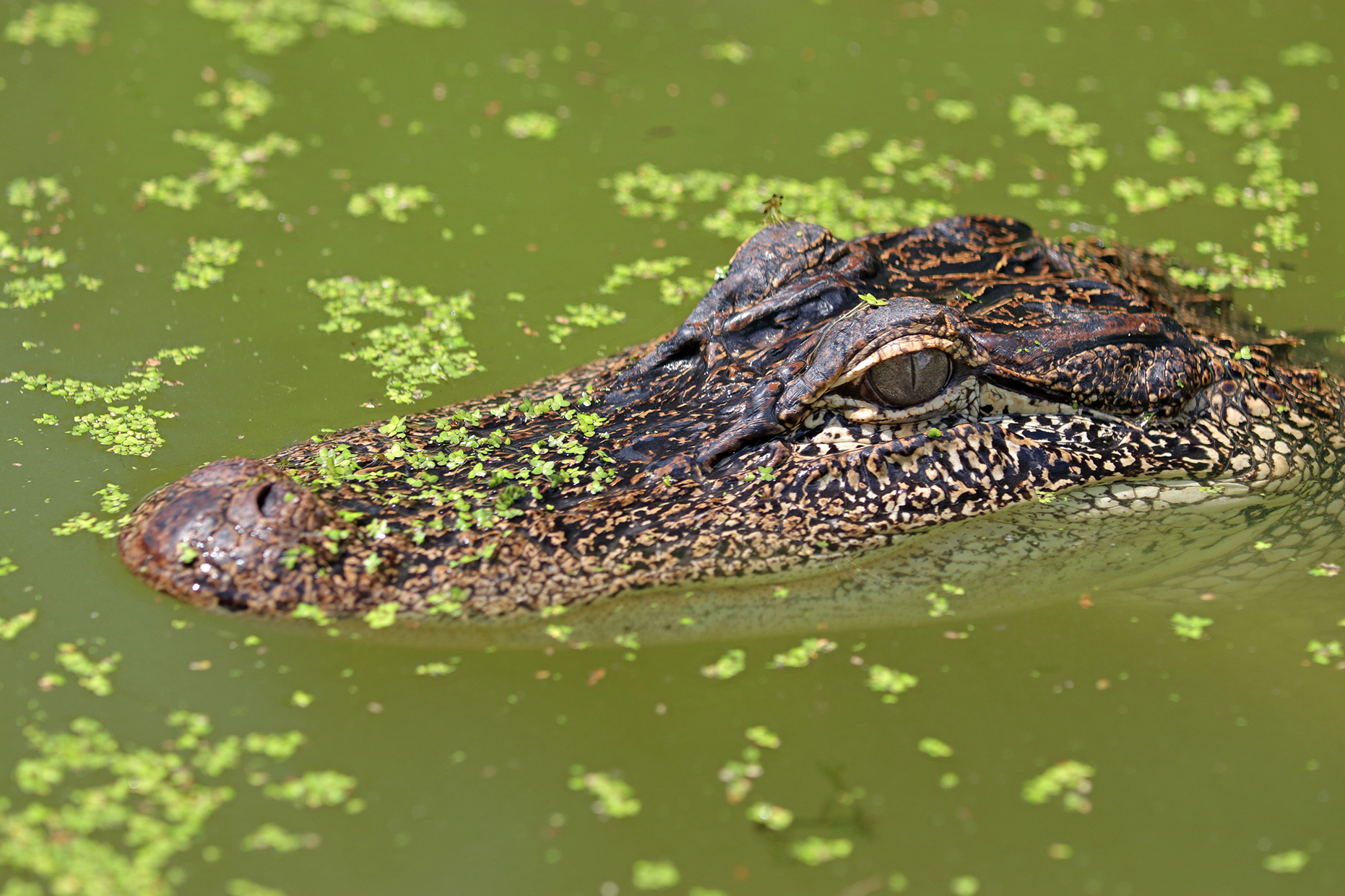 Whether camping at remote Gulf-facing areas like Cypremort Point or the sprawling, piney Chicot State Park, or airboating out of Basin Landing in Breaux Bridge, more visitors are arriving now, too. The Atchafalaya is peppered with cabin and houseboat rentals. There are 14 listings on Airbnb. 
As interest—and development and foot traffic—in the region grows, so does the need for smart conservation. In 2020, Justin Lemoine—an LSU landscape architecture friend of Pierce's—was named executive director of the Atchafalaya National Heritage Area. As an innovator who project managed the North Boulevard Town Square redevelopment and co-founded MidCity Makers Market, Lemoine grew up fishing in Spring Bayou and is well-positioned to foster the future of the Atchafalaya.
In April of 2024, his office and the region will play host to the Alliance of National Heritage Areas annual conference. Lemoine's office is also aligned with Governor John Bel Edwards' Atchafalaya River Basin Restoration & Enhancement Task Force and focused on funding efforts for increasing public access and conservation of the region.
"This is an economic engine that, if we tap into it even more, could really help diversify our economy around eco-tourism," Lemoine says. 
Though the water, silt and flood management of such a large area with so many property stakeholders is a complex challenge, Lemoine is up for the task, knowing the value that protecting the environment brings to caretaking the culture of south Louisiana.  
Lemoine calls the Atchafalaya "Louisiana's Yellowstone," and if you're not stuck in traffic on I-10—if you're inside the basin, knowing it, exploring it—then the sunsets are so rewarding. "The colors you see are incredible," Lemoine says. "As the sun is going down, and the world and animals are calming down, it's a peaceful and serene moment. You're not far from these big population centers, yet it feels like you're a million miles away."