Savoring the season: Kathy Mangham's menus are motivated by fresh flavors
Cooking for clients is all in a day's work for Kathy Mangham. As owner of the boutique catering firm Gourmet Girls, she has developed a regional reputation for artful pastries and colorful culinary creations, and before that she wowed diners with delicate salads and desserts at her Silver Spoon restaurant in Bocage Village. But even when she's off the clock, Mangham makes it a priority to come together with friends over food. Whether it's a relaxed one-pot gathering over the kitchen island or a traditional dinner party with plated courses, she relishes the opportunity to share her food and good conversation.
"In the fall, I tend to go fancier," says Mangham, who recently co-hosted a formal dinner for 10 with close friend Lexie Polito at Polito's home in Bocage Lake. "I also like to have a theme to help get the conversation started. In this case, it was 'What are you grateful for?'"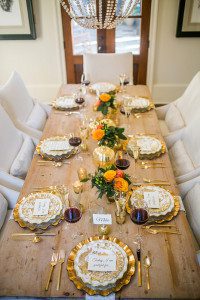 In menu planning, Mangham stays faithful to the seasonal bounty. She's a regular patron of the Red Stick Farmers Market and tweaks her dishes according to what's fresh and available from Louisiana growers. She also plumbs other regions of the country for fine ingredients at their peak.
Mangham says she believes in starting a party with a signature cocktail. Before guests arrive, she mixes it in a pretty pitcher for easy service. One of her fall favorites combines Cathead vodka with organic apple cider and shaved apples. She serves it on the rocks in Old-Fashioned glasses.
"Sometimes guys want something less sweet, so I always have a full bar set up, too," she says.
Guests mingle over drinks and enjoy small nibbles that aren't too filling. Her go-to hors d'oeuvres are gougères (Gruyere cheese puffs) or homemade crackers with a single type of cheese. After about half
an hour, it's time to call guests to the table.
Each place setting features calligraphed place cards. She likes dim lights and candlelight over dinner. The table features unscented votive candles and short flower arrangements to ensure guests can see one another without obstruction while they're eating.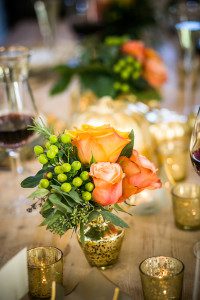 The first course, an autumn stacked salad of Bosc pears, honeycrisp apples and yellow beets dressed with blue cheese, pomegranate seeds and Champagne vinaigrette, is already plated and perched on attractive chargers. Both red and white wine is decanted and at the table.
For this autumn affair, Mangham follows the salad course with her warm and comforting homemade tomato bisque with fresh Gulf crabmeat. The hearty main course includes grilled lamb chops, lobster risotto and roasted Brussels sprouts with pancetta and balsamic reduction. The Brussels sprouts are served at room temperature.
"I love vegetables at room temperature. They taste better, and you don't have to worry about reheating them before serving," Mangham says.
Dessert is often an elaborately decorated homemade layer cake showcasing Mangham's intricate hand. A former art major, she's known for cakes and cookies gilded with handpainted edible gold leafing, fresh flowers or other ornaments.
"I probably have more paintbrushes to paint cookies and cakes these days than I have for painting canvases," she says.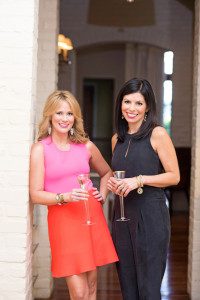 Mangham says she prepares what she can in advance, saving only a few essential tasks for the evening of the party. She also hires helpers to tend to the little details.
"I used to be so stressed out when I'd throw a party, so now I always get help with serving and clearing," she says. "I want to enjoy myself and not feel like I'm at work."
As with her catered affairs, Mangham focuses her own dinner parties on pleasing a variety of people. "In catering, I try to balance menus for clients, making sure there's enough for a vegetarian to eat, or someone with a seafood allergy or who's gluten free," she says. "The same applies to my guests—I want to make sure everyone is happy."
Mangham says there isn't a single aspect of hosting a party that she doesn't enjoy. "From start to finish, planning the menu, making place cards, setting the table, I love all of it," she says. "Creating a beautiful setting, serving delicious food and being a good hostess … I can't say it's just one thing."
---
Menu: Seasonal, seasonal, seasonal
Bar: One signature cocktail and an open bar
Seating strategy: Place cards; 10 guests maximum around one table
---
Kathy's Tips:
• Hire someone to help serve, clear and wash dishes.
• Pick a vegetable side dish that tastes great at room
temperature.
• Along with full dessert, serve a chocolate truffle or small bite for those who only want a taste of something sweet.
---
Menu: A Gathering with Gratitude
Autumn stack salad
Grilled lamb chops with herb Creole glaze
Lobster risotto
Roast Brussels sprouts with smoked bacon, balsamic and chevre
Tuxedo chocolate cake with raspberries
---
Autumn Stack Salad with Champagne Vinaigrette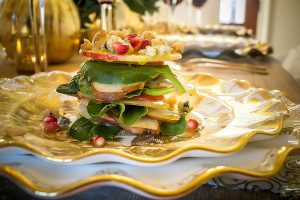 4 honeycrisp apples
2 medium yellow beets
4 Bosc pears
1⁄4 cup lemon juice
1 cup roasted walnuts
1⁄2 cup Maytag blue cheese crumbles
1 cup pomegranate seeds
1⁄3 cup Champagne vinegar
2⁄3 cup extra-virgin olive oil
1⁄2 tsp. coarse sea salt
1 tsp. fresh thyme leaves
1⁄4 tsp. freshly cracked black pepper
2 Tbsp. orange blossom honey
1 Tbsp. Dijon mustard
Slice apples, beets and pears thinly on a mandolin. Place apples and pears in a shallow dish and cover with lemon juice. Stack pears, apples and beets alternately on each individual salad plate. Sprinkle with walnuts, blue cheese and pomegranate seeds. Set aside until ready to serve.
For Champagne vinaigrette, in a jelly jar with a lid, combine remaining ingredients and shake until emulsified.
Right before serving, drizzle dressing over each salad. Makes 8 servings.
---
Apple Spice Cocktail
4 cups unfiltered apple juice
1⁄2 cup Cathead pumpkin spice vodka
Thinly sliced apple slices soaked in lemon juice for garnish
Mix apple juice with vodka. Chill until ready to serve. Serve over ice with apple slices.
---
Grilled Lamb Chops with Creole Herb Glaze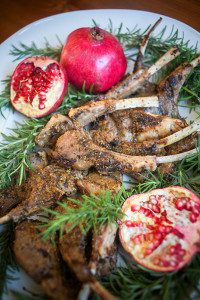 16 small lamb chops
2 Tbsp. rosemary
1⁄2 cup Creole mustard
3 Tbsp. honey
2 Tbsp. Worcestershire sauce
Sea salt
Coarsely ground black pepper
Place lamb chops in a shallow baking dish and set aside, allowing them to come to room temperature, about 30 minutes. In a small saucepan, combine rosemary, Creole mustard, honey and Worcestershire sauce. Whisk until combined, and heat over medium-low heat for 5 minutes. Season lamb with salt and pepper to taste. Heat grill pan to medium heat (about 10 minutes). Grill lamb chops until they have grill marks and are lightly browned. Place lamb back into baking dish and drizzle with sauce. Bake in a 450-degree oven for 15 minutes or until medium rare. Serve warm or at room temperature. Makes 8 servings.