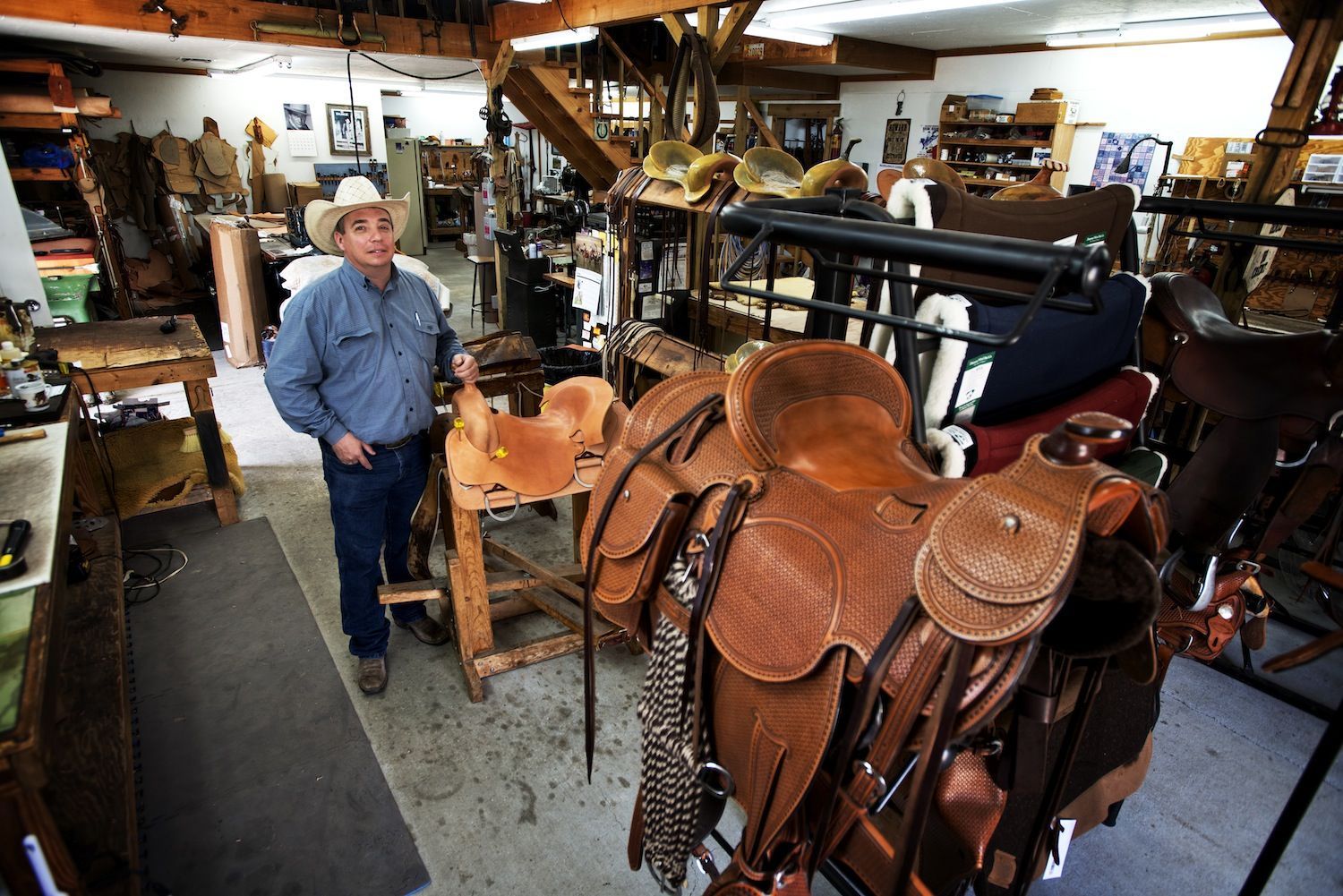 Hand-tooled details and a perfect fit set Ken Raye's custom saddles apart from the herd
Ken Raye is no come-lately cowboy. Decades of riding, showing and rodeoing have taught him exactly what a horseman needs from his saddle. Combine that arena experience with an artist's touch, and it's easy to see why professional cowboys from around the country call on Raye to craft their riding gear.
The custom saddle maker first learned leatherwork techniques from his father before becoming an apprentice to longtime Denham Springs saddle-shop owner Harold Chambers in the late 1980s.
"As a youngster, I actually wanted to be a horse trainer," he says. "That's where my passion was. But horse training is a pretty tough way to make a living. Saddle making is, too, but at least you're out of the elements."
After more on-the-job training at a saddle shop in San Angelo, Texas, Raye opened his own saddlery in 1993 at the age of 21. Since then, he has picked up a stableful of accolades, including multiple wins for tooling and workmanship at the annual Boot and Saddle Makers Roundup in Wichita Falls, Texas.
Using domestic leather from Hermann Oak, a St. Louis tannery that supplied westward-traveling wagon trains in the late 1800s, Raye builds each saddle on a base called a tree, which features sculpted bars he designs himself to best fit a horse's curves. With handmade knives and specialized tools, he creates decorations such as flowers, leaves or geometric designs. The entire process can take from 60 hours for a plain working saddle to several hundred hours for a "showpiece."
But even the most ornate of his saddles must be functional. "I'm known for a saddle called the ranch cutter, which can go from the show pen to the working ranch," Raye says. "It allows the customer to show the horse and to also be able to depend on the saddle for strength."
One thing that distinguishes a Ken Raye custom saddle is the attention to fit for both the horse and its rider. Raye can often be found casting a horse's back in plaster either at his workshop or at an out-of-town show. "People who are showing at a high level need that saddle to fit and fit good," Raye says. "You can't run a marathon if you don't have the right shoe, and it's the same with a saddle on a horse's back."
The respect Raye has earned in the industry keeps him constantly busy. He currently has more than 70 orders and a two-year backlog on custom saddles. He employs assistants to help with less complex projects, like headstalls and spur straps, but the primary saddle work is still all done by Ken, by hand.
"I strive to get better and better," he says. "I imagine I'll do it till I can't do it anymore."
For more information, see kenraye.net.