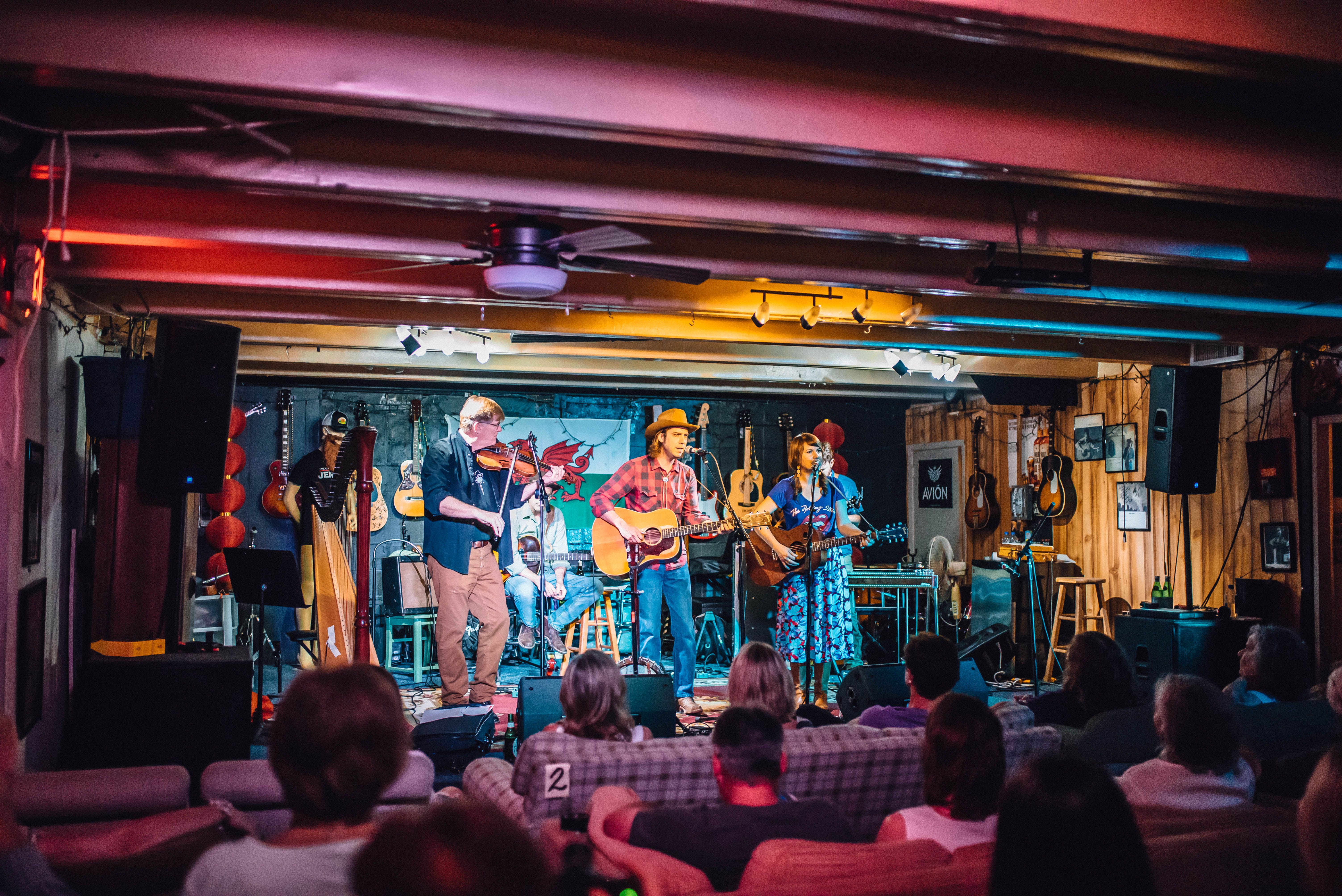 Red Dragon Listening Room is a refuge for music lovers
---
Settled deep into the cushions in the sixth row of couches from the stage, I peek over the lip of my plastic cup of cabernet to take in the dimly lit space of the Red Dragon Listening Room. People are still trickling in—some gathered in friendly clusters and some, like the gentleman sharing the couch with me and my boyfriend Julien, are here alone. It's Friday evening, and everyone has a kind of refreshed, bid-adieu-to-the-workweek look about them.
The walls are filled with vintage signage, posters and Christmas lights. I point out to Julien the image serving as a backdrop to the presently empty stage: a fierce, fork-tongued dragon with a looped and barbed tail, painted fire-red atop the familiar white and green background—the Welsh flag. Only two days before, I had asked Chris Maxwell, owner of the Red Dragon Listening Room, about the music venue's mascot.
He told me that after purchasing an old distressed building on Government Street 16 years ago, they decided to invite their musician friends to play there. "It had previously been a tattoo parlor—the Red Dragon tattoo parlor," he said. "There was this enormous red dragon painted on the door and on the floor." When people asked how to get to his budding new music venue, Maxwell would simply tell them, 'Come to the Red Dragon.'
As the impromptu music venue developed into a full-time nonprofit operation, the Welsh flag, with its fierce dragon, presented itself as a natural logo for its royalty-free status and its imperial aesthetic. "It's so regal-looking," said Maxwell. "What more could you ask for? We're in folk music. It's perfect."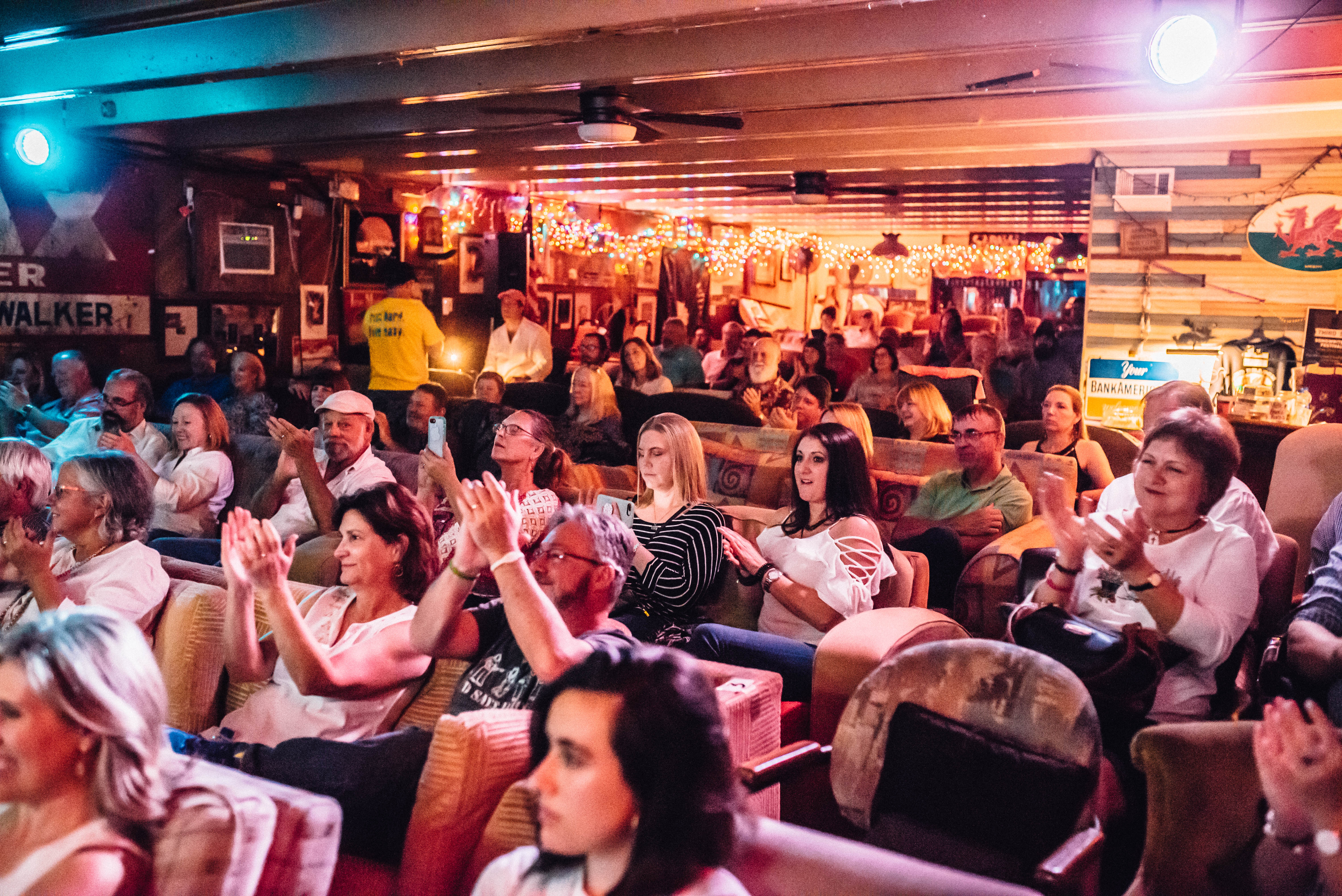 Now settled on Florida Boulevard, the Red Dragon's identity is steeped to a much greater degree in the second half of its name. Sitting in the audience, I watch as the night's performers step onto the stage, and by the time they are in front of their microphones and Clay Parker casually grazes his hands over his guitar strings for the first time, the room is entirely silent. Listening.
As a listening room, this venue exists not as a place to socialize against a background of live music. No, at the Red Dragon Listening Room, guests attend for the sole purpose of hearing music. All attention is directed toward the musician.
"Nearly 20 years ago, we were at a folk alliance conference," Maxwell explained. "I overheard two musicians talking, saying 'Oh, you've got to go play at the Blue Door in Oklahoma City. It's a real listening room.' And I tucked that away in my head."
Today, you can find "listening rooms" all across the South, and even a few others in Baton Rouge. But Maxwell says that the term started with the Red Dragon, and it's a concept he is proud to have helped spread.
Noesis Data CEO Layne McDaniel, a patron and sponsor of the Red Dragon, says this intense focus on the music is what gives the place such value. "There are no interruptions for the audience, no visiting, no bartenders or waitresses, no serving food or drinks," he says. "The artists can feel appreciated in a listening room, can feel respected."
It's more than that, though, I think, entranced in the bluesy lyricism of Jodi James' voice. Looking at each body in the room, you can feel the way their entire energy is being focused on the sound. Many eyes are closed, heads nodding to the gentle rhythm, bodies swaying and fingers tapping. And in the small room, there is a tangible connection, a kind of communication, between the singer and the audience.
"It's small, so you're not sitting in an arena a quarter of a mile away from the artist," says Red Dragon regular Blane Clark of Kean Miller Law Firm. "You get to see up close. You see their face. It's a different environment. I can't go listen to music anywhere else."
This approach to live music attracts a very specific group of individuals—people who truly love music in a way that surpasses its social functions. And that demographic breaks barriers—economic, political and social. "At any given moment I could point out into the audience and tell you, there are 10 millionaires out there and there are 10 people without two nickels to rub together," says Maxwell. "This is one of the odd places where everybody in the world can get along. Really, really an eclectic group of folks who come out. It's wonderful."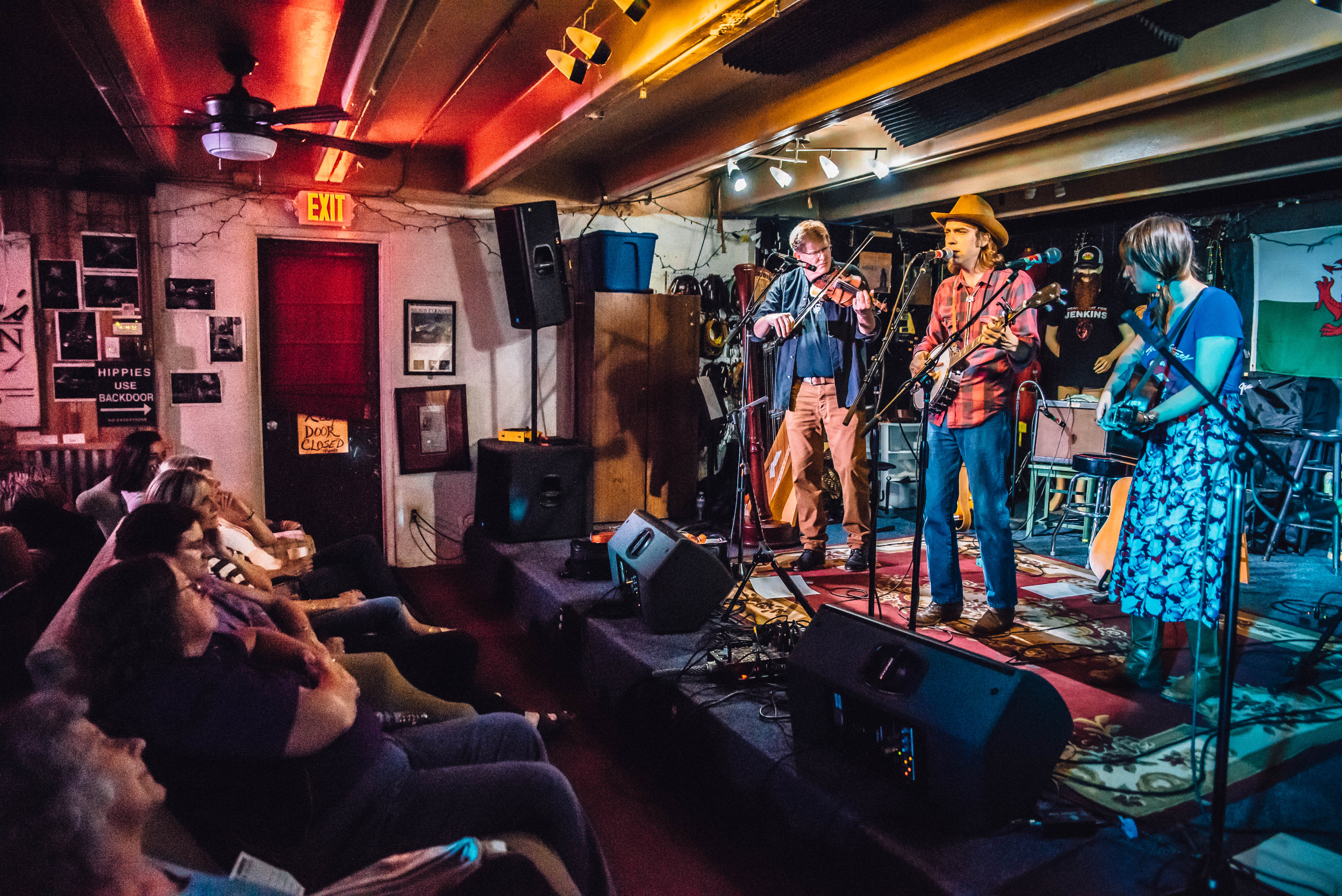 Sponsor JR Whaley of Whaley Law Firm attests to this as well, "It's about the music—not a festival, not a bar. It's really just about the music, and there is a unique camaraderie there."
The camaraderie is especially palpable tonight as all we Baton Rougeans gather to watch Clay Parker and Jodi James, nationally touring artists who started right here in the Red Stick. As the show proceeds, other local musicians weave in and out of the harmonies and melodies. This is a uniquely local show, a celebration of musical talent born in our Capital City.
Since its early beginnings, the Red Dragon has played a big part in supporting local musicians. Every show here showcases a local artist, either as the headliner or as the opening act for a major nationally touring musician.
In addition to local performers, however, over the years, the persistence, passion and deep love of music that Maxwell brings to his venue has brought in big names like Rodney Crowell, Jerry Jeff Walker, Roseanne Cash, Elizabeth Cook and more. After playing at the Red Dragon, Joan Baez left Maxwell her couch, which is still on display in the back room. The late Guy Clark played there enough times to earn himself a parking spot.
"We've had some really big names come and play with us who should never play a room this small," says Maxwell. "But the word gets around that you really love the music, and they tell their friends. And they come."
When Parker and James announce that they are only going to play one more song, the crowd seems to jolt a bit—awakening from a trance. I look at the clock and realize that it's been over two hours. How did the time go so fast? But at the request of the persistent audience, who are reluctantly preparing to re-enter a world less ordered by music, Parker and James play a resounding encore. And at the end, the listening finished, the room erupts into thunderous applause.
---
Some of the musicians scheduled to perform at the Red Dragon Listening Room in the coming weeks include Joe Ely August 4, Kevin and Dustin Welch August 24, Jon Dee Graham August 31, and John Schneider September 6. For a full lineup, click here.