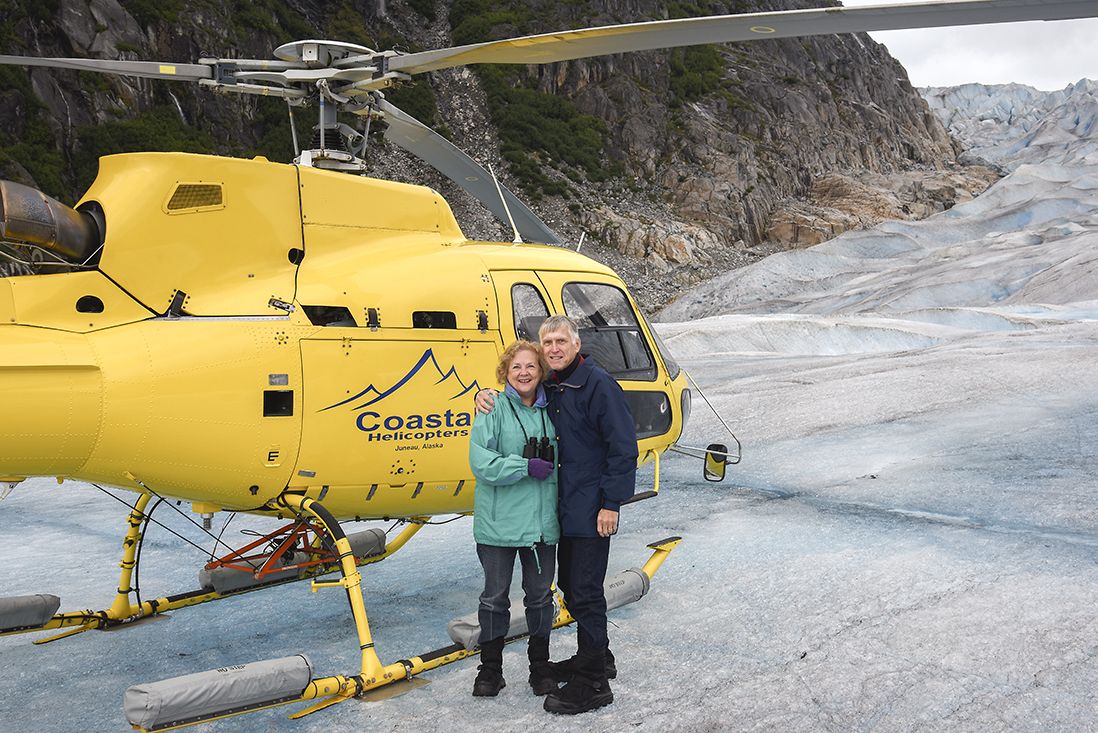 A year to remember: One day of celebration wasn't enough for this couple's 50th anniversary
---
Virginia and John Pearson met in January 1966 as a young college graduate and an Air Force veteran at a popular jazz bar in Milwaukee, the chilly part of the country where they were born and raised. On that evening, both had arrived with friends of their own, with no intention of spurring the start of any particular future. But just four months later, Virginia and John were engaged. Thirteen months from then, they would be married.
Now living in Baton Rouge but constantly in communication with their two grown children's families and their friends across the United States—from their original home state of Wisconsin to the pine forests of Washington—the couple had looked forward to their 50th anniversary as another occasion for more happy gatherings. But a chance remark by one of Virginia's friends—spoken at a funeral for the friend's beloved husband—suddenly gave the upcoming date more significance than it had before, and inspired in the Pearsons a desire to do something a little more memorable for their 50th year of marriage.
"My friend and I had made our way to the back of the church," says Virginia, "and she told me how much she and her husband had been looking forward to their 50th anniversary, but they never made it. I remember she was so sad about that. Too often we celebrate people or occasions after they've already passed, so John and I thought that since our 50th was such a big milestone for us, we would celebrate the whole year leading up to it."
Every month, starting in July 2016, Virginia and John put aside time for special trips and get-togethers—some planned in advance and others more spontaneous. Some months, like the first, were spent sharing time with grandchildren and relatives in Milwaukee. In August, they flew to Seattle to visit a cousin, and from there cruised to Alaska where they hiked to glaciers and flew in a helicopter. September saw them back to Wisconsin where they braved their alma mater's red and white amid a group of LSU football fans, stayed in a house designed by Frank Lloyd Wright in the town of Two Rivers, and celebrated their granddaughters' birthdays.
October took them back to south Louisiana, where they celebrated an Oktoberfest of their own at Middendorf's restaurant. "It's not exactly Munich," says Virginia, "but the food is wonderful."
Thanksgiving took place back in their snowy native state, as did Christmas, where they made holiday meals with high-school friends and stayed up past midnight, doused in conversation.
Always finding international company even in the confines of Baton Rouge, the Pearsons marked January with a dragon dance for the Chinese New Year, celebrated with friends at the local Chinese Society. The next month, they headed to New York City, where they decided to take a sobering tour of sites associated with the events of 9/11 before coming back to the present for a meal at the aptly named restaurant Virginia's.
March took them west to San Francisco to meet family, where they stretched their Louisiana legs on some intimidating hills and logged plenty of exercise before their biggest trip of all—two weeks in Italy in April, where they made even more friends who plan to visit them later this year.
May kicked off the summer with one of the Pearsons' favorite local events, the Symphony Pops concert at the LSU Rural Life Museum. And at last, in time for their June 17 anniversary, Virginia and John traveled to Denver, Colorado, which they had first visited on their honeymoon and where John had trained for the Air Force. They also stopped in the Black Hills and enjoyed Mount Rushmore.
In a world where traveling with family can seem like a curse of close quarters, the Pearsons make sure to put quality time over minor irritations.
"Even if we do yell at each other, five minutes later, we're fine," says John. "Our arguments don't seem to matter. They're not going to break the relationship."
The secret to that kind of 50-year-long confidence?
"I think John brought different things to the marriage, and I brought different things," says Virginia. "We've always supported each other in whatever it is we want to do, and I think that's important. Plus, we just really like each other. We want to be married to each other."
In the future, Virginia and John hope to continue this celebratory tradition to the best of their ability.
"John and I have been very fortunate to have good health and to be able to travel," says Virginia. "But you don't need to go to Italy or Alaska to celebrate with loved ones. You don't need to spend a lot of money. Just try and do something a little different every month, with good friends and with family. That's plenty for us."
Click on the timeline below to see highlights of the Pearsons' unforgettable anniversary year:
---