Time flies: Photographer Jackie Haxthausen creatively captures the fleeting moments of childhood
---
Three, two, one, and the shutter begins to click, signaling Jackie Haxthausen—mom of three and creative force behind Baton Rouge-based LeeKay Photography—to strike her first pose. Maybe she's donning a candy-blue face mask in pajamas and rollers, celebrating a girls' night with popcorn and a pink fruity drink. Or maybe she's smiling in a '50s flared dress with Thanksgiving turkey in hand, oblivious to her daughter sneaking a hearty chomp of bread roll. Then again, maybe she's behind the camera this time, adjusting the red braids for an Anne of Green Gables-inspired portrait, shining her son Hopper's crown for a wild rumpus a la Where the Wild Things Are, or praying that her dog Georgie keeps his eyes on the peanut butter for a few more snaps in the bathtub.
So goes the play-by-play of a not-so-typical shoot by Haxthausen, who until 2019 spent most of her professional hours as a lifestyle photographer for local clients. At the time, LeeKay Photography, named for Haxthausen's daughters Liora Elizabeth and Emmeline Kay, had only just begun to take a more creative turn, becoming the platform for a planned series of art-inspired self-portraits starring Haxthausen and her children—think Monet's Woman with a Parasol, the interpretation of which can still be seen on the LeeKay Photography Instagram page. Haxthausen, an LSU art-major-turned-biology-major who found her way back to photography after an initial career in the medical field, first experimented with such whimsical ideas when her daughters began expressing interest in Disney princesses. 
"I challenged myself to do a storybook-inspired shoot once a month with the kids, learning all the Photoshop techniques I needed to know to pull off what I envisioned in my head," she says. "Over time, the style just evolved into what it is now—a bit like Wes Anderson movies; a midcentury vintage feel, but still timeless."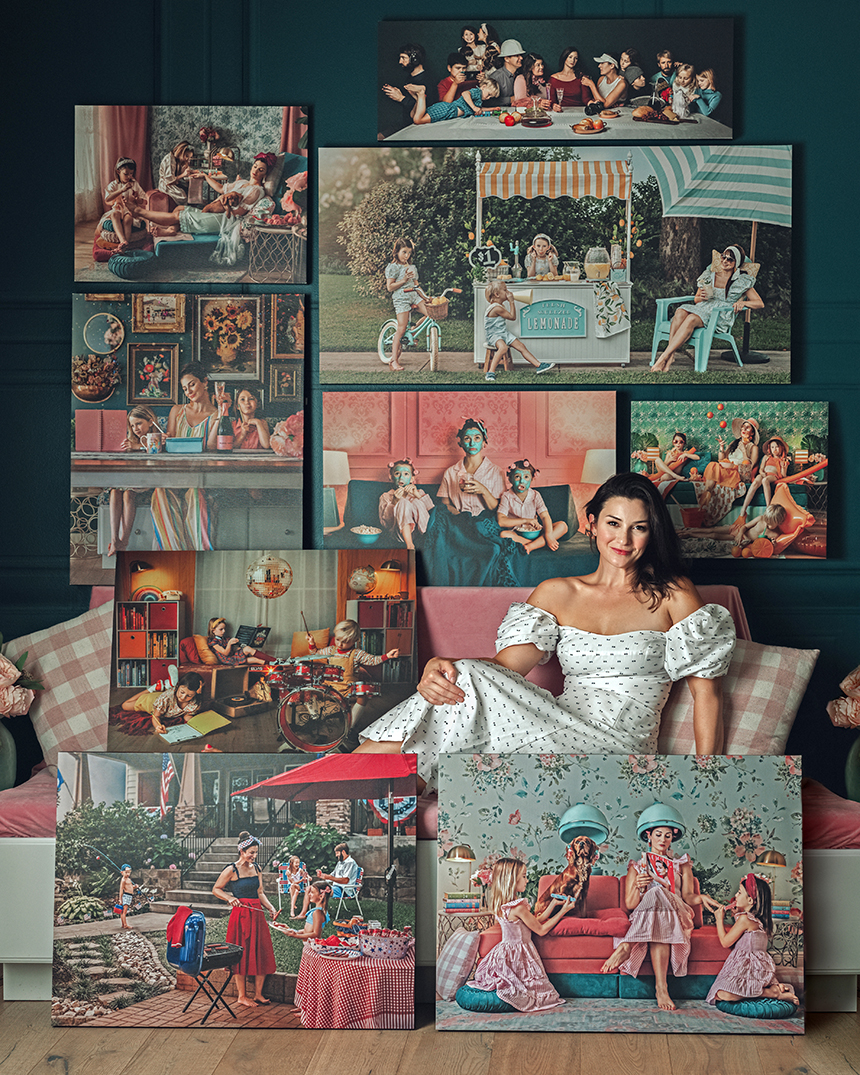 In an unexpected turn of events, Haxthausen's personal project began attracting fans from around the world. Her carefully curated shoots—which often take weeks of planning and prop hunting, not to mention hours of editing—evoked the escapism that was so attractive during the first months of COVID lockdown. Not only that, but the ability to involve her children and husband Will in her creative life stood out as a precious opportunity to create unique memories as a family.
"I used to feel this constant pressure that I wasn't doing a good job as a documentary photographer, just capturing moments of my family's life," she says. "But now that I have this separate thing—an excuse to create these joyful, special photos with my family once a month—it takes some of the pressure off, and I don't feel like I have to have my big camera with me documenting every moment of their life. I can just be a mom with an iPhone."
But don't let the juicy lighting, poised postures and color-coordinated props fool you. From test shots to digital manipulation to searches through craft stores and Etsy shops, the secret sauce inside Haxthausen's finished product lies in a lot of hard work—especially when it comes to wrangling her kids, none of whom have yet reached double digits in age.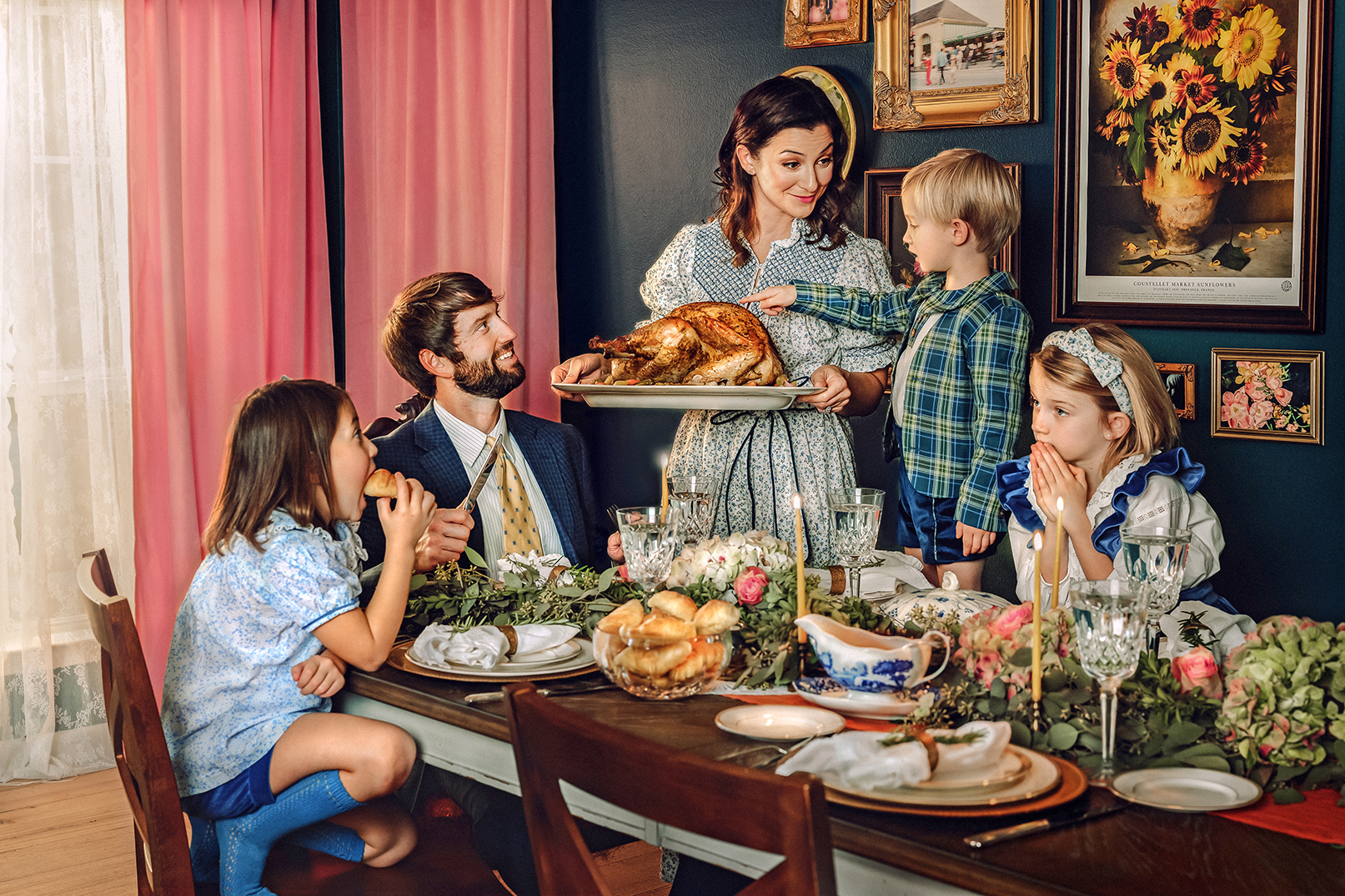 "The best advice that I have for working with young kids or pets is to set up everything you can ahead of time, but let them be as involved as possible," she says. "Sharing my ideas for the photo shoots helps them get excited. I might test lighting on an American Girl doll or on my husband before I bring the kids in for real; I don't want to ruin the fun or make anything stressful for them."
But no matter how many times you direct a little boy to yell "Get your lemonade here!" for a summer shoot, or wave a tortilla chip in front of your dog's face to keep him from leaping out of frame, sometimes a successful photo shoot means accepting the things that don't go according to plan.
"I don't mind that," she says. "I want the true emotion and storytelling to happen. I want their personalities to be in there. We're not perfect, and I guess that's the whole idea—to always try to keep something funny, because that's just how little kids are. It's why I'm so inspired by Norman Rockwell and his true-to-life illustrations that show the comic side of life. We can't take ourselves too seriously."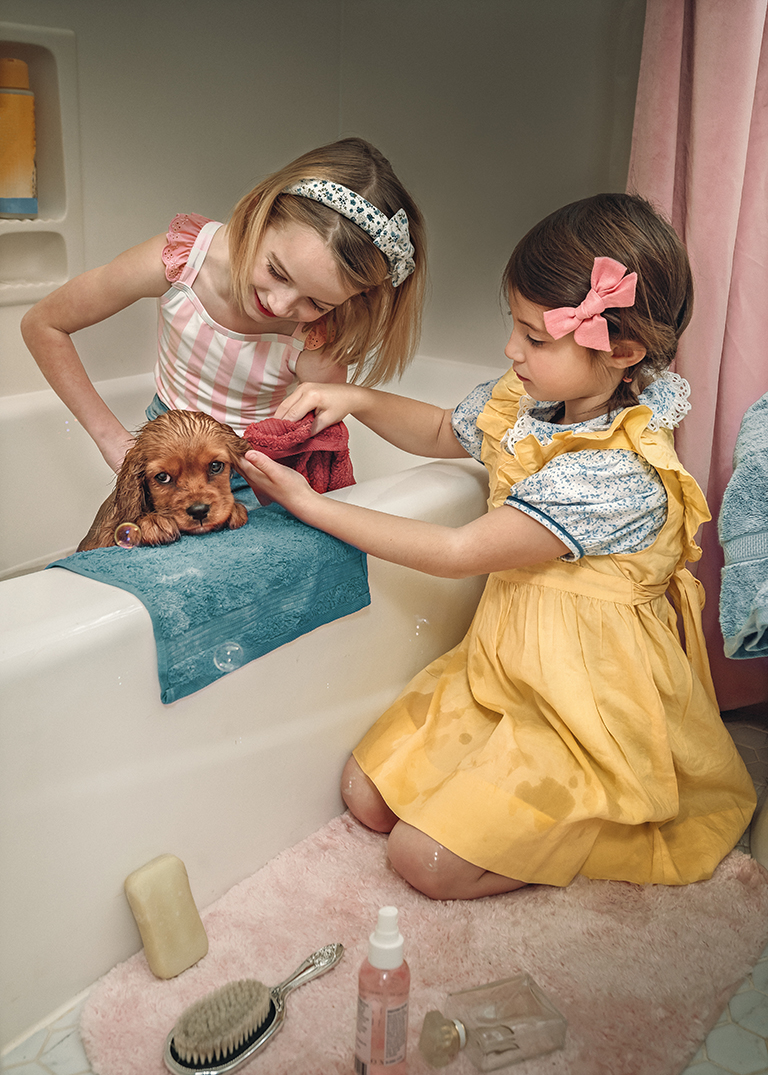 As an artist, however, Haxthausen means serious business, having recently been named one of the grand prize winners of the CG Pro Prints Professional Photographer Billboard Project. Starting this month, 10 billboards bearing Haxthausen's photography will appear in cities around the South, showcasing her work to a broader audience. 
"Baton Rouge tends to be a traditional market when it comes to family photos, which I do love, but if someone was looking for something different, I would love for them to see my work so I can create for them, too," she says.
Haxthausen's work is spreading beyond our region as well. She recently taught an hourlong virtual retreat for U.K.-based photography workshop Phlock Live, where she delved into her methods involving lighting techniques, set decorating, Photoshop tips, posing and more. Word of mouth and a thriving Instagram account have also locked in working partnerships with brands like the children's play couch company Nugget, whose colorful shapes Haxthausen had used in her photos for a long time, crafting anything from castles to underwater treasure chests from the simple shapes.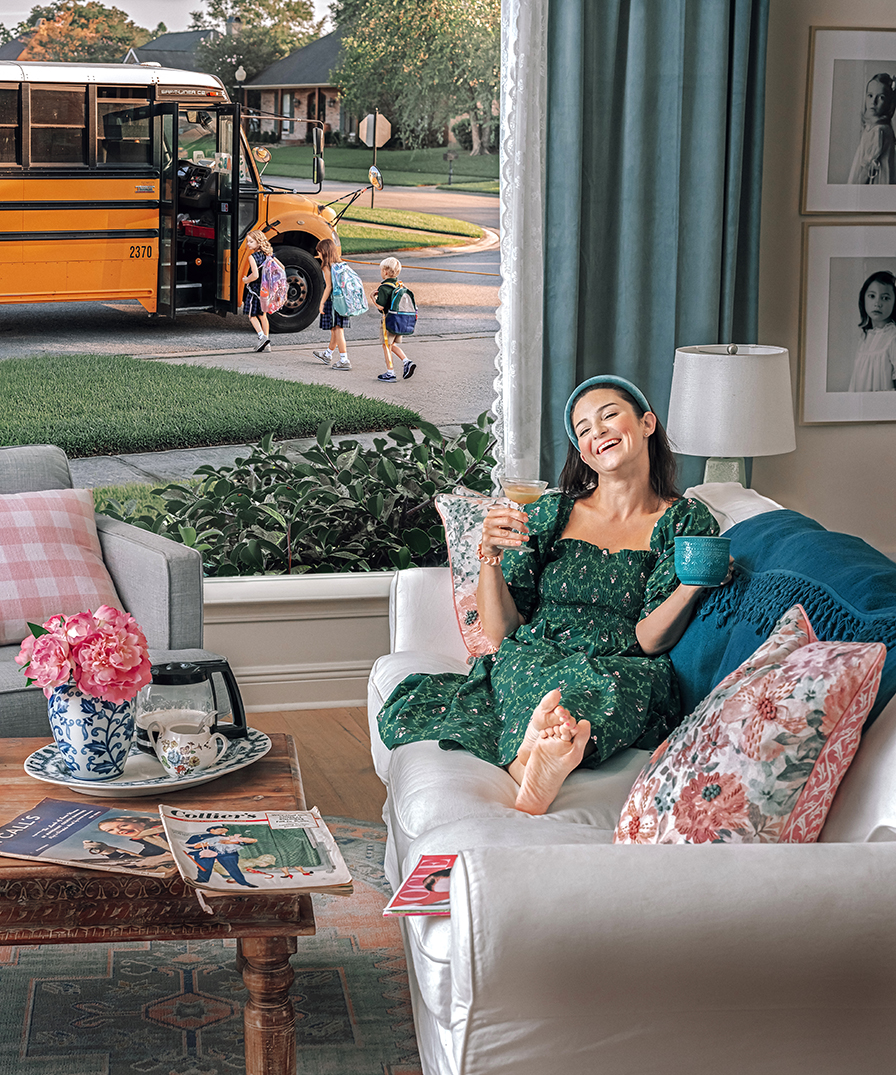 But books, fairy tales and movies aren't the only subject matter for Haxthausen these days. In June of this year, she and her family visited Cancun to indulge in a new kind of adventure: swimming with whale sharks. Haxthausen brought her underwater camera, but instead of multiple angles, setups and editing options, she only had a few seconds to get what she wanted. The result: a Nat Geo-worthy image of a whale shark's graceful tail swishing past her snorkeling family, moving onward into the ocean blue. 
"That was not planned at all," she says. "That's just crazy nature."
Even without the thrill of complete spontaneity, Haxthausen's approach to her creative photography ensures that she never knows exactly what she's going to get, letting moments draft themselves first on camera before being polished on the computer screen—the perfect mix of fantasy and reality.
"The exciting 'Aha!' moment is not so much looking in the camera and feeling like I got the perfect shot in one go," she says. "It happens at the end of the whole process, when I look at the finished product and see how cool it is that imagination can come to life this way."
---
To see more of her creations, check out our gallery below: