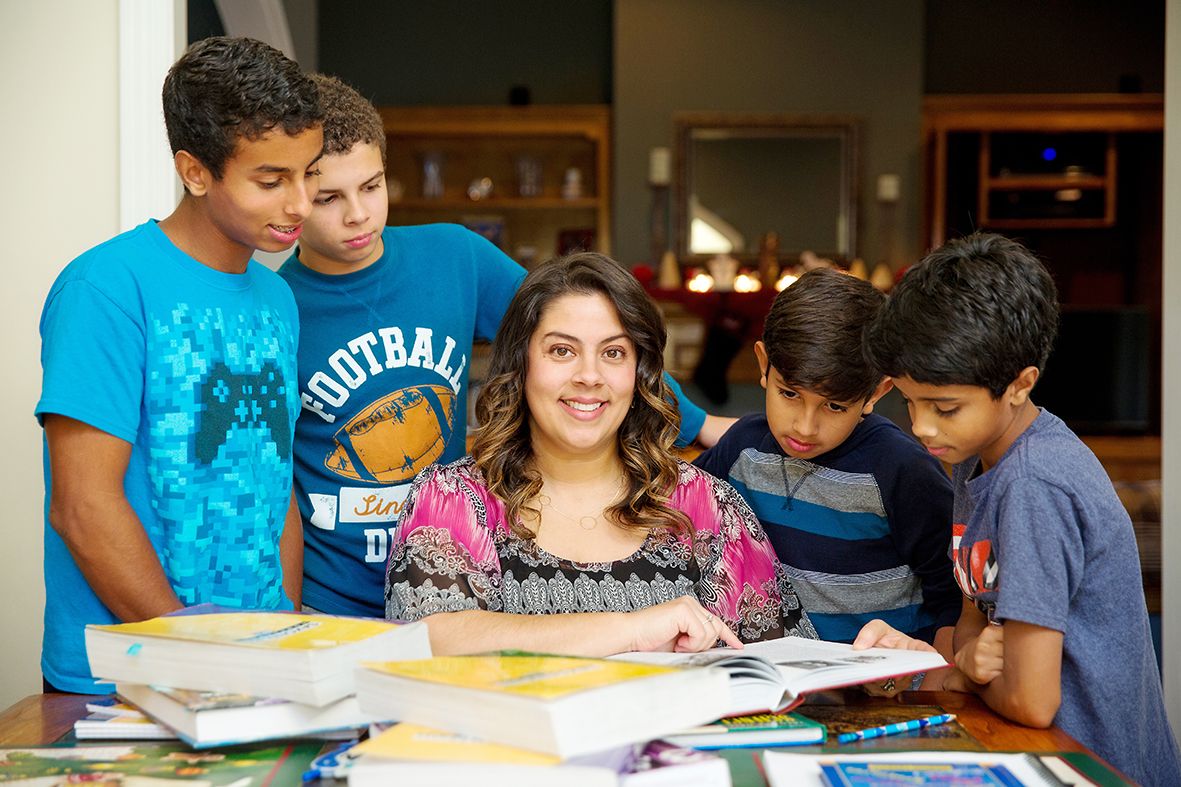 Parental guidance: Tiany Davis meets moms where they are
With chores done, beds made and breakfast eaten, Tiany Davis' four boys follow their weekday ritual, taking their seats around the kitchen table by about 10 a.m. Davis sits alongside them, assuming her dual role as teacher and mom. But those aren't the only two hats she'll wear today.
As the creator of a global social network for fellow homeschooling parents and the founder of an online resource for local parents called Baton Rouge Moms, Davis also identifies as an entrepreneur, social media consultant and social good advocate seeking to build connections and provide resources to moms in her community and beyond.
From the island in her kitchen, she shows her sons that no dream is too big or too small. While her middle- and high-school-age boys navigate their assignments, Davis is also hard at work, tending to her websites, blogging and responding to countless emails from moms all over the country.
"You are not so much trying to homeschool your kids; you are trying to teach them a lifelong love of learning," Davis explains as she continues to push the boundaries of what she can accomplish from behind her laptop beside her children each day.
"Moms should keep learning long after the kids are gone as well," she says. "They see you learning and you are learning with them. That is exactly what homeschooling is—everyday growing and learning together."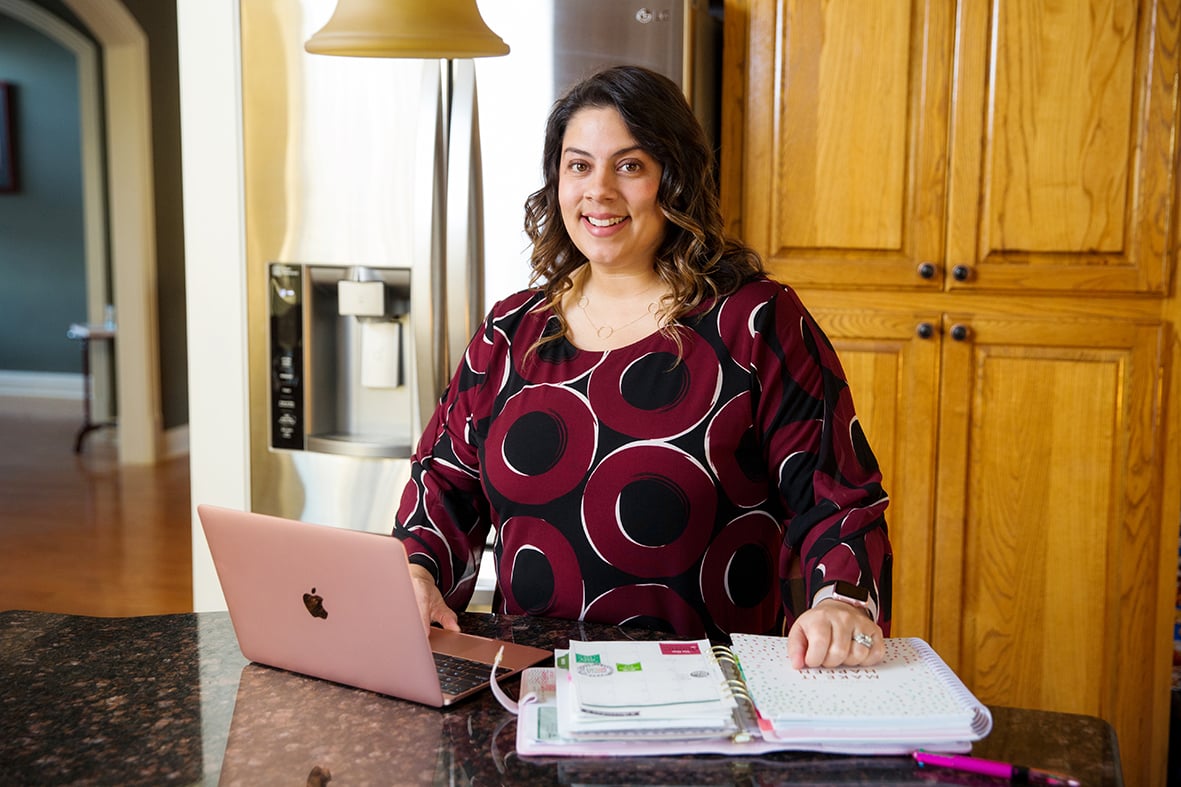 Davis' path to homeschooling is different than most. "My husband is a jazz musician, so he would gig in the evenings and was home all day," she explains. "I knew if our child was put in school, they would never see each other." She also knew she wanted to work from home, both to be with her family and to help provide for them at the same time.
When she had her first child in 2001, Davis began an online journal to keep family across the country up to date with her new life as a mom. But by 2006, as online journaling evolved into a full-fledged blogging industry, Davis' writing had garnered a following, mostly from other moms who were homeschooling.
"Through my blog back then, I started realizing there was a huge need for homeschool moms around the country to have support," she says.  "There just wasn't enough support locally within everyone's communities."
So in 2008, she built The Homeschool Lounge, an interactive web platform where homeschooling parents could connect through forums and find the support they needed.
"I was hoping honestly for 1,000 moms," Davis says. Today, she has over 30,000 participants worldwide, making it the largest online community for homeschool moms in the world.
A free and private site with a format similar to Facebook, The Homeschool Lounge features private groups, public groups, chats, forums, profile pages and a feed where moms from all different backgrounds can connect and share information.
"The homeschool journey is different for every mom, but to have other moms say 'I've been there, I've done it' and maybe even give some encouragement, some advice, some nuggets of wisdom along the way—that is what moms are seeking," Davis explains.
In her experience interacting with veteran homeschool moms on her site, Davis has learned that every parent needs a place where they can find a wide variety of resources, from advice about curriculum and textbooks to what to feed your children for lunch.
"Homeschooling can be hard, and it can be frustrating because you are in the trenches with your children 24/7," she says. "And that is our choice, but a support system is absolutely needed when it comes to homeschooling, and moms should seek out that support system very early on."
With homeschooling on the rise in Baton Rouge, driven by parent reaction against Common Core and the longstanding challenges facing the East Baton Rouge Parish school system, Davis says both the city and the state have a strong community for homeschooling parents.
"We have the perfect city and state to homeschool, I think," she says. "It has been a blessing for us homeschooling in the East Baton Rouge area."
In the early days of teaching her children and working on The Homeschool Lounge, Davis never imagined the site could be an opportunity for income, but as it grew and homeschool businesses began asking to advertise on the network, she realized the potential.
"I can make money on this while supporting moms across the country," she recalls thinking. "When I started it, I was basically working on it part time with a newborn." But by 2008, it had turned into a full-time job.
As the site experienced rapid growth, Davis encountered challenges like maintaining a healthy balance between time spent with family and time spent behind a computer screen. "My husband Troy, who is amazing, would reel me back in and say, 'You are spending a lot of time online,'" she says. "I always have to remember that the whole reason I'm doing this is because I want to be present for my family and give them as much of my time as they need."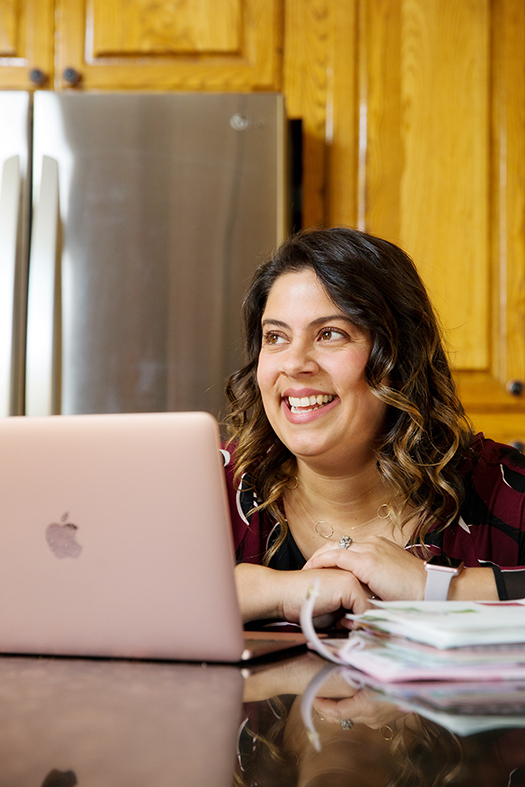 As an early leader in the parenting blogosphere, Davis has also made a name for herself through her website, Social Savvy Mom. Through that platform, Davis builds and maintains her profile as a mompreneur and social media manager while also volunteering online by promoting social good campaigns like the Million Moms Challenge to bring awareness to the plight of mothers and children suffering from malnourishment worldwide.
Over the years, that work has led her to places like Guatemala with Save the Children and to national events serving as one of 11 Johnson & Johnson social good influencers raising awareness for causes like children with cleft palates in undeveloped countries.
With her children growing more independent ever day and with The Homeschool Lounge largely self-sustaining, Davis has taken on new ventures, like Baton Rouge Moms, which she launched in 2013.
"I bought the domain BatonRougeMoms.com 10 years ago and just sat on it knowing I wanted to launch a local site for moms," she says.  "I think we get confused with being a mommy blog, which we are not. We are a resource portal for moms in the local community."
The site also serves as a place for parents to seek out the best products and services available to their families. "So we connect small business with moms in the community through word-of-mouth marketing, which now, for moms, has surpassed any other type of marketing or advertising media."
As Davis has built her career on helping other families chart a path through parenting, teaching and raising their children, she has found her own answers from other moms along the way. 
"I remember when I first started out, I was comparing myself to other homeschool moms," she recalls. "The online world can be very disheartening sometimes because things look very polished and they look very easy. We share the good and don't always share the ugly."
The best advice she ever received came from a mentor and veteran homeschool mom: Make sure never to look outside your window.
"Do not look at the mom across the street to see what she is doing and try to emulate it," Davis says. "You don't know what that mom is going through. Every mom is different, every child is different and every family's situation is going to be different, so never try to compare yourself to another mom."