Market savvy: Local grocers find fresh ways to thrive
---
As Baton Rouge has evolved from small city to booming hub, the roads have gotten wider, the traffic has gotten worse, and many big businesses have made their way onto the Capital City scene. However, one thing that has remained the same is the community's commitment to the neighborhood grocery store. The family-owned and operated stores that serve the many neighborhoods that make up the city represent much more than just a place to stock up on the week's necessities. Rather, the stores stand as symbols of south Louisiana's unwillingness to conform to commercial. Offering the best in locally grown goods, these community favorites continue to thrive thanks to the bonds of Cajun cuisine and personal connections. Read about how four local stores are attracting a new generation of customers with innovative ideas while maintaining a personal presence that can't be found in a big box.
---
ALEXANDER'S MARKET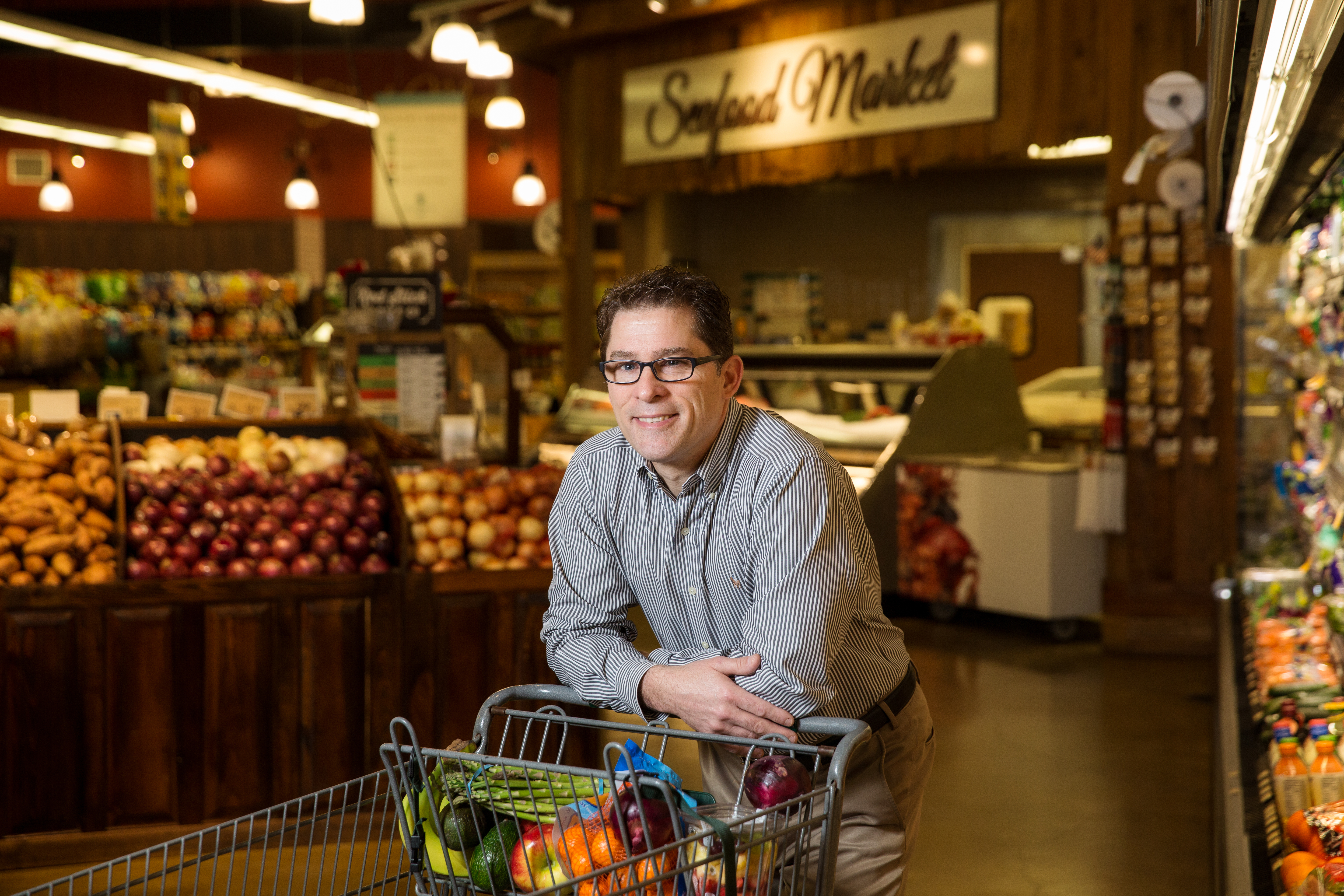 The pineapple that graces the logo of Alexander's Market is more than just produce. A nod to the fruit's connection to hospitality, the pineapple has come to symbolize Alexander's Market's goal within the community.
"This is my neighborhood," says owner Lathan Alexander. "This is where I raised my children and where I go to church. The institution of the grocery store has been one of the most important in the history of communities. It brings people together."
His commitment to community has driven him to create a high-end environment with affordable prices and accessible options. With a newly launched online shopping program and even weekend farmers' markets, Alexander and the rest of his team are committed to connecting customers with the best products from the best local sources.
"The goal of our markets is to bring local names in front of customers so they are motivated to try things they wouldn't have otherwise," explains Alexander. "In that way we are giving local businesses a voice while helping broaden the horizons of customers."
The hospitality doesn't stop with typical groceries, however. With monthly wine dinners and philanthropic liquor lotteries, Alexander aims to cultivate relationships both with and within the community.
"We want to offer experiences that customers won't get anywhere else," says Alexander. "The liquor lotteries are fun because we auction off very rare allotments and people come from all over to have a chance at getting them. Last year, we raised over $5,000 for Our Lady of the Lake Children's Hospital."
And while Alexander acknowledges the local grocery competition here in town, he welcomes the opportunity to be among like-minded retailers.
"I think local grocery stores are more popular in Baton Rouge than other cities of similar size, such as Tallahassee, for two reasons," explains Alexander. "The first reason is that our food culture here in Louisiana is so starkly different that national chains can't pick up things like king cake or gumbo. The second reason is Associated Grocers, which is a massive distribution center that is member owned. It gives local stores buying power, which is something stores in other cities do not have."
Looking to the future, Alexander says he sees his store and other "locals" continuing to flourish due to the close ties of family and friends that remain at the heart of the culture of Baton Rouge, and Louisiana as a whole.
"In the 1920s, my great-grandfather opened a grocery store in St. Amant," says Alexander. "It has been passed down through the family, so when I opened my store in April 2013, it felt like I was going back to the family business. I still love bagging groceries at the front of the store and bringing items out to people's cars. It's all about connecting with the community and giving them what they need."
---
CALVIN'S BOCAGE MARKET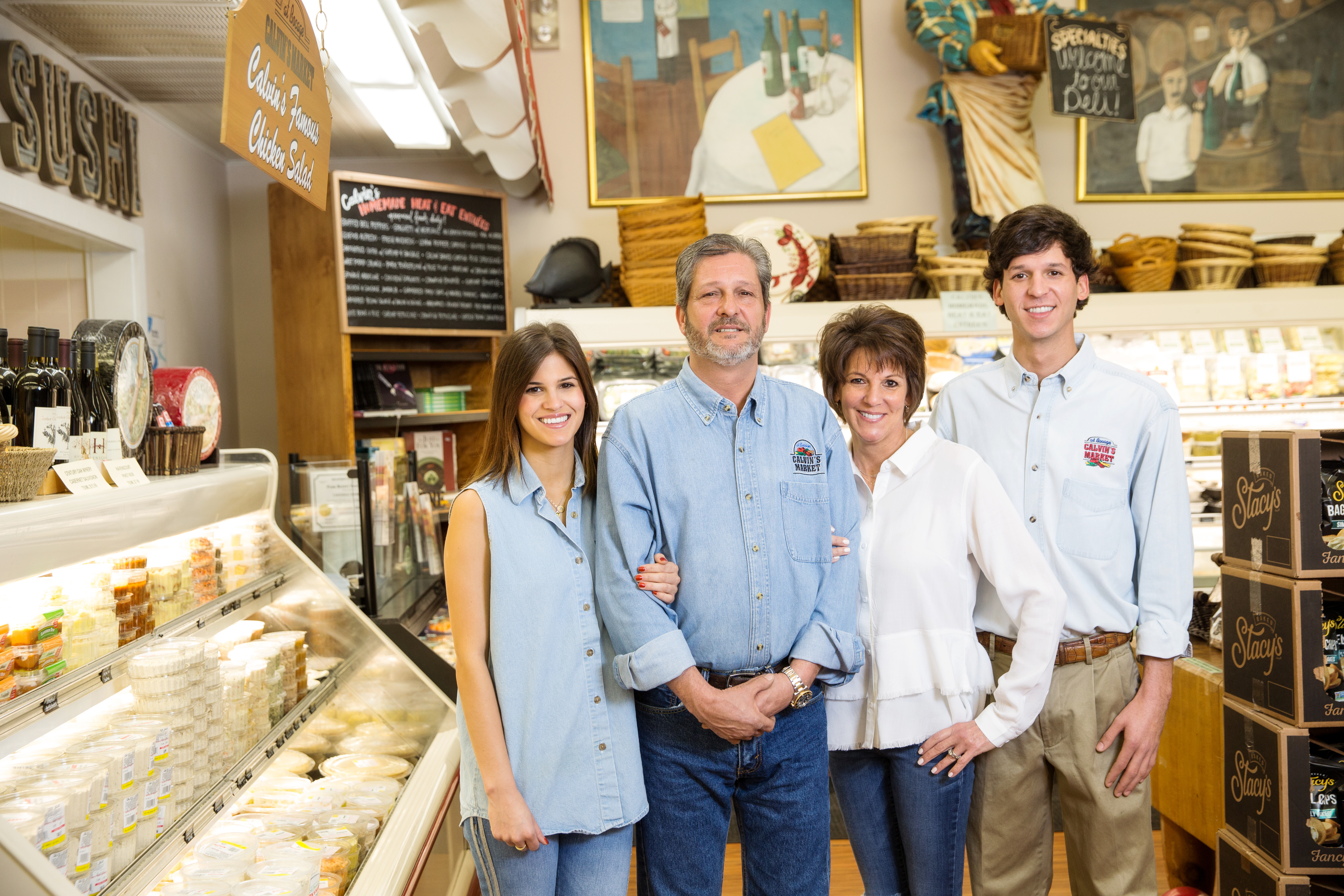 Walking into the office at the front of Calvin's Bocage Market, owner Calvin Lindsly points to a monitor to show me his daughter Kailyn in the back kitchen mixing a fresh batch of the store's famous chicken salad. "The store is truly family owned and operated," says Lindsly, who has worked in the store for nearly 41 years and owned it for 22.
"I started working here with the past owner, Jerry, when I was just 15 or 16," he explains. "Since I've owned it, I have knocked out walls and things like that, but we still have the same values of family and great service."
And while Baton Rouge has grown around the store's Bocage Village location, with a Whole Foods popping up just a stone's throw away, Lindsly says business keeps getting better. How? Two words: customer service.
"People come here because we care about our customers," explains Lindsly. "We know the people, the children, and we take care of each other. That's the key to success."
This old-school approach to groceries shows that while innovation is important, the real reason local groceries thrive is the people. And according to Lindsly, those people are not limited to the small neighborhoods around the store, or even the Capital City. For Calvin's, the sky is the limit, especially with such irresistible chicken salad.
"People definitely talk about the chicken salad," says Lindsly with a laugh. "I have had people from all over call about getting some. I even had a guy from England call and have some sent to him!"
And the demand for specialty items does not end at Calvin's own creations. A major part of the supermarket is dedicated to locally sourced items, with a special emphasis on items created through the LSU AgCenter Food Incubator.
"Louisiana has so many special things when it comes to food," says Lindsly. "We try to stock as many local products as possible, and we also work in conjunction with LSU to stock anything they put out. I just got off the phone with Richard Hanley of Hanley's Foods, who was telling me about his experience on Billion Dollar Buyer. It's amazing what these local companies can achieve."
For Lindsly, the success he has come to enjoy would be nothing without the community and, of course, his family.
"My son Brandon is going to take over the store," Lindsly says with a smile. "I love that I get to work with my family, and I hope that we make the community feel like family as well."
---
MATHERNE'S MARKET
A downtown gem, and soon-to-be LSU staple, Matherne's Market has changed in immeasurable ways since its humble beginning in the small south Louisiana town of Paulina in 1981. Following its move into the Baton Rouge area in 1995, Matherne's has seen massive growth, and more recently, downsizing. However, the move to a small downtown location, rather than larger stores, was one that Ernie Matherne Sr. and his son Tony consider vital to the store's continued success.
"My entire life has changed so much over the years," says Ernie, who briefly considered retirement but quickly decided against it. "It's hard to compete with big box stores, so we decided a small footprint with specialty items was the right move. After all, the only way to survive is to change."
"The downtown store was an experiment," adds Tony, who is leading the store's new generation. "It was time to change, and this store definitely does that."
With a large "bistro" area for eating the store's famous home-cooked meals, of which Tony says his favorite is the fried catfish and chicken, the downtown store aims to cater to a different clientele than a country store, while still delivering down-home comforts.
"This store is different in that, when other stores are busy, we are likely slow because we cater to people who do business down here," says Tony. "Times have changed and things are so rushed now. I think people like that they can come here and get homestyle food during the day."
Developed with an eye for historical restoration, the store harks back to its roots in more than just traditional recipes. With a logo that draws its inspiration from a coin, as well as a fully converted "wine vault," touches of the space's past as a bank remain prevalent throughout the store.
"We love being downtown," says Ernie. "It gives us the chance to do something different and unique. That is also why we are so excited for the potential at LSU."
Set to open at the beginning of next school year on Nicholson Drive, the LSU store will be yet another venture into unchartered areas for the father-son duo, but they look forward to the challenge.
"We are born and raised LSU Tigers," says Ernie. "We are excited to become part of things like football Saturdays, baseball games, gymnastics and everything else. We want to create a special place that people want to visit."
And while the future presents an exciting chance to grow and innovate, Ernie takes any chance to look fondly on the legacy that he has passed onto his son, with the help of his brother Dale.
"The future is him," says Ernie as he looks over at his son. "When my brother and I started this all those years ago, we were just filling a need. Now it's Tony's turn."
---
ROUSES MARKETS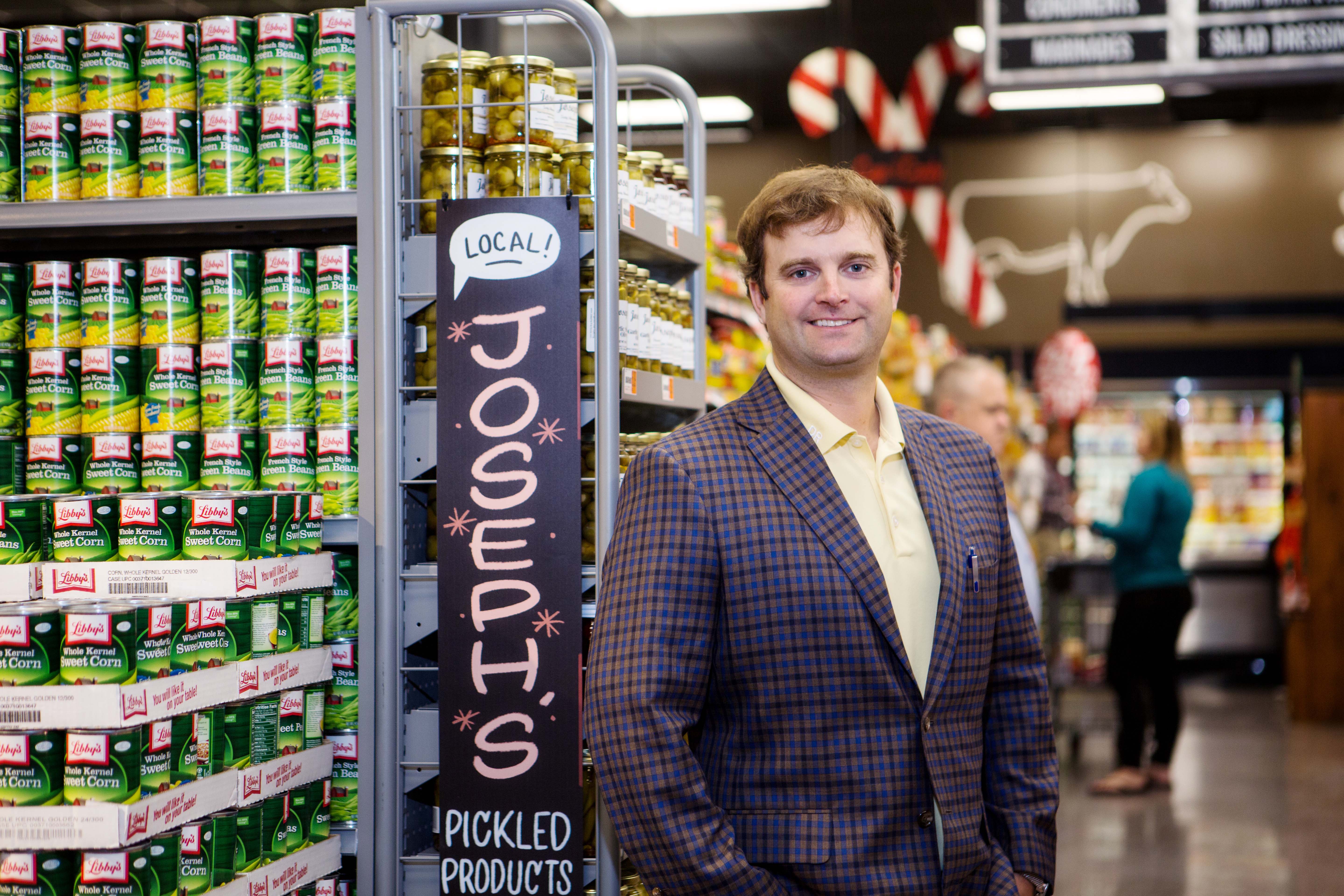 Balloons hoisted high and the presence of the entire corporate Rouses team mean one thing: the grand opening of another Rouses location. And despite the store's rapid expansion across not only Louisiana but also Mississippi and southern Alabama, the Rouses executives seem every bit as excited to present yet another neighborhood with what the store has to offer. Leading the store's ambitious growth is third-generation owner Donny Rouse, who pauses to chat with Hammond's mayor on the way to sit down for our interview in the store's bistro.
"My great-grandfather would be amazed if he could see the company now," says Rouse, whose own great-grandfather, J.P. Rouse, started out with a modest produce operation in Thibodaux in 1923. "I didn't always want to go into the grocery store business. But in seeing how hard my family has worked over the years, I couldn't imagine doing anything else."
And while the company is now 55 stores strong and growing, Rouse and his team have no plans to let go of the original family goal: homegrown quality.
"We don't have a board of directors, so all of our decisions are made by us for the customers and can be implemented immediately," says Rouse. "Produce is definitely a huge portion of our store, but we also focus on local products and services that customers can't get anywhere else."
One such service is Rouses' "Eat Right with Rouses" program, which features a staff dietitian who will not only help customers come up with a healthy eating plan, but also advise on healthy options in the store, which include lean cuts of meat and a salad bar.
"Our dietitian, Esther Ellis, actually called me up and told me her idea to bring her services to the stores," explains Rouse. "I hired her on the spot because I knew it was the direction we needed to go. She offers great services and even sends out a weekly newsletter to our customers."
It is innovation like this and an eye for detail that elevate Rouses right into the hearts of communities that might otherwise be hesitant to welcome a newcomer.
"We really utilize social media to help customers get to know us personally and feel connected to our team," explains Rouses creative director Marcy Nathan. "I like that the videos allow customers to see us having fun, rather than being all business."
A peek at Rouses' Facebook page feels like scrolling through the postings of a close friend. With photo albums of grand openings, videos of team members parading around stores, and even home-cooked recipes, the Rouses team immediately draws potential customers in. And they don't stop there. With events such as bands, cooking classes, wine dinners and even the occasional Harlem Globetrotter meet-up, Rouses aims to not only serve individuals but also to bring them together.
"I think what sets us apart is how everyone knows each other," says Nathan. "I know all the customers in the location near where I live. I even get worried when I haven't seen someone in a while."
The family atmosphere permeates from the staff and serves to make customers more comfortable and more likely to leave in a better mood than that in which they arrived.
"Louisiana is so connected to local," says Nathan. "That's why our local stores continue to do so well. We keep it in the family."
---
MORE IN STORE
Check out a few other favorite local grocers
CALANDRO'S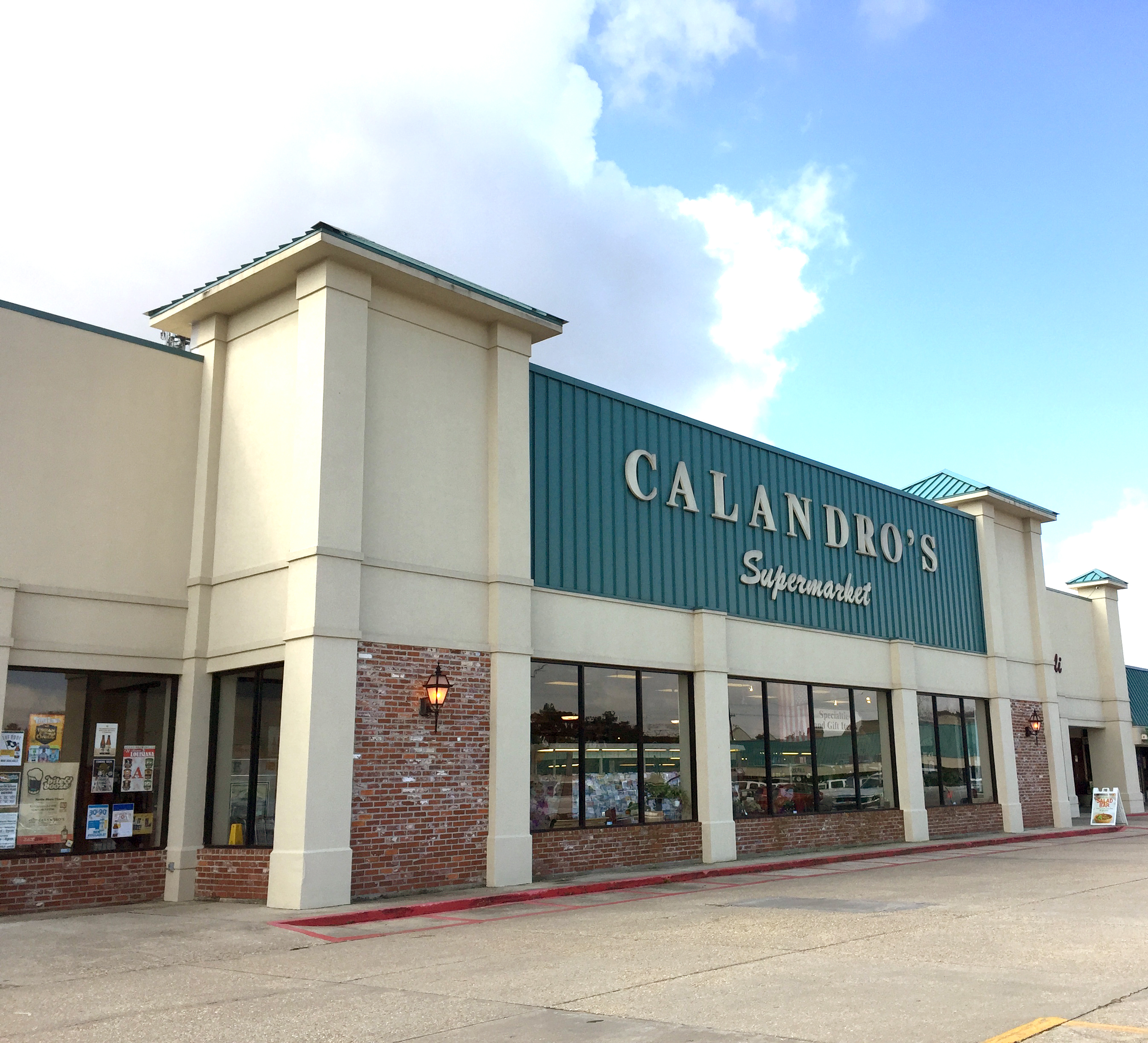 Since its founding in 1941, Calandro's Supermarket has seen Baton Rouge grow around its original Government Street location. And while the 1941 store has undergone several facelifts over the years, as well as the addition of a second store on Perkins Road, the Calandro family's founding goal of "Service, Quality and Selection" remains. The old-school grocery feel belies a modern market known for its scratch-made baked goods, "hard-to-find" gourmet items, and extensive selection of wine, craft beers and spirits.
---
BET-R NEIGHBORHOOD MARKET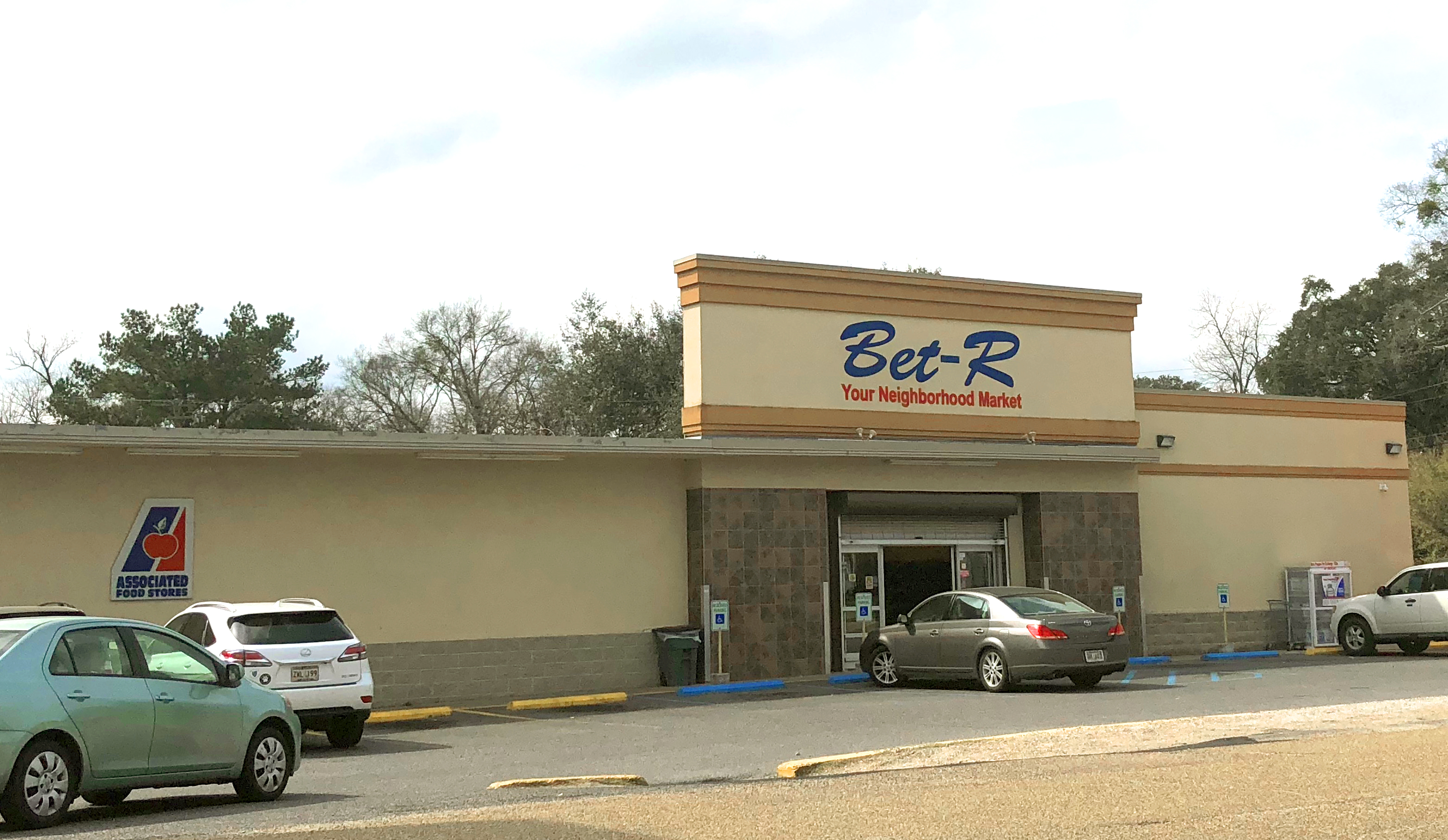 A favorite of residents in the Garden District, Southdowns and University Lakes since 1961, this easy-to-navigate store is more than meets the eye. Nestled under the Perkins Road overpass, the store provides a down-home environment complete with expertly prepared comfort foods (try the classic Louisiana red beans on Mondays). A 2010 expansion added 3,700 square feet and freshened the façade. Fun fact: the store appeared in the 2011 film Battle: Los Angeles!
---
ROBÉRT FRESH MARKET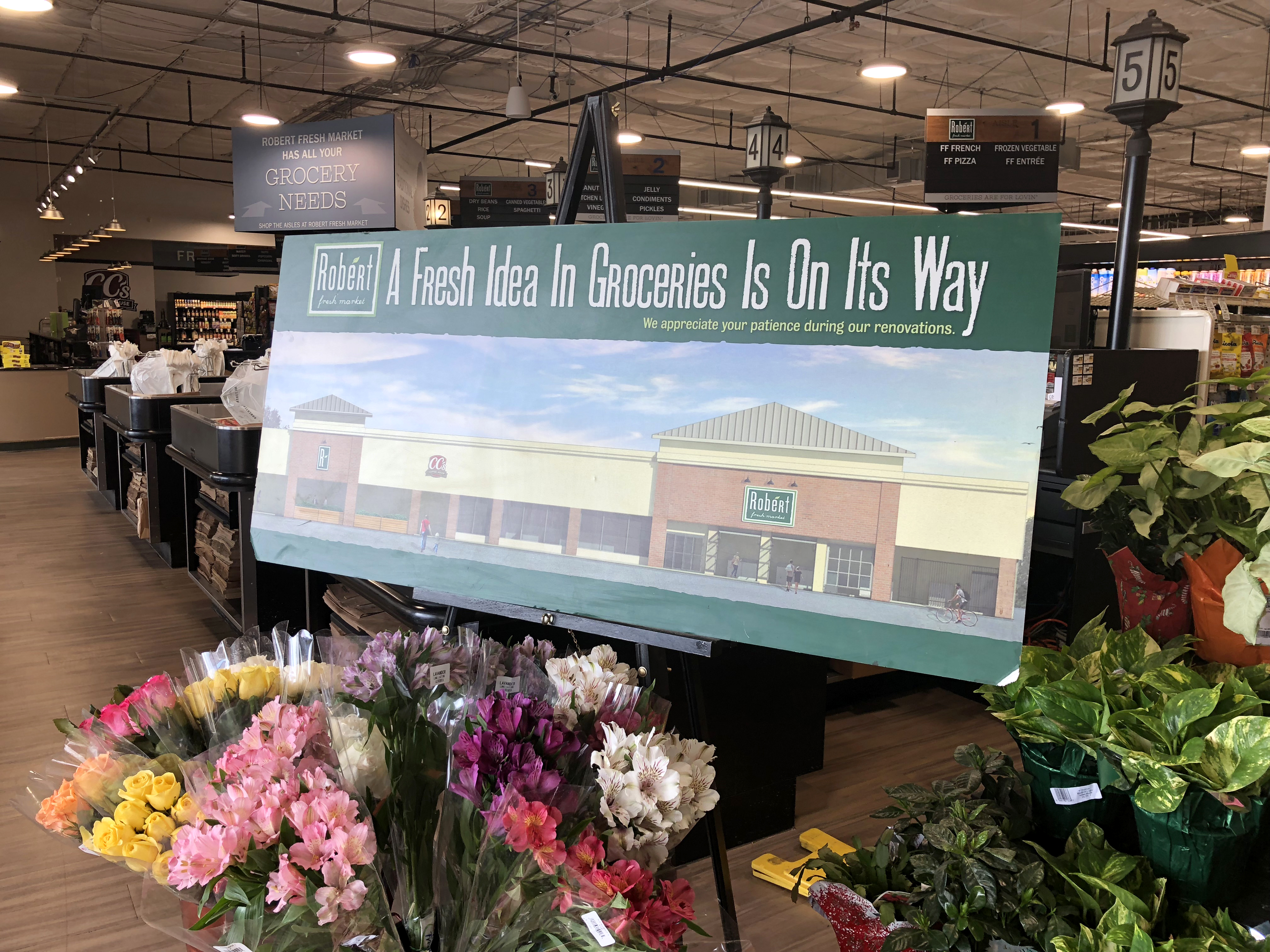 A newcomer to the Baton Rouge scene, Robért has been a New Orleans grocery mainstay since 1994, thanks to its focus on fresh local produce, prime meats and homemade goodies. Now located alongside the brand new Superior Grill on Highland Road at Kenilworth Parkway, the store is upping its game with everything from gourmet foods, department experts and even a CC's Coffee set to be located right inside the sliding glass doors.
---