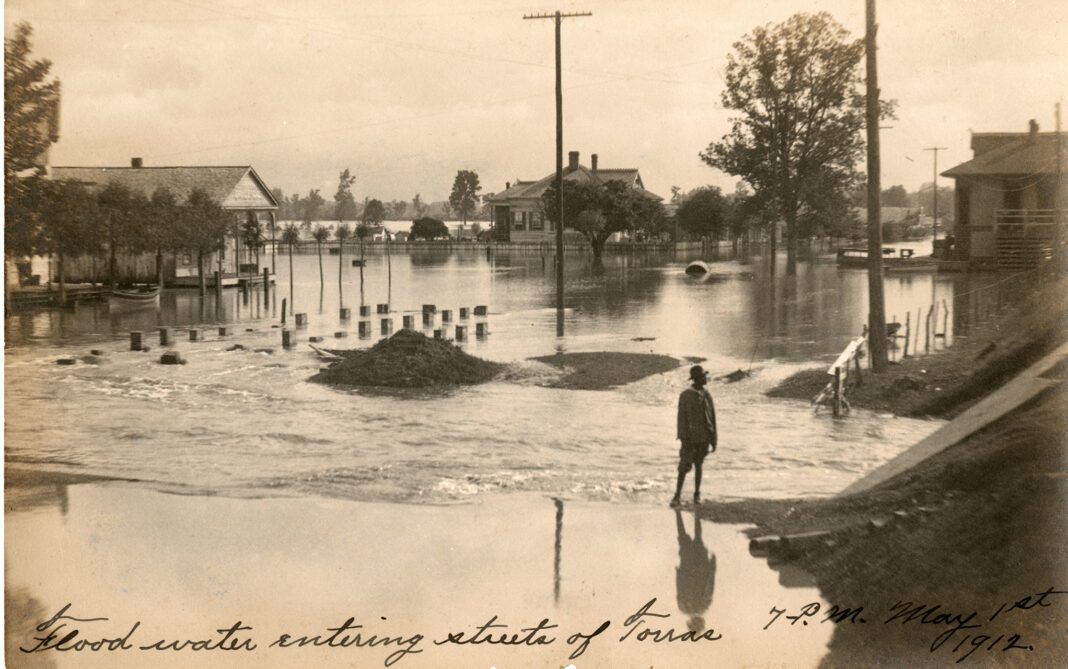 On Exhibit: Water, Water Everywhere
Hold our umbrella, Seattle. According to data collected by the National Oceanic and Atmospheric Administration, New Orleans holds the title of rainiest major city in the United States, with upwards of 62 inches per year contributing to Louisiana's vast network of lakes, rivers and marshes. In the LSU Hill Memorial Library's new exhibition, "Water, Water Everywhere: Control and Consequence in Louisiana's Coastal Wetlands," nearly 200 photographs, maps, letters, charts, government documents and family records curated from the LSU Libraries Special Collections' archives dredge through that history, chronicling water's influence on state life from the 18th century to modern day. 
"This year marks the 50th anniversary of the Clean Water Act of 1972, which in part protected wetlands from deposit of drudge material from construction projects," says exhibitions manager Leah Wood Jewett. "Of course, people have been sounding the alarm on water quality and coastal erosion long before that—many of them being scientists from LSU. LSU President William Tate has also described the coastal science program as a major focus area for the school's future, so we felt like this was a great time to bring out these materials."
The exhibition is divided into sections focusing on topics including inhabitants of Louisiana's coastal wetlands, flood control, commercial schemes, transportation and industries that have both benefitted from and altered the natural landscape, as well as the research coming out of LSU to mitigate land loss. One of Jewett's favorite items on display is a piece of 19th-century illustrated sheet music named after a levee break at a plantation outside New Orleans. Another poignant artifact seems to stare right back at the viewer: the face of a 1950s laborer for the Louisiana Cypress Company looking into the camera before boarding a train into a resource-laden swamp. 
"We want to give a first-person perspective on the history," says Jewett, who notes that the library will host an open house for the exhibition from 2 to 5 p.m. on November 9 and 10. "Views have changed over time, but management of our coastal ecosystems is still an ongoing problem, and I think that human connection can make a big impact."