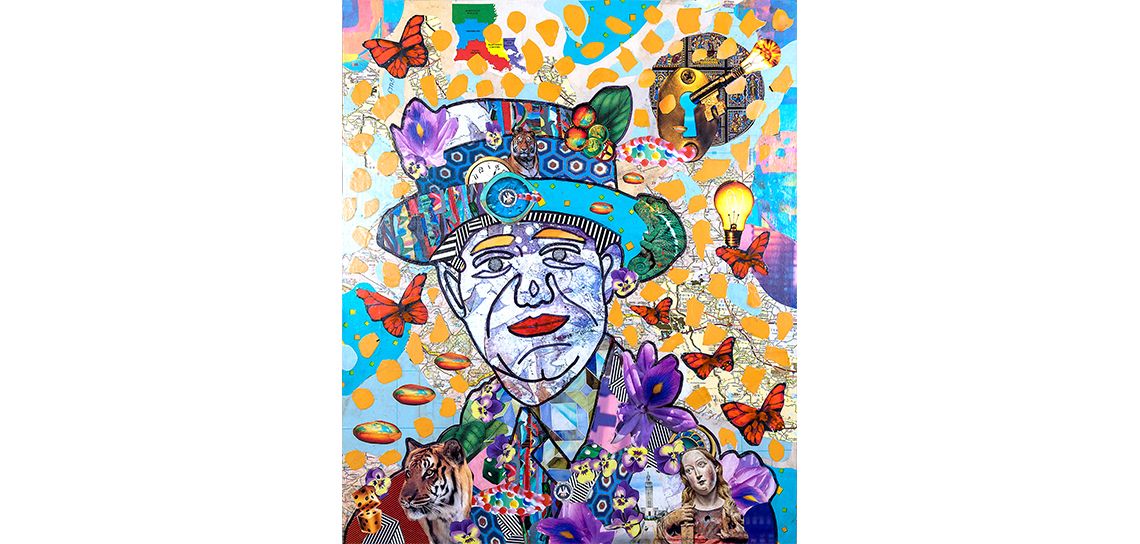 On exhibit: Passages at the Old Governor's Mansion
---
The word "passage" could mean one of many things. It could be a segment from a long reading, full of special lilt and meaning. Or maybe it's a hallway behind a castle door, a secret stroll leading deep into dungeons below. And then there's its verb form, "to pass"—to move beyond or to leave behind—perhaps in memory.
A visitor to "Passages: An Exhibition of Louisiana Memory," a collaborative exhibition between artist J.K. Lawson and Preserve Louisiana, might view the twists and turns as a journey through all three possibilities, with 17 oil, collage and mixed-media paintings displayed around corners of the Old Governor's Mansion like miniature time hops into different eras.
Curator Christina Lake names "Huey" as the show's most iconic piece. Lawson's mixed-media collage was originally intended as a commemorative piece for the mansion's 90th birthday bash in honor of former Governor Huey Long, under whose leadership the mansion was completed in 1930. Though COVID-19 stopped the party in its tracks, a print of the portrait is still on view, along with the remainder of Lawson's works so symbolic of life's changes, whether in the midst of a pandemic or not.
Lawson's style—displayed here in a collection of pieces spanning decades of his career—could be called eclectic, dabbling in techniques as traditional as oil painting and as unique as photography or wax encaustic collage, the latter of which bears special significance to the England-born, New Orleans-honed artist, who lost his home and much of his possessions to Hurricane Katrina. "It's an intimate view of destruction that is usually scraped away or even torn down entirely," says Lake.
Katrina-era canvases strung with reclaimed paperwork, damaged personal photographs  and Mardi Gras beads leave a particularly indelible mark on the memory in Lawson's "Flood Line" series on display, as do collages of plans for the 1984 Louisiana World Fair, both all the more poignant when displayed beside impressionistic swampscapes in his  "Meditation" series—a vision of Louisiana in all its natural beauty and bereavement. Perhaps it's no wonder, then, that Lawson finds solace in poetry as well as art, with his English father's preaching career and his early reading of Dickens' underdog heroes finding a through-line to south Louisiana's unmatchable spirit.
The exhibition will run through January 31, with a special closing event the second week that month. In the meantime, Preserve Louisiana's newly launched YouTube channel awaits, full of related content that simply can't be passed over. preserve-louisiana.org