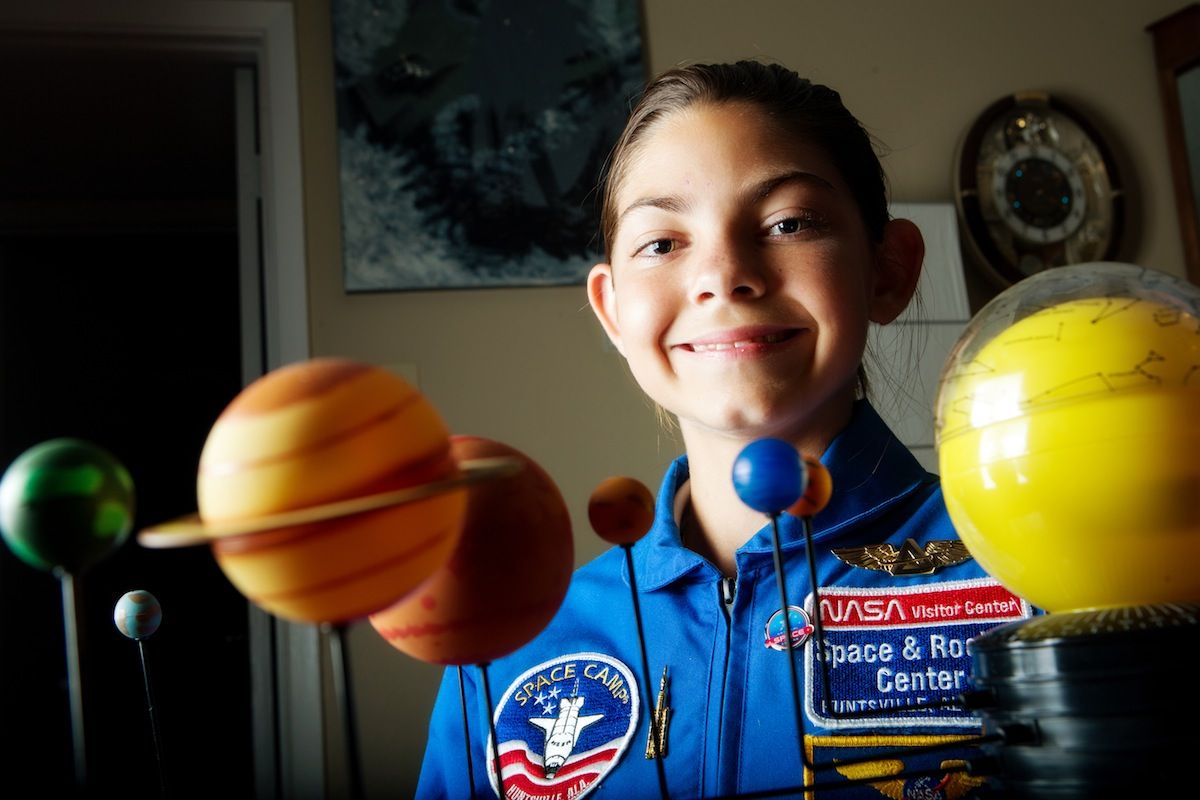 Alyssa Carson wants to make her mark in space
Ask most teenagers what they want to be when they grow up, and they'll fancy becoming a doctor, a famous singer, a business owner, perhaps a lawyer. Ask them what steps they're taking to achieve that, and you'll likely receive a vague response. But for ambitious 13-year-old Alyssa Carson, an eighth-grade student at the Baton Rouge International School, growing up is more than imagining a career. It's chasing a dream.
Alyssa wants to step foot on Mars.
Having completed her first space camp when she was just 8—even though the minimum age requirement was 9—the quadrilingual teenager is well on her way to the red planet.
Her list of related accomplishments is long. In addition to being invited by NASA to be on the MER10 panel in Washington, D.C., to discuss the potential future mission to Mars in 2030, Alyssa has attended Space Camp Turkey and Euro Space Camp in Belgium, graduated from the National Flight Academy in Pensacola, Florida, traveled to 14 NASA visitor centers, and witnessed three shuttle launches.
She has also given a TED talk in Greece and met with the Mars One team in the Netherlands. In fact, she is an ambassador for Mars One, an organization that vows to start colonizing Mars by 2024.
"This was not something I pushed her into," says Bert Carson, Alyssa's father. "This is all her and something that she has pulled me into."
Alyssa says NASA is not dead.
"Most people think NASA is closed," she says, "but that's not true. They're working hard to develop new technologies and prepare the astronauts to travel to Mars."
An astronaut she hopes to be. After graduating from high school, Alyssa's plan is to study at Cambridge, finish her master's at the International Space University in France (for which she'll start work in summer 2015), and then obtain a doctorate in astrophysics or astrobiology.
Though her dream is literally out of this world, Alyssa doesn't forget she is still just a teenager. When at home, she enjoys ballet and Girl Scouts, playing piano and soccer, and, like any 13-year-old, having sleepovers with friends.
Alyssa and her dad soak up every minute together. If she does make it to Mars, Bert wants to make sure she has seen and done plenty on Earth. Thus far, the duo has been to 13 countries; and when not "working," father and daughter find time to sightsee.
"We talk about that if at any time this is not what she wants to do, then she can change her dream," Bert says. "I don't think she will, as her passion is so strong; but if she does change her mind, then we will work on her new dream."
For now, Bert travels with his only child every step of the way, helping her to chase her dream of hopefully making history.
Adds Alyssa, "Let's go for it!"