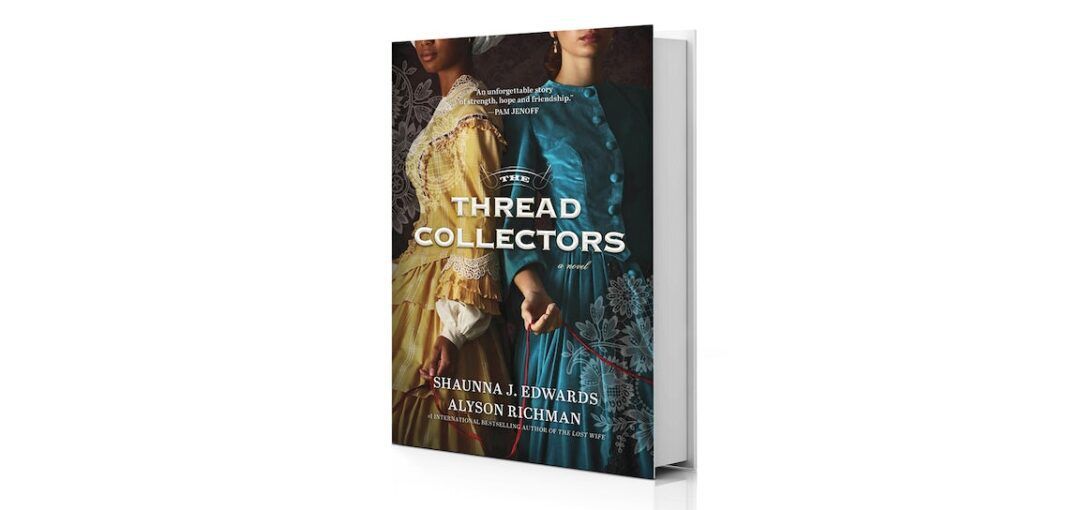 Off the Page: The Thread Collectors
---
'That was the exhilaration of creating one's own compositions, that one's personal melodies could be reborn in the voices and spirits of others."
So muses The Thread Collectors' character Jacob Kling, a Jewish New Yorker and trumpeter serving in the Union Army in 1863, shortly before striking up a friendship with William, a Black fife player and former slave fresh to the world of the Louisiana Native Guard. Through the course of the novel—one of several by author Alyson Richman, and the debut for co-author Shaunna J. Edwards—the unlikely duo face violence, prejudice and the changing fate of a nation.
But theirs are not the only strings plucked throughout the course of the tale. In a cottage in New Orleans, the pregnant Stella, a "favorite" of her master and abuser, continues to stitch overheard escape routes onto scraps of fabric like the one she gave to her beloved William. Up around Fifth Avenue, Jacob's wife Lily sews quilts for soldiers until she embarks on a desperate journey south, having not heard from her husband in months. In a matter of pages, their paths intersect, intertwining the experiences of little-explored identities that helped shape the course of the war.
That Richman and Edwards should center so much of their novel on the presence of music—an invisible art form with no language, creed or color—rings true to the plot's message of solidarity in spite of perceived differences. Based on their own friendship and family histories (Richman is Jewish and Edwards is Black), their collaboration works hard to recreate not just the swampy battlegrounds of Port Hudson or the orphan asylums of New York City, but the perspectives less emphasized in the wider literature of the Civil War. By the end of the conflict in 1865, for example, roughly 180,000 Black men had served in the Union Army, along with 7,000 Jews largely descended from recent immigrants, or else immigrants themselves. Likewise, we can name many of the generals whose feats in battle helped re-unify the nation, but few of the women whose behind-the-scenes tactics tied the knots that held it all together.
In The Thread Collectors, the compositions—both literal and figurative—of personal melodies do come to life once more through the pens of Richman and Edwards, bringing together Black and Jewish heritage as crucial ingredients in the fabric of America.