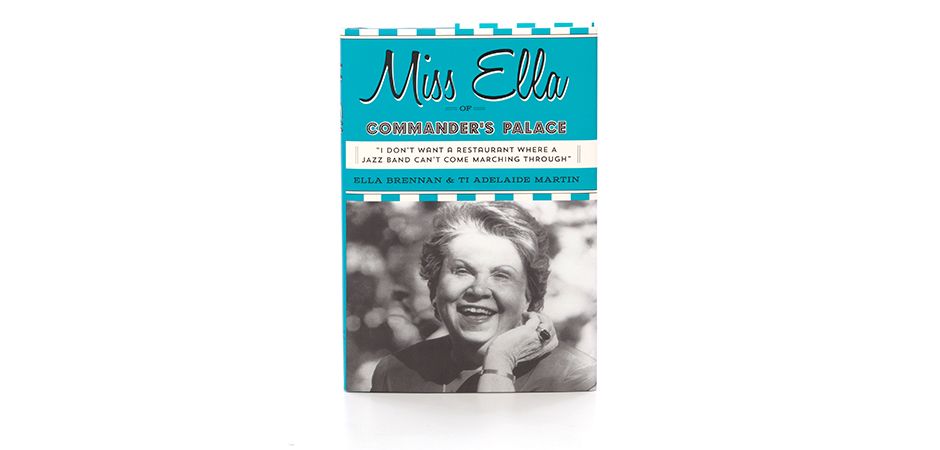 Off The Page: 'Miss Ella of Commander's Palace'
Famed New Orleans restaurateur Ella Brennan remembers the day she started prioritizing afternoons in the kitchen over afternoons at Sunday mass: "I always figured that God and I were okay and that He understood I had to work Sunday brunch," she writes. Quips like these spatter the pages of her memoir, Miss Ella of Commander's Palace: I Don't Want a Restaurant Where a Jazz Band Can't Come Marching Through, like flour on a countertop, fluffy and light, but essential—as to any decent roux—to explaining her family's role in fostering the "haute Creole" food scene that put New Orleans on the map.
Perhaps it's fitting, then, that such a story should be co-authored by Brennan's daughter and co-proprietor of Commander's Palace, Ti Adelaide Martin. Brennan, after all, was born in 1925, which means that the book bears responsibility for conveying more than 90 years of personal history, from the Great Depression and World War II all the way up to the modern devastation of Hurricane Katrina.
But "Hurricane Ella" was a force of nature all her own, stepping up after her brother Owen's untimely death to spearhead the family business in the midst of other international and personal tragedies. From her family's humble origins at Brennan's Restaurant in the Vieux Carré—the birthplace of Bananas Foster—to transforming Commander's Palace into one of the nation's most famous destinations by the 1970s, Brennan's name spoken in the right New Orleans circles is enough to conjure up the prose within her pages. A family of entrepreneurs in an Irish neighborhood, the French Quarter bar scene, the scent of cinnamon-spiced bananas crisping in a cast-iron pan—all are mere details of the work ethic that eventually attracted young chefs like Paul Prudhomme and Emeril Lagasse to Brennan's business, and later to international acclaim.
A rare woman in a man's world, Brennan managed to convince the nation not just of her competence, but of the inherent beauty of Louisiana's indigenous cuisine—America's best, in her opinion.
"New Orleans food is better, better, better than what we had in Paris," a returned vacationer tells Brennan, seated within the aqua-blue walls of Commander's Palace. "Their food is sophisticated, but they don't season it right, the way we do here. We enjoyed ourselves, but we'd rather eat in New Orleans."