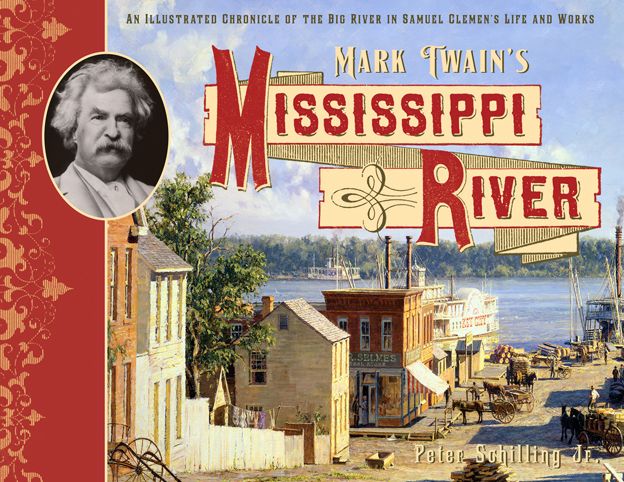 Off the Page: Mark Twain's Mississippi River
"I stood like one bewitched. I drank it in, in a speechless rapture. The world was new to me, and I had never seen anything like this at home."
That was how Mark Twain, writing in Life on the Mississippi, described his first days as a cub steamboat pilot on the Mississippi River. His enchantment, awakened as a child in Hannibal, Missouri, had reached new heights as he stood high in the boat's pilothouse.
Twain's lifelong love affair with the Mississippi is chronicled in colorful detail by author Peter Schilling Jr. in Mark Twain's Mississippi River—from young "Sammy" Clemens' adventures splashing and ice skating to Twain's later-in-life travels.
"When I was a boy, there was but one permanent ambition among my comrades in our village on the west bank of the Mississippi River," Twain wrote in Life on the Mississippi. "That was, to be a steamboatman."
Clemens' childhood dream became reality in 1857, when he "hopped on the steamboat Paul Jones and moved down the Ohio and then the Mississippi toward New Orleans," writes Schilling.
After an apprenticeship, he became a licensed steamboat pilot in 1859 but left the profession when war broke out and a "cannonball fired over the bow of the boat he was piloting."
In 1882, Twain felt himself drawn back to the river after 21 years away. He boarded a steamboat at St. Louis and paddled to New Orleans, then returned upriver all the way to Saint Paul, Minnesota. The river had changed while he was gone: banks had been illuminated by Edison's light bulbs, levees had been formed, and railroad bridges crossed the water. Twain found himself unable to travel incognito, as his writing had made him a "genuine national celebrity."
The book, illustrated by hand-colored historical postcards and photos of steamboats and riverboat scenes, gives equal treatment to Twain's fictional river references in Tom Sawyer, Huckleberry Finn and Pudd'nhead Wilson. "In these three books, the Mississippi River is as essential as any character: it serves as a playground for children, a highway to freedom for one man, and the road to a living hell for others," writes Schilling.
In Twain's lifetime of work, Schilling reveals, the great river runs through it all.
"It is apparent," Schilling writes, "that the river Mark Twain experienced must have affected him profoundly with almost every encounter."