New romantics: Kate Cook gives the inside scoop on spring wedding trends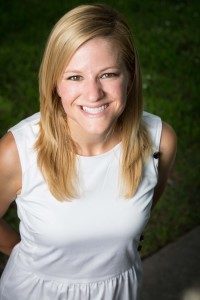 Tying the knot is all about formalities, right? For Kate Cook—and the many brides who count on her to create a special day through her company KBCook Weddings—the stuffy conventions are sidelined as new trends come into play. From comfort foods to balloon arches to royal details, Cook says brides are increasingly looking for ways to make their wedding a one-of-a-kind representation of themselves and their relationship. But don't throw out that antique altar or vintage veil just yet because, despite the onset of popularized color schemes and over-the-top aspects, the heart of a wedding lies in the traditions that continue to make the ceremony and institution a powerful representation of love and family.
"I love wedding planning because I am involved in the lives of my clients at such a happy time," says Cook. "Families are coming together, a beautiful lifelong commitment is being made, and there is a fabulous party!"
And speaking of fabulous parties, all eyes are on England as the much-anticipated wedding of Prince Harry and Ms. Meghan Markle lies only weeks away. With the memory of Kate's grand entrance into Westminster Abbey just seven years ago still fresh in the minds of many, the anticipation is mounting for Ms. Markle's own bridal moment as brides anxiously look to the princess-to-be as the ultimate trendsetter. However, while it's unknown exactly what Meghan and Harry have in store for their special day, Cook notes that royal staples, such as intricate details and classic color palettes, are simple ways to bring timeless style into any event.
"The royal wedding will certainly have an influence on brides sharing a season with Prince Harry and Meghan Markle," says Cook. "We know that royal weddings tend to bring on lots of romantic decor, white flowers and towering wedding cakes with incredible detail. I expect to see these kinds of influences on our side of the pond too."
https://www.instagram.com/p/Bgomf2HAtvs/?taken-by=kensingtonroyal
Another way to add a dose of drama to a special day is unconventional aspects like balloon installations, ceilings dripping with flowers and even wedding dresses equipped with capes.
"Many brides don't want overly large centerpieces on their tables so they are looking up for floral drama," says Cook. "Flowers and greenery are dripping from the ceilings for both ceremonies and receptions this spring while balloon arches are greeting guests at venue entrances and becoming art draped from balconies. And in wedding fashion, full length capes are in for 2018! They can give you some coverage for a more conservative ceremony, while still providing lots of drama."
On the less formal side, catering has changed in major ways since the days of sit-down dinners. Rather than present guests with uppity hors d'oeuvres, Cook suggests bringing in personal favorites, like pizza and burgers, to spice up the food display and give guests something they actually want to eat.
"Couples no longer feel obligated to give their guests traditional wedding food and local restaurants are excited to get into the wedding game," explains Cook, who notes the many creative concepts that have hit the Baton Rouge restaurant scene recently. "If you and your fiancé love wine and cheese, have City Pork create a beautiful charcuterie display. If you're pizza fiends, have Dat'z Italian cook wood-fired pizzas on site. Or, if you fell in love over late-night burgers, have Curbside grill slides for your guests."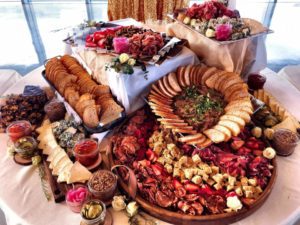 By mixing up the food options, guests are not just attending another party, they are becoming part of the bride and groom's life and love story. In the same way, Cook advises curating special cocktails and even bringing in experts to ensure an unforgettable experience for everyone at the reception.
"Having a signature drink at the bar is always a fun way to showcase the personality and preferences of the couple," says Cook. "This spring, couples are taking it a step further by having specialty bars and mixologists on hand to create hand-crafted cocktails to order at their wedding receptions."
However, while these intricate details wow guests and make for beautiful pictures, a wedding is about more than getting everything exactly right—recall Charlotte York and Harry Goldenblatt's disastrous wedding day. For Kate Cook, her brides and brides everywhere, the best thing to remember is to have a good time—rain or shine and on any budget.
For more on Kate Cook and her wedding expertise, check out her website at kbcookweddings.com.