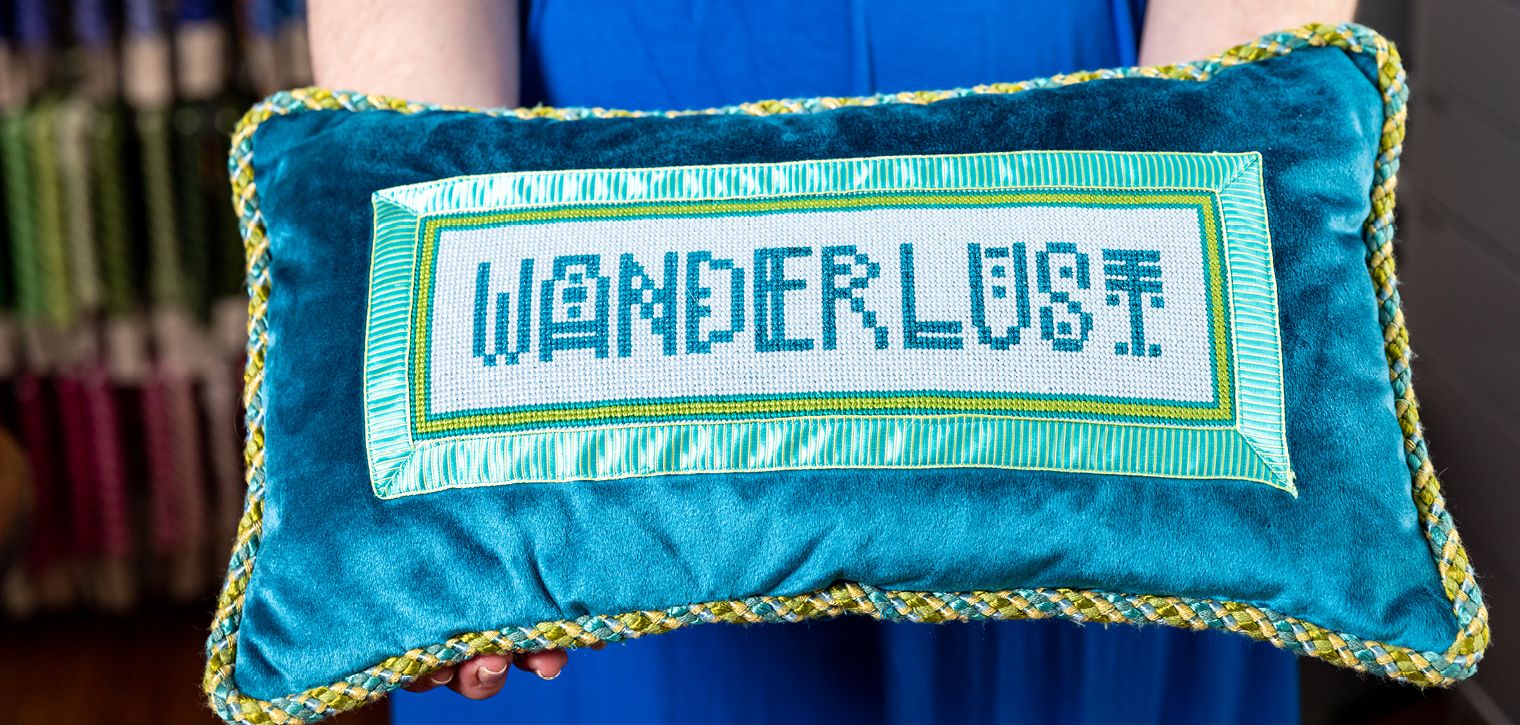 A passion for intricate needlework designs is passed to a new generation
---
Stuffy? Outdated? 
Not for today's "grandmillennial." 
The crafting and décor trends that some may have relegated to their grandmothers' or mothers' time are now a source of joy, expression, business success and even political commentary for today's young artists.
The threads of the grandmillennial trend are deeply woven into America's crafting past. And while they are working to tell current and impactful stories with their art, these young people are also proud to be pointing to their history. Beyond many needleworkers' passion for creating heirloom pieces is their passion for creating sustainable businesses that cater to a high demand for personalized style, fashion and art.
"For years I tried to avoid what was very well known about myself—I am a 'maw-maw,'" says Baton Rouge needlework artist Haley Stage, who offers her creations via her Etsy shop Mo Stitch Co. "I love all things antique, old school, vintage, etc. The older, the better. Now I have a thriving Etsy shop, and it's there that I continue to share my gift and joy for hand embroidery. What started as the simple stitching of babies' names on muslin blankets blossomed into intricate custom designs."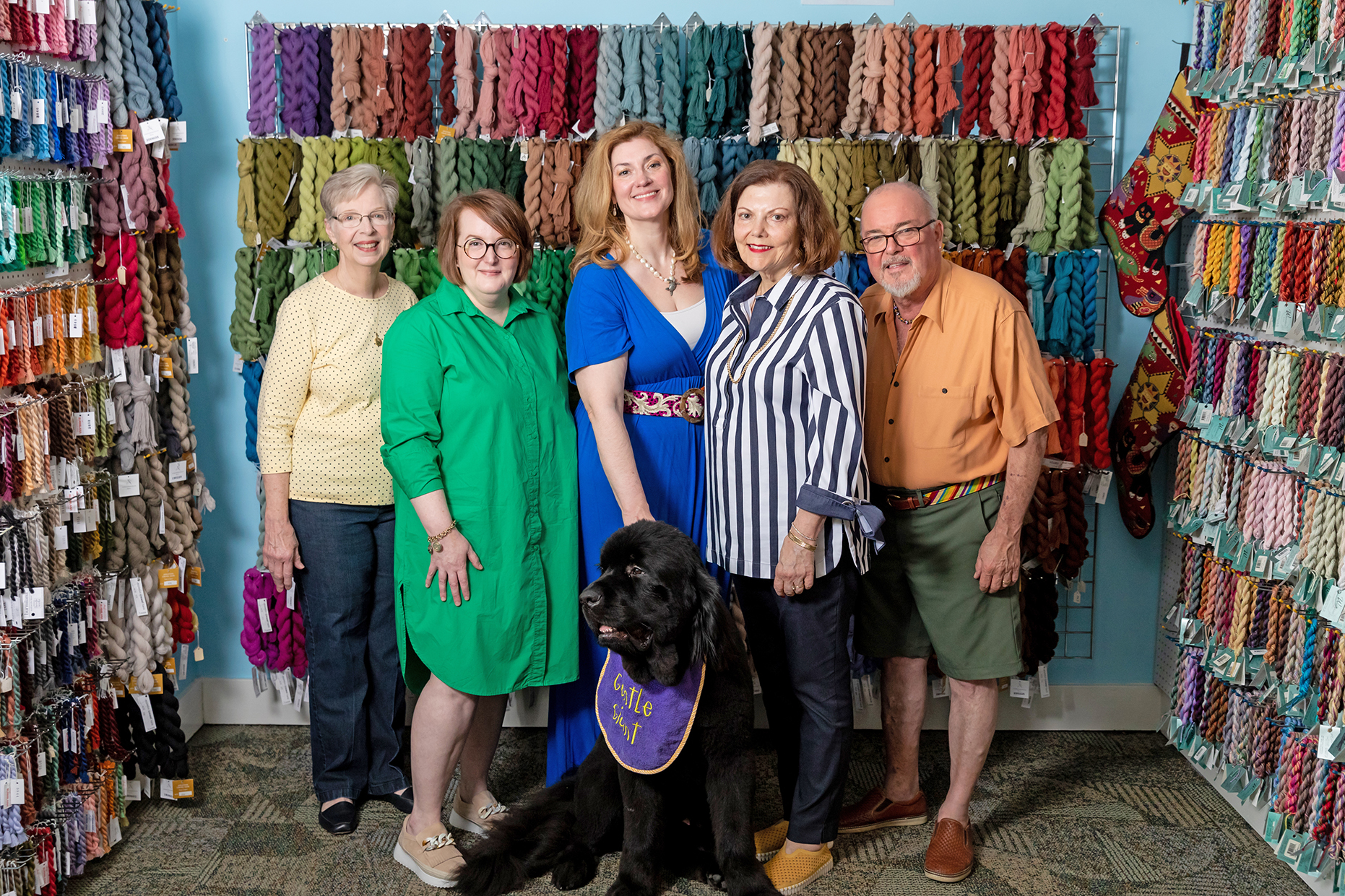 Haley's business has taken off beyond her imagination, in part due to the fact that her work fits perfectly in the newest home design trend, "granny chic." This old-as-new design style is likely to evoke the strong feeling of being back in your Southern grandmother's house. Characterized by ornate furniture, rich drapes, landscape art and collections of china and crystal, the popularity of granny chic is filtering into popular design resources and recommendations. The Spruce website, for example, is giving young homeowners the keys to designing their own "granny chic oasis," and thousands of Pinterest boards are filling up with granny chic décor ideas. 
It's a movement that is driving new traffic to brick-and-mortar needlework destinations as well. "We've always been involved in the traditional art of needlepoint. Now we see it appealing to a younger audience," says Leslie Nichols, manager of The Elegant Needle, a full-service needlework store on Government Street that opened in 1994. "My grandmother had monogrammed pillows. Now those pillows are in new trendy chic colors and on different materials." 
While many of these granny chic décor ideas directly reflect your maw-maw's style, some of these items point to a more modern sense. Even current events and political opinion are being illustrated through needlework meant to adorn walls, beds and Facebook pages.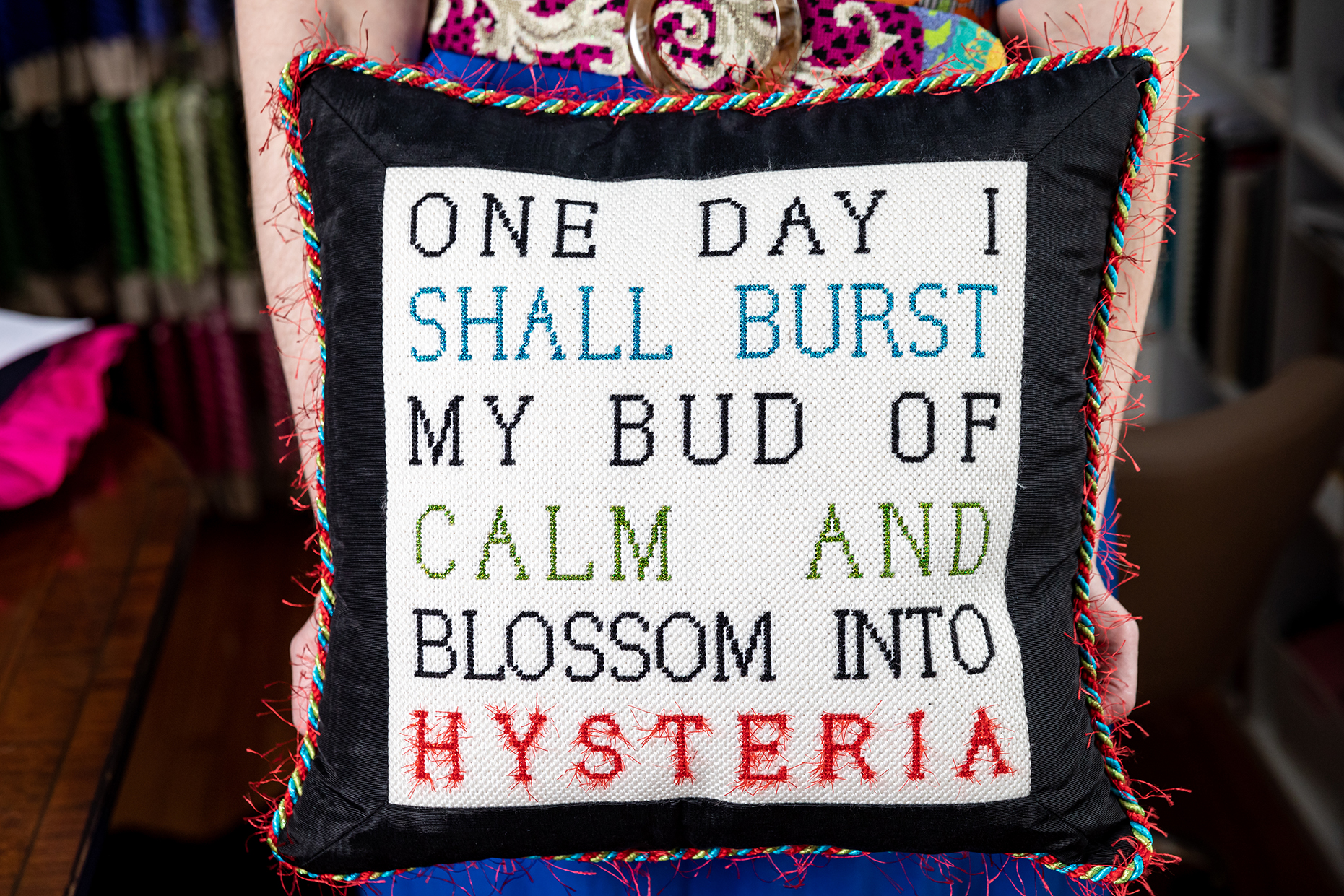 "Not only are we seeing what was once done on wool or cotton now on silk, glittery and even fluffy materials, but the patterns and content are far more relevant, even edgy," says The Elegant Needle owner Catherine Pletsch. "We have pieces that are visually feminine and pretty, but use words you wouldn't say in front of your grandmother."
Pletsch and Nichols say they love seeing classic hobbies and decorating styles of the past becoming interesting and engaging for the next generations.
"We learned from our grandmothers and mothers," Pletsch says. "In fact they helped us open this store and worked in it throughout the years, and Mom still works with us today. These younger artists are learning from their mothers and grandmothers in the same way. Only now Instagram is paying attention."
The trend toward practicing an antique art with a modern irreverence is now on full display in the store and beyond. "I'd seen a copy of Julie Jackson's book Subversive Cross Stitch," says artist Sharla Bordelon Myers. "It was a thrill to see all that snark presented as something that even I, the least artful person, could make."
After the birth of her third child, Myers began creating needlework pieces that challenged societal norms and, she hoped, encouraged her three girls to find their own art and use their voices. She used online sites like stitchpoint.com and pixel-stitch.net to help fuel her passion. "My girls do enjoy starting—not necessarily finishing—embroidery projects," Myers says. "They don't use patterns, which is perfectly fine. The best part is just sitting on the couch together, listening to music, stopping to help them rethread needles or change floss colors."
So where is this hot old-meets-new trend going? Forward, of course. Young needlework artists are starting to cut their teeth on their craft and the business world simultaneously.
"I have two little girls, ages 7 and 3, who are continuously intrigued by my embroidery skills and often ask to 'help,'" says Stage. "While their version of aiding me in my work mostly consists of cutting things with scissors or putting stickers on packages, I hope they have a firm takeaway from their keen observations. My desires for them are that they would see a woman, hard at work, doing something she loves and sharing a unique and timeless passion with the world."