Natural beauty: The botanical art of Samara Thomas
---
Samara Thomas just may have chlorophyll running through her veins. After all, her father was born on the grounds of a botanical garden in Wales, and she spent her formative years traipsing through the famed Hundred Acre Wood A.A. Milne wrote about in Winnie-the-Pooh, adjacent to her childhood home in Sussex, England.
"I spent a lot of my childhood outside, exploring the forests and gardens," she says. "I think my work and love of plants is definitely influenced by my early years of being surrounded by nature when I was growing up in England. My family lived in an old Victorian house in Sussex and there were acres of fern-carpeted forests right outside our back door."
While a one-bedroom apartment off I-12 in Baton Rouge is not quite a fabled forest, the 25-year-old has made a curated jungle out of hers, with potted plants of all varieties arranged in glass pots and buckets, terrariums hanging from the ceiling, giant leaves of monstera (this year's fiddle-leaf fig, for those who keep tabs on what's trending in decorative plants) towering over the sofa, and all manner of cacti decorating the balcony. There's also a banana tree, a papaya tree and an array of ferns. Each of her lovingly cared-for plants is a muse for her trademark art: intricate pen-and-green-India-ink botanical renderings. They are flawlessly illustrated in pen, true to their real-life form and colored in varied verdant shades.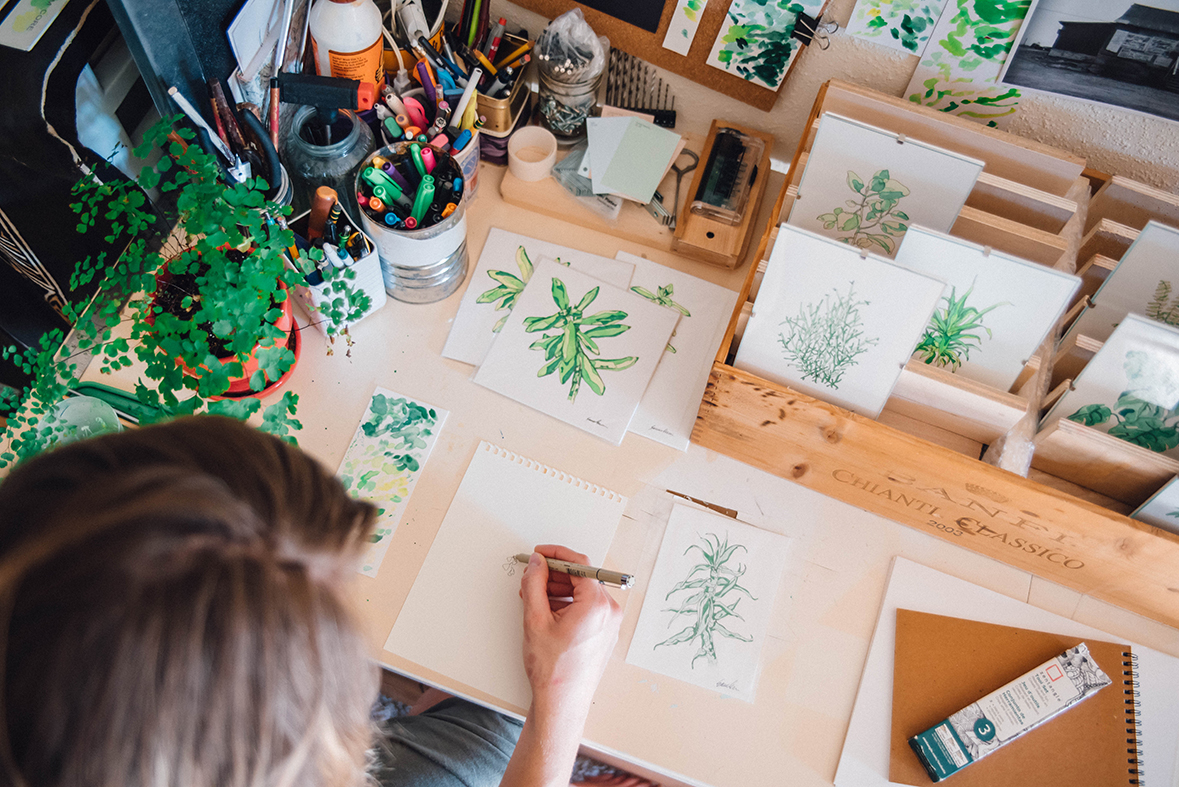 Her dining area is her studio, with works in progress, crates of finished original art—never prints—in simple glass frames, rows of assorted bottles of ink that didn't make the cut and, of course, plants.
Thomas' drawings are a throwback to an older time, one when the beauty of nature was captured in a meticulous, scientifically accurate sketch, rather than a sharpened, filtered and hashtagged snap on social media.
Botanical illustrations have been used for centuries and are a staple of any antiques store. Although Thomas says she appreciates and admires those older works and studies, she finds her inspiration from the real-life nature and plants surrounding her.
"I get so much joy from finding the beauty in nature," Thomas says. "I'm a Christian, so my faith really influences the joy that I find, the beautiful intricacy of what God has created. I study the tiny veins and could look at the nuances of it all day," she says. "Plants are definitely a passion, and I think drawing them is a reflection of that," she says.
She began drawing botanicals in earnest while studying visual art at Belhaven University in Jackson, Mississippi, where a professor encouraged her to draw in the blind contour style, without looking at the paper. She also discovered her abstract art style there, which she expresses in mixed-media pieces using India ink, wood glue and found wood. Some of her pieces from that collection are currently on display at Brew-Ha-Ha. On weekends, Thomas bounces around as a vendor at arts markets in Jackson, New Orleans and here in Baton Rouge, where she's an active part of the Mid City Makers Market. But drawing is definitely a passion project for her.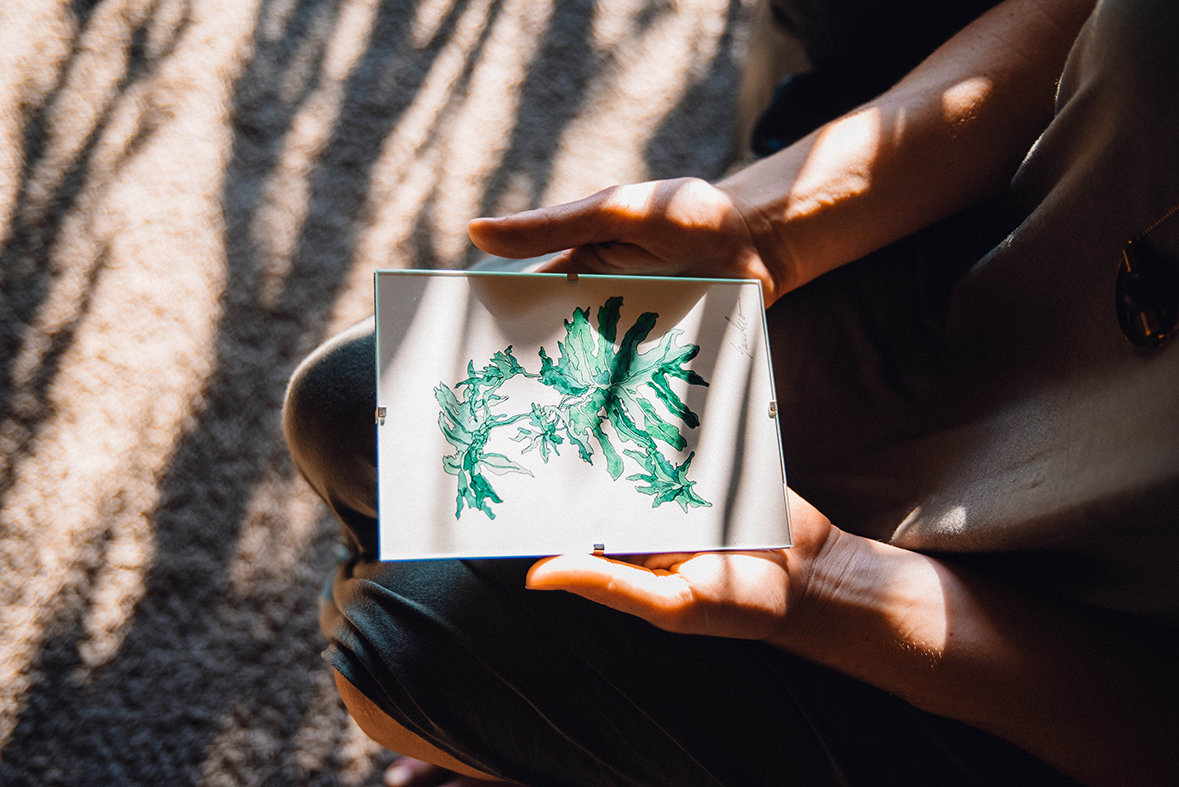 After getting her foot in the door working at Anthropologie in Jackson for several years in and after college, Thomas was lucky enough to land her dream job as the display coordinator for the Baton Rouge store. "Every season, I'm working on a different concept or inspiration. I'll get to play with wax one day, and the next day I'm running to Home Depot to get supplies to build something out of plywood," she says. Additionally, and unsurprisingly, she's also tasked with keeping all of the store's plants alive, which she says has only deepened her devotion to greenery.
The gift of the green thumb comes from her father, whose life began on a farm in Wales in 1940. The sprawling estate was later turned into the National Botanic Garden of Wales, a research and conservation site for biodiversity and sustainability. Thomas had the chance to visit in 2012, a meaningful experience that she says has certainly impacted her work and her inspiration, not only with her drawings but also evidently in her creative work for the store.
Her roots are so authentic, it's no wonder she can't help but create an inspiring, whimsical display with every artistic endeavor.