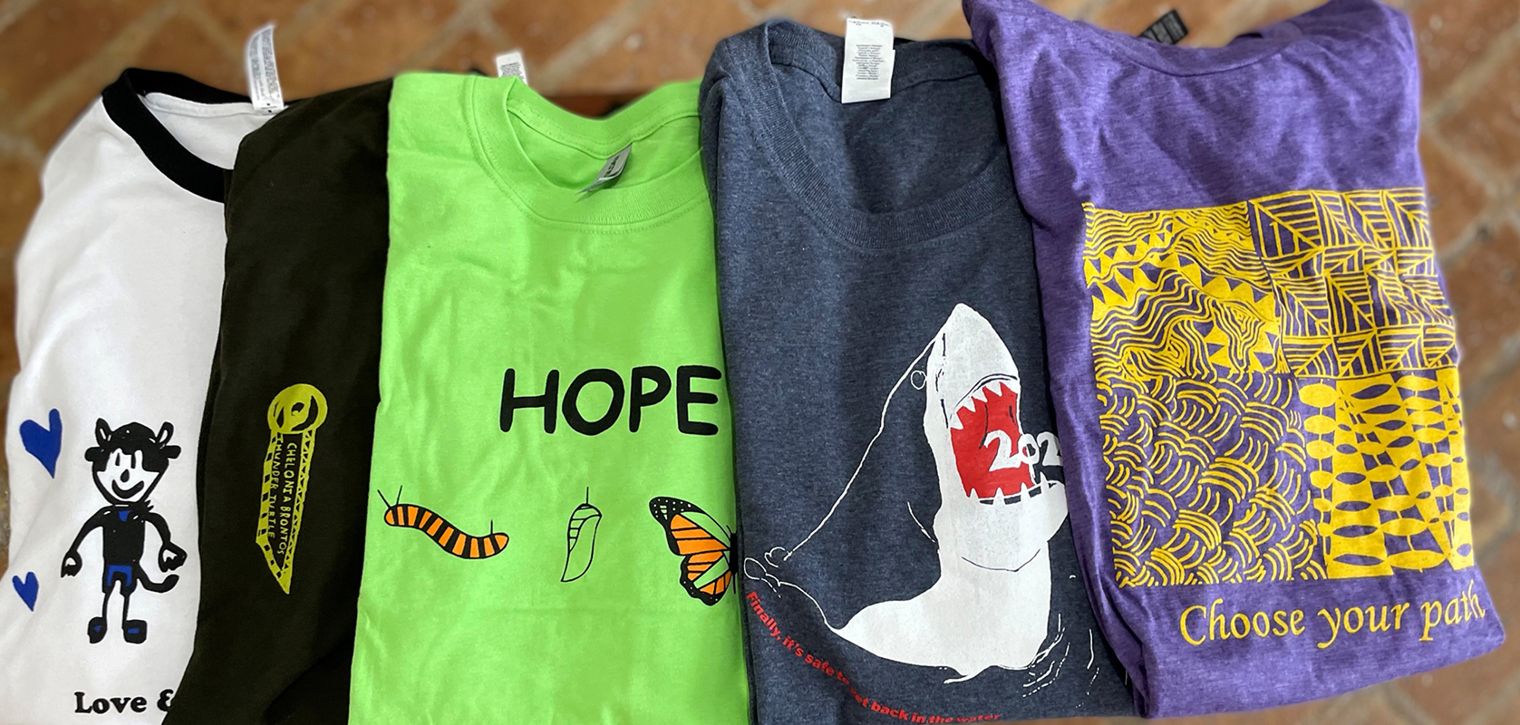 Giving back: Merakey Gateway Ink
---
Follow the ink splatter on the concrete floor and you'll find yourself staring at a large, uncommonly analog machine. No wires or digital interfaces extend from its metal joints. No lights blink on and off when you lift the heavy press up from its levers. No automated whirl commences when you adjust the knobs on the flat surface before you. And you'll need to mix the colors in that jar right there, and angle the squeegee just right against the mesh of the silkscreen. With enough practice, it'll all come together into the first of many one-of-a-kind, hand-printed T-shirts you definitely won't find in your local chain store.
All of it happens at Merakey's screen print shop, Gateway Ink, a local extension of the national nonprofit's mission to help autistic individuals and those with other developmental disabilities enter the workforce—this time through the power of creativity. Originally founded in 2015 in Central by the Gateway Transition Center, which provides life skills, behavioral health resources and job training for clients with special needs, the print shop linked arms with Merakey in 2018 and moved to Baton Rouge as a unique program designed to encourage the development of hands-on vocational and social skills. Those skills—along with other pre-employment transition services and independence coaching—constitute the ultimate goal of dignified living advocated by program director Maggie Giles and her staff of coaches and clinical experts.
"The most important thing for us is to individualize these services for our clients, since we work with people who have all sorts of disabilities, not just autism," says Giles, who holds a master's degree in social work. "We work with them to figure out what issues they might face in the job market, what jobs they might want in the future, and what accommodations will help them succeed. We also host one-on-one sessions with them and meet as a staff to develop a greater understanding of the individual, helping each person develop a toolkit of skills they can bring to an employer."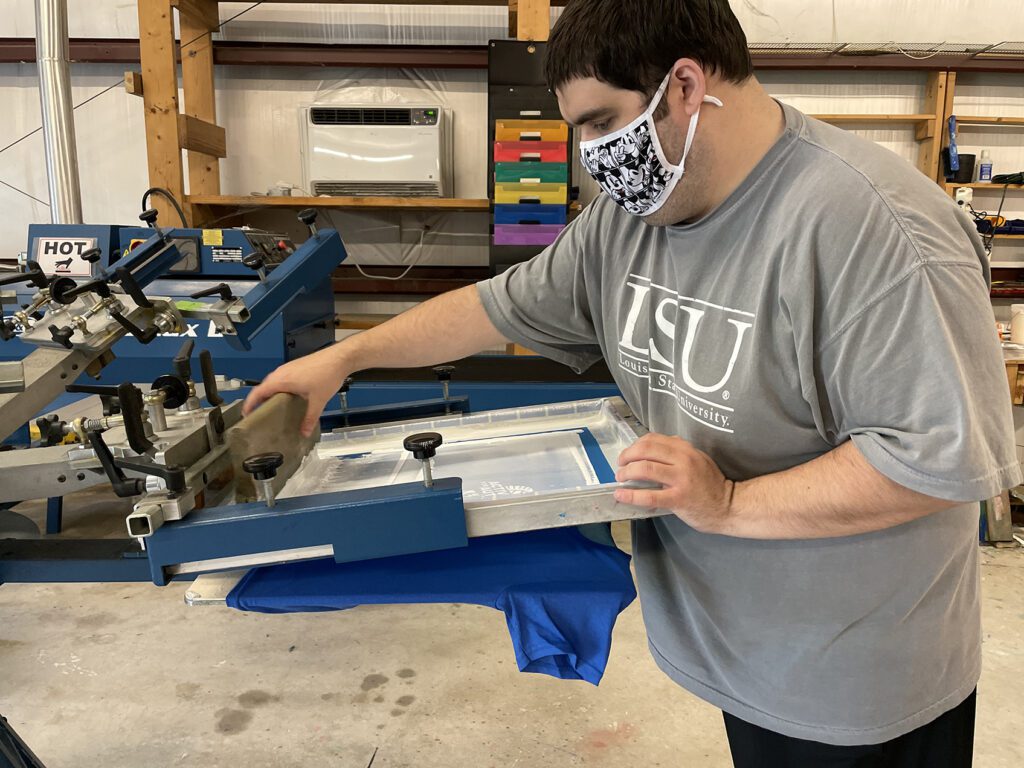 During the COVID-19 pandemic, the shop extended its printing services to face masks alongside its usual offerings of multicolored T-shirts, koozies, sweatshirts and other accessories. It also began the You N' Ink T-shirt Club, a monthly subscription service delivering a limited-edition tee designed and printed by one of Gateway's clients, along with a short bio about the maker. At any given time, about six clients—each hired and paid wages just like any other employee in the state—work in one- to two-hour shifts designing art, creating custom orders or preparing merchandise for sale in Gateway's online retail store. 
But why screen printing at all? What about it serves as an ideal pathway toward success?
"What I've learned is that screen printing is an excellent program and business model for developing transferable skills that our clients can take into other areas of work," says print shop manager Rachel Schexnayder. "It's great for training people how to manage a labor-focused type of work. You have to pay a lot of attention to detail, and focus on what you're doing, and be aware of what everyone is doing in the shop. And of course there's the retail side of the business for clients with more interest and abilities in those areas."
These clients—young men and women usually in their early-to-mid-20s—only stay within the program for as long as they need to, with Gateway Ink serving as a crucial stepping stone for those whose resources dry up after finishing school and entering adulthood.
"You can be so highly supported and funded up to that point, but after high school, all of those resources kind of slip away," says Giles. "That's why we've also started working with high school students in our summer camps and pre-employment transition services, catching them early so there isn't the usual gap period where they're struggling to access the support they need."
The summer camps may have been put on pause during the pandemic, but the job market still needs these workers, with Giles citing the labor shortages due to COVID-19 as opportunities waiting to be tackled by her clients, some of whom have achieved college degrees. 
"I think there are still misunderstandings of what autism is, or what an autistic person is like," she says. "These are highly motivated individuals with a desire to work—it's just a matter of breaking down barriers."
To place an order or learn more about how to help, visit gatewayink.org.