From the May issue: The Grace family's road to relocation
Decades ago, Dianne Grace found herself at a furniture sale at an 1875-era home in Plaquemine. However, she didn't fall in love with any of the antique furniture. Instead, she fell in love with the house itself. It was the old wood floors, high ceilings and grand staircase that stole her heart.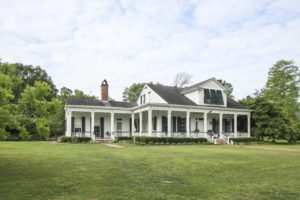 "My wife fell in love with the house on the spot," says her husband Jimmy. "It wasn't for sale, but I knew the owner. Things fell into place and we could buy the home with the goal to relocate it. We didn't have to build from scratch."
So that's what they did. Despite losing doors and moldings, and knocking out power lines in north Plaquemine along the way, the house made it. With help from architect A. Hays Town, they refurbished the home to accommodate their family of nine.
For the Grace family, this house is more than just a home. Within its walls lie the memories, stories and love from throughout the years. "There are many other beautiful places in the world, I know," says Jimmy. "But I don't know how to explain it, I just love it here."
To learn more about the Grace family and the relocation and renovation of their home, read this story from the May issue of inRegister, on newsstands now.