Makers Movement

Photo by Jeannie Frey Rhodes
Lindsey Shiflett Smith celebrates the authenticity of handmade goods across America
Oh, if these moments could turn into days. Just a few to get away. An escape to wilderness.
There are questions, for sure, mysteries from months of waiting. Wading through the stress of life.
But she breathes better out here. Sees farther and clearer. She recharges.
Because new is a powerful thing, of course, but so is heritage. So is memory. These things should be saved for their own beauty, she believes, and also for what they have to say.
If everything that is made tells a story, what will her story be?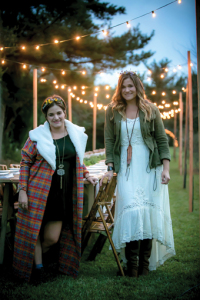 The Fork in the Road
They took to the field, a tree-dotted stretch of green in south Baton Rouge. Under the stars of a cool November sky were gathered people from all walks of life—creatives
and businesswomen, musicians, writers, farmers, former footballers, even a riverkeeper of the mighty Mississippi.
They arrived to celebrate local craft, to build community, and to connect through a kind of fellowship both old and new and buttressed by the oft-overlooked bounty of south Louisiana's indigenous growers and artists.
Billed as a "humble gathering of friends," the night was the vision of a petite, pixie-cut nature-loving young woman wearing a red plaid coat, a garland of yellow daisies and the word "wild" tattooed across her arm.
This is Lindsey Shiflett Smith, and as she welcomed guests to the Farm to Fork dinner she did more than offer happy bellies and lively minds—she ushered them into a different world.
This world is defined by Smith's knuckle-down mission: Bypass the big boxes that stamp our domestic landscape and dismiss the mass production that arrives in waves from overseas in order to connect people directly with a host of artisans she reveres as "makers."
Smith tells the stories of these industrious all-American men and women who strive to preserve their age-old crafts and use little more than their own minds and might to produce furniture and décor, home goods for the table and the bath, accessories and clothing—each with the passion an old master potter has for his clay.
"Everything says something about its maker, and people want to hear that story," Smith says. "People are craving that soul."
From one glimpse of the lighted woods below a black tree line, graphic designer Katie Swetman could feel a certain magic in the air even as her car rumbled to a stop across the road. Soul stirring is how she describes the entire evening.
"What was so surprising to me was just how intimate and cozy Lindsey and her team made the outdoors feel," Swetman says. "It felt like I was transported to the kind of place that I dream about on Pinterest. Baton Rouge needs more romance like this in our lives."
For Smith, a stylist and branding expert who founded the handcrafted-goods blog Makers Workshop in 2012, Farm to Fork was the culmination of months of preparation and perspiration borne from an unexpected struggle, one that left Smith's wanderlust heart tethered tightly to her home here in Baton Rouge.
But the hard work paid off.
Smith has a unique kind of drive, says fellow local blogger Leigh Ann Chatagnier, who writes My Diary of Us. "She's always looking for something else, the next thing, and she's the hardest worker I know."
At Farm to Fork, a 100-foot table Smith and Chatagnier built using wood salvaged from the ravages of Hurricane Katrina stood long under delicate arcs of golden string lights.
Sprouting midfield was an antique tea chest filled with party favors and flora.
Gypsy jazz band String Remedy picked and strummed a gentle tune as diners enjoyed locally sourced dishes like cochon de lait provided by Iverstine Farms and prepared by chef Hays Kahao. But while wine was poured from guest to guest, friendships were forged, and rice pilaf with smothered greens was scooped family style from large bowls, Smith felt a familiar, horrific sting.
The muscles in her face contracted and twitched in rapid succession.
The spasms arrive when she is run down and exhausted, and for Farm to Fork Smith had been out in the field stringing lights and screwing together the dinner table since 7 a.m. What if someone noticed?
"I wanted to talk to people and keep enjoying the night," she says. "But at times toward the end, I just wanted to run and hide."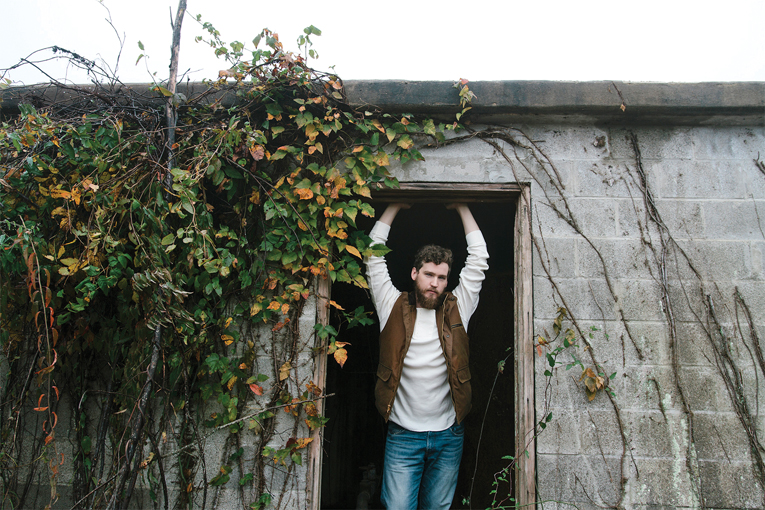 The Mountain Mom
It was a typical spring morning at Red Onion, the home and garden gift shop where Smith was working two days a week between styling gigs and frequent trips to California to assist the branding efforts of Juniper Ridge, where colognes and perfumes are distilled from plants, mosses and tree trimmings harvested on backpacking trips.
Then the nausea sunk in like an anchor.
Smith bolted outside to vomit.
Two days later she threw up again, and went to the doctor. Her blood pressure was sky-high. You're about to have a heart attack, she was told.
Smith avoided that but was prescribed medicine for her heart and blood pressure. A week later the hallucinations began.
Smith saw fish in the sky. She saw bizarre colors and odd things happening all around her house.
In July, an MRI discovered the mass in her brain. A lump in the pineal gland, a small endocrine factory hidden where the two hemispheres of the brain meet. This pea-sized gland shaped like a pinecone and often called the "third eye" produces melatonin to help regulate the body's wake/sleep cycle.
A local neurosurgeon ruled out removing the mass. The benefits don't outweigh the risks, he said.
Soon Smith was feeling numbness in her face and feet, and her hands began to shake. Since last summer, neurologists and rheumatologists have ruled out multiple sclerosis and every known autoimmune disease.
"It's been an interesting road," Smith says. "The beginning was tough because I felt the need to tell everyone, to explain why I didn't feel well or why my hands were shaking. Now it's become normal, as sad as that sounds."
Smith grew up in Baton Rouge as a bit of a peculiar child, she says. While her friends played with Barbies, she was busy collecting antique handkerchiefs. She held birthday parties at plantations and read books by candlelight as if she belonged to a different age.
Now the home she shares with her husband Greg and four-year-old son Oliver reflects this same appreciation for the past. The only artwork in the house, which was featured last fall on the hip interior tastemaker blog Design*Sponge, is a set of nature prints from Anthropologie, where Smith worked when the store's Baton Rouge location opened. The rest of the décor is comprised of true artifacts of a time long gone— industrial, artisanal or natural. Think old snow skis and deer antlers, flags and antique doors.
"I don't do knickknacks," she says.
Smith doesn't just write about handmade goods, she lives with them.
She launched Makers Workshop in 2012 after being inspired at a chance meeting with Margaux Kent, a Philadelphia-based artisan who with her husband runs Peg and Awl, a successful shop filled with items the duo makes using reclaimed goods. The two are just the kind of visionaries Smith now trumpets on her blog.
"We create simple and enduring objects that will in time gather new marks, reflecting new stories," Kent says. "Our aesthetic is this—this life-ness. We use our hands to pour new life into these already lived-in materials."
In two years many other maker-oriented blogs have cropped up. The New York Times even acknowledged the trend, noting that "Americana chic has gone mainstream" as millenials embrace a renewed pride for handmade goods.
"Lindsey has taught me so much about the value and beauty of working with and using American-made products," says Ruthie Lindsey, a St. Francisville native who now works as an interior designer and stylist in Nashville. "All of her styling is awe-inspiring."
One of Makers Workshop's greatest values is its reach. Smith features products made by a vast array of talents, from upstate New York to the heart of New Orleans. Louisiana musician and illustrator Julie Odell is fascinated by Smith's ability to shine a light on the hard work of others in a way that people recognize and adore.
"She believes in the beauty of the world," Odell says.
Since her symptoms began, that beauty has been closer to home, to family, but no matter. For now, Smith is content passing on her love for adventure to her young son.
"I've taught him to 'capture the place,' so we have all these bags from hikes filled with leaves and rocks. As a mom, I hope that he sees what I'm doing and that these qualities are being absorbed by him. He does call me 'Mountain Mom.'"
As 2014 wore on, Smith channeled her lust for travel into Farm to Fork. And she even got away for a week to the Pacific Northwest with two of her best friends. There, Smith organized a massive outdoor gathering of makers and held an informal reunion with friends from Juniper Ridge and dozens of people she's written about over the years.
"It was a huge feeling of support, and very encouraging," she says.
But throughout, Smith's ailments mounted.
Her EEG tests came back abnormal, indicating severe brain dysfunction. Part of her brain is operating like that of a newborn. Another part acts as if it is constantly having a seizure.
Smith's daily medications have risen to 13, just to keep the hallucinations and the twitching at bay. Her diet consists predominantly of soup. Most foods make her ill.
"I don't have the luxury of just being sick," Smith says. "I can't just sit on the couch. I'm a mom, and I have to keep working and earning money. Keep going."
Anxiety over her condition fills her thoughts on most days, but any escape into nature is a reprieve. "If I can have a day, a week outdoors, I'm good," she says.
By early December Smith was down to about 15% function in her right hand. Two days later, after being poked with needles and electroshocked by her neurologist, she forced that hand to spill her heart out onto Christmas cards for friends and family.
"Keep it coming, universe," Smith posted to her Facebook wall. "I can take it. Maybe."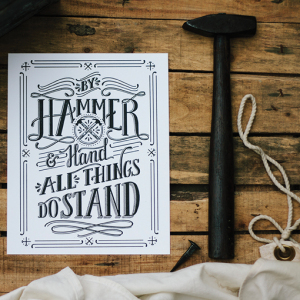 The Secret Weaver
Smith spent the last few days of 2014 undergoing an intensive round of EEG and sleep-deprivation tests, performed in an effort to find out what exactly is wrong with her. But even after all the assessments, doctors are still searching for the underlying cause.
The not knowing is the hardest part. It always has been.
The little one who calls her "Mountain Mom" needs her. And she needs clarity. She needs a lot.
One thing Smith has no shortage of is perseverance. There's plenty of that bursting through everything she does.
"You [mess] up and you flail, then get up and do it again," she says in tones inspiring and unflinching. "Makers Workshop is my heart. It's what I'm meant to do, and I will keep doing it."
Many view Smith's work as an essential cord for the burgeoning maker movement. Kent describes Smith as having a "super antenna" for things worth discovering.
"She doesn't tell the stories from afar; she creeps into each tiny, near-secret corner she can and gets her hands dirty," Kent says. "She adds sparks to the stories and connects makers along the way."
One local creative who has long felt the pull of Smith's orbit is filmmaker Max Zoghbi. His cameras captured Farm to Fork, documenting what he calls her blend of Pacific Coast rebelliousness and Deep South charm.
"Lindsey's style, her tone and her look all come from this cross-cultured angle," Zoghbi says. "And it works brilliantly."
Since the success of Farm to Fork, Smith has sought to replicate its virtues, but on a much smaller scale. Bigger isn't better, she says. Especially when the goal simply is to connect.
Every couple months she and Greg host small gatherings in their home, calling other creative individuals to join them in the hopes of launching friendships and collaborations.
"This illness has kept me closer to home, which is a blessing in disguise," she says. "I understand the arts community in Baton Rouge now, and otherwise I wouldn't have. I'm such a traveler."
On an unseasonably warm mid-December night, a dozen folks gathered in the Smith den and the kitchen, huddled around holiday treats and new ideas.
Sipping on red wine from a rugged, hike-ready tin cup, Smith divulged her obsession with all things Scotland—including but not limited to an early mastery of Highland dancing and once dating a Scotsman. She made plans for a photo expedition with Michael Tucker. She joked endlessly with Chatagnier.
As guests left, each received a warm hug from their hostess. Some took home leftover pulled pork from Iverstine Farms or plucked desserts from the dining table. Smith said her goodbyes and at one point fought back tears. Then she paused as if realizing she had forgotten something of incredible import.
"Oh, I know what!" she exclaimed as her eyes flashed with zeal just south of her her black-brimmed hat. "Next, we should all go camping."
Click on the images in the gallery below to learn more about Lindsey and her passion for handmade items. Photos by Lindsey Shiflett Smith: