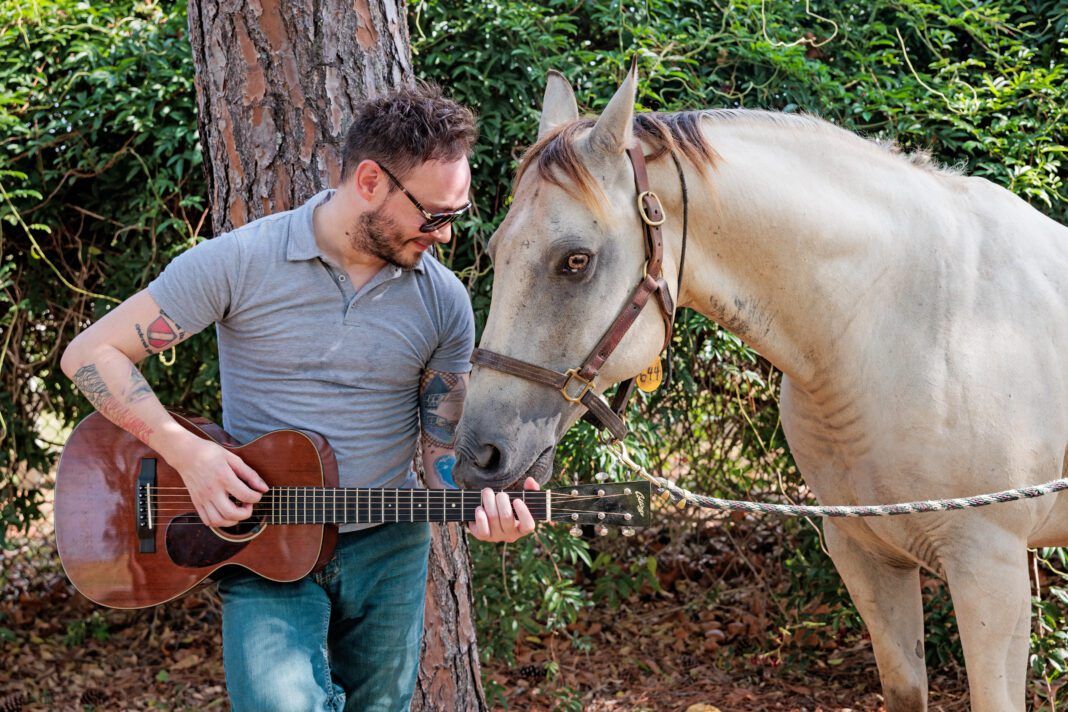 LSU Vet Med is the unlikely inspiration for a first-of-its-kind Artist in Residence program
On September 12, LSU School of Veterinary Medicine will host a concert featuring its first musician-in-residence, guitarist and composer Charlie Rauh. The event marks the debut of Rauh's original pieces performed by the composer and members of the LSU A Cappella Choir directed by choral conductor Alissa Rowe.
The music is inspired by Rauh's month-long experience at LSU Vet Med, which includes interactions with faculty, students, staff, patients and their owners at the Veterinary Teaching Hospital and the Stephenson Pet Clinic. 
The first of its kind in the United States, the LSU Vet Med artist-in-residence program began in 2022 with painter and sculptor Shelby Prindaville. The program is the brainchild of LSU Vet Med dean Oliver Garden, who joined the university in 2021. 
"I've always thought the nexus of art and science was an untapped resource for enriching the environment of our vet school community and engaging the external community in novel ways," he explains.
While other vet schools have commissioned occasional works, LSU Vet Med is committed to hosting a different artist each year. 
Funded largely by the proceeds from the school's Animals in Art Exhibition, the program engages artists in genres ranging from watercolor, photography and sculpture to music, filmmaking, poetry and other media. The collective body of work represents multiple facets of LSU Vet Med's mission and its dedication to improve the lives of animals and protect and promote the health of every species on the planet.
A New York-based arranger, touring and studio musician, Rauh has collaborated with Wilco drummer Ken Coomer, Magnetic Fields producer Charles Newman, Tom Waits producer Oz Fritz, Sparklehorse contributor Alan Weatherhead and Pulitzer nominee Cornelius Eady.
"We invited Charlie to be our 2023 artist-in-residence because he has the ability and interest to cross genres," explains communications manager Sandra Sarr, who runs the artist-in-residence program. "In the past, his music has been inspired by literature, folk songs and poetry. In our case, it will be music and medicine."
While in Baton Rouge, Rauh will compose and record several instrumental and vocal pieces for LSU Vet Med's use and for release on his Austin-based label, Destiny Records. However, both Sarr and Garden consider the live concert to be the culmination of Rauh's residency. That's because for reasons of safety and confidentiality, teaching vet hospitals are generally inaccessible to the public. 
Special events such as its annual open house and artist-in-residence programs allow LSU Vet Med to interact with the campus, veterinary and Baton Rouge communities.
Besides collaborating with LSU College of Art & Design and College of Dramatic Arts & Music to produce events, LSU Vet Med invites referring veterinarians, alumni, pet owners and the community to attend the artists' presentations.
"It's a way of bringing people in," Garden says. "I want the people to see what we do for our state and how we impact the world." 
The LSU Vet Med's free concert featuring composer/guitarist Charlie Rauh and the LSU A Cappella Choir lead by Alissa Rowe takes place on Tuesday, September 12 from 5:30 to 7:30 p.m. at the LSU Vet Med Library, Skip Bertman Drive in Baton Rouge.