Louisiana organizations are working to give mothers their power back as maternal mortality rates skyrocket nationwide
---
As the song from Beyonce's iconic Renaissance album says, "America has a problem."
Maternal mortality rates are at an all-time high in the United States. Despite all of the technological developments and improvements in modern medicine, mothers are still at a growing risk of dying from birthing complications. According to a 2023 Centers for Disease Control and Prevention report, maternal mortality rates have nearly doubled in the United States from 2018 to 2021. Out of all demographics, Black mothers are most likely to die from pregnancy-related causes, and they are three times more likely to die during or after pregnancy than white mothers.
In Louisiana, the statistics are just as grim. For every white mother, four Black mothers die in Louisiana. Two Black babies die for every one white baby in Louisiana, according to a 2019 Louisiana Department of Health report. To top it off, the Sugar State has a not-so-sweet ranking as the holder of the fifth highest infant mortality rate in the nation. These numbers are more than data, they are lost lives.
"I'm tired of mothers coming out of labor with no limbs," founder of Community Birth Companion Devin "Divine" Bailey-Nicholas says about why she started her nonprofit. "It is a social justice issue not just a health issue."
As the maternal mortality crisis continues to plague the nation, more mothers are speaking out in the hopes of creating change. Celebrities such as Serena Williams and Tatyana Ali have publicly shared their own childbirth horror stories, revealing  it is not about a mother's income, but largely about her race. Some local reproductive health leaders in Louisiana like Bailey-Nicholas have been fighting for health equity for Black mothers for years.
Bailey-Nicholas is a certified lactation counselor, trained doula, community health worker and midwife apprentice. She started her Opelousas-based nonprofit, Community Birth Companion, in 2012 with a plan to lower infant and maternal mortality rates in St. Landry Parish. More than a decade later, she has expanded her reach to mothers in Baton Rouge and Lafayette also.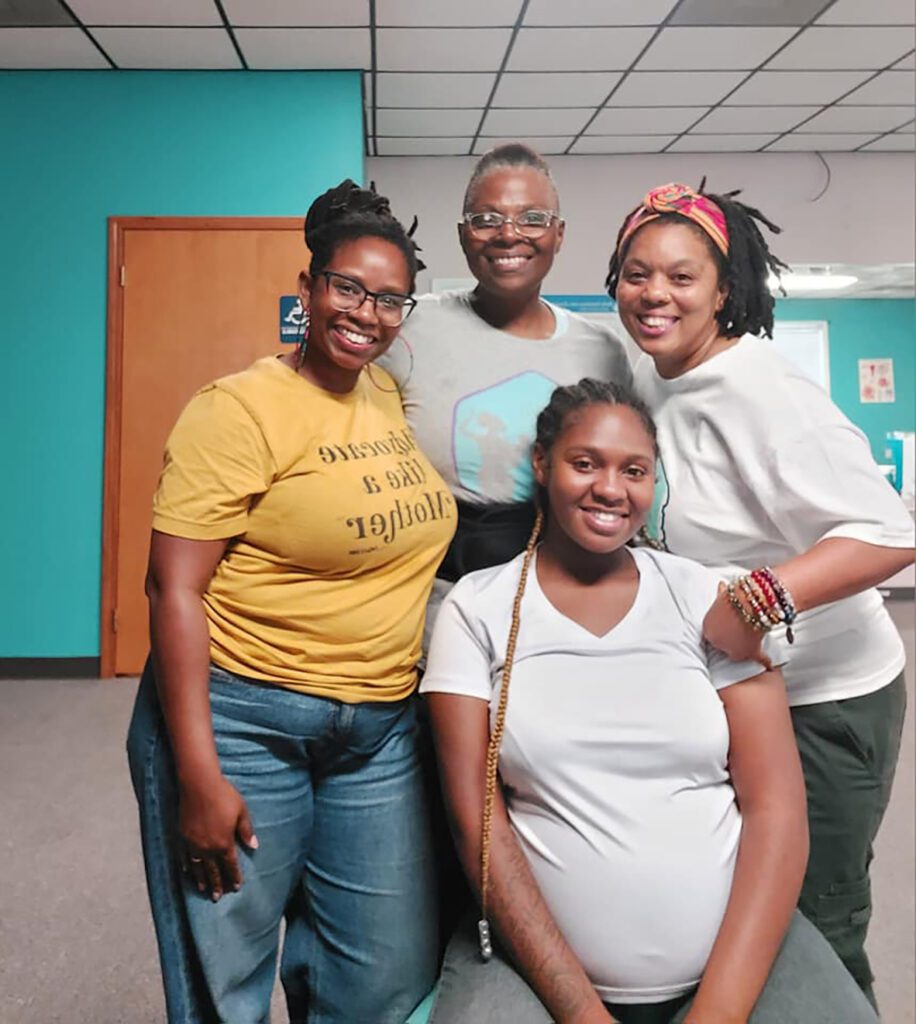 Community Birth Companion offers low-income mothers doula services, breastfeeding support, childbirth education and NICU family support. The organization trains locals to be doulas so they can offer support through skills like CPR, basic breastfeeding and comfort measures. Doulas also help to equip families with the vocabulary needed to advocate for themselves in a medical setting.
"Once they see that white coat, they see authority," Bailey-Nicholas says about the mothers she works with. "But it's a relationship and an opportunity to have a positive conversation."
The organization teaches mothers how to look at their health care team holistically and encourages them to tailor their birth experience to their unique needs. One of the common acronyms they teach their clients to use during doctor's appointments is BRAIN. B for benefits. R for risks. A for alternatives. I for intuition. N for no or not right now.
By equipping Black families with childbirth and breastfeeding knowledge, the organization fills educational gaps and influences maternal and infant outcomes in Louisiana. Community Birth Companion isn't conquering the battle of maternal and infant mortality alone in the Baton Rouge area, though.
Maternal Love is a Baton Rouge business, founded in 2019, that provides accessible childbirth, doula and lactation services for women of all incomes. Mothers can book breastfeeding specialists to come to their home or request a virtual session to provide prenatal and postpartum breastfeeding support. Baton Rouge mothers can also learn how to prepare healthy meals for their child, access overnight childcare and can have their child's weight monitored by a professional.
Low-income mothers can request financial assistance from Maternal Love. If they are on Medicaid, they can have their services covered under their insurance plan.
"Moms who feel heard and empowered have better birth satisfaction," founder of Maternal Love Ashaki Tobias says. "We are doing our best to piece together all the pieces to the puzzle. We are a vital resource to all moms and birthing people."
Organizations like Maternal Love and Community Birth Companion serve Baton Rouge and the surrounding areas. But what about the women throughout the rest of the state? Bailey-Nicholas says North Louisiana mothers have a need for childbirth and maternal support. The more people who become doulas and maternal educators, the more mothers will have access to the hands-on and compassionate care they need.
"As we are educating the public about what is happening to Black families, we know that we have the answers in our community," Bailey-Nicholas says. "We're not asking for any permission to do this work. We deserve it as humans in our most vulnerable state."
No matter someone's race or income level, a few things remain true. Every mother deserves a safe birthing experience. Childbirth should not come with social or financial barriers. And mothers of all backgrounds should not have to wonder if they will be alive to see their child turn one year old.
Organizations like Maternal Love and Community Birth Companion are working to ensure that these truths are more than just words on a page. They are working to achieve the reality of healthy, happy mothers and babies throughout Louisiana and beyond by offering a helping hand and a network of support for those who need it. Because at the end of the day, change is made by the small, everyday actions of love and care for one another.