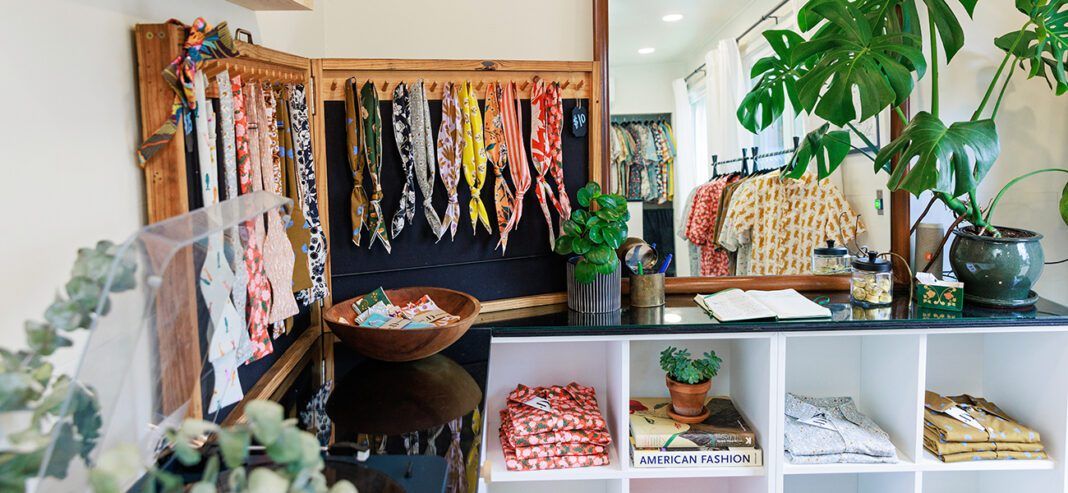 Up-and-coming local men's clothing brand brings punchy apparel to Mid City
Jack Duncan is all about the little things.
Like tiny, jewel-colored koi fish swimming merrily across a bubble-patterned button-down. Or small, rust-colored hummingbirds perching on a passion-flower-printed shirt.
Most of all, the clothing brand is about the microscopic, meticulously executed details. The hand-stitching of the cotton fabrics. Its signature corozo buttons, made of scratch-resistant, natural vegetable ivory. And its organic cotton twill labels that proclaim, "You're looking good today!"
Through July, the Baton Rouge menswear collection is showing off its wares in Mid City from its temporary home inside The Shopette. The brand is the latest vendor to pass through the South Eugene Street boutique-on-wheels that has recently become a place-to-watch for rotating, rising makers. Since its opening in May, husband-and-wife owners Dave and Brittany Tubb Duncan say they've enjoyed playing personal stylist to shoppers.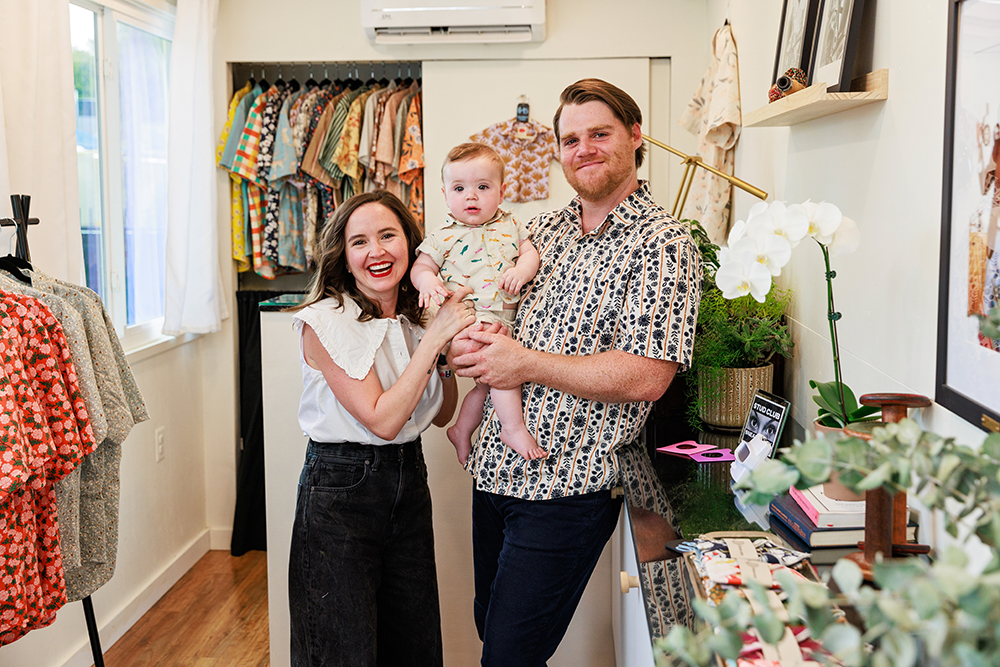 "Add a little flair to your closet," Brittany encourages.
Though Jack Duncan launched in fall 2021, the brand's origins truly date back to 2013. That was the fateful year the couple met in Vietnam, where they were living and teaching English.
With seamstresses on every corner, one of their favorite parts of Vietnamese life was digging through fabric stalls to source for their own closets. Once they moved back to Brittany's native Louisiana, they quickly grew accustomed to the question: "Where'd you get that shirt?"
Dave's funky gingham, striped and bold-patterned shirts stood out in Baton Rouge, where men's clothing shops aren't as plentiful or diverse as women's boutiques.
"I'd wear a shirt of mine to a bar, and men would ask where it's from," he says.
Dave's eye for clothes is in his genes—courtesy his grandfather, Jack Duncan. The "stylish man and cool dude" for whom the collection is named smiles down from a photo in The Shopette. Wearing a rust-hued blazer and tie in his home of New Zealand, the candid shot packs as much pizzazz as the brand's jungle-patterned fabrics.
During the pandemic, the couple learned to sew. Soon, they were setting up their first pop-up at Wanderlust by Abby. In the early days, it was a humble hobby for the Duncans, who both have full-time jobs (Dave as a landscape designer and Brittany as a business development associate).
"If we sold one shirt at a pop-up, we exceeded our expectations," Brittany recalls.
But the brand is quickly growing, popping up at markets from New Orleans to Lafayette to Monroe.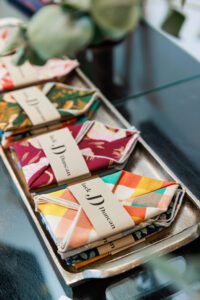 Working from their home studio in the Garden District, the Duncans hand-stitch each soft, relaxed-fit shirt. The clothing is dropped in limited, seasonal collections. Unless they are stocking up for a market or filling the shelves of The Shoppette, each item is made to order. Once they run out of a fabric, that print is discontinued.
The brand's ethos is built on sustainability. Fabric scraps are repurposed into bow ties, handkerchiefs and bandanas. Shirts are made to last—the couple promises to replace buttons or repair holes.
Jack Duncan also recently launched a limited collection of children's shirts in collaboration with Itty by Bitty, Brittany's other clothing line. The shirts are modeled on Instagram by the couple's blue-eyed, 9-month-old son, Nash.
Next up, Jack Duncan will launch camp shirts and an LSU-themed drop. They hope to branch out to pants and jackets—and maybe even search for a small brick-and-mortar.
Expectations officially exceeded.
---
This article was originally published in the July 2023 issue of 225 magazine.