Kylie Etienne: Back on track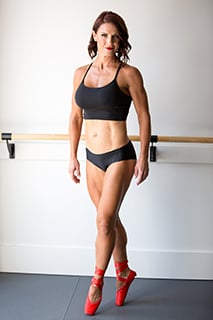 It was the perfect storm for Kylie Etienne.
Juggling three children, a husband and a stressful work environment plus worrying about two sick parents became an emotional load too heavy to bear.
Months of broken sleep, poor eating habits and no exercise packed on the pounds, and before Etienne realized it, her 5-foot-3-inch frame was carrying 160 pounds in mid-2014.
One day the pressure became too much. Etienne remembers crying on the phone to a friend about all her daily responsibilities and how physically and emotionally terrible she felt.
"We put on the perfect face for everybody else, but then we get home and can't shut off the voices of all the things we need to do," says Etienne, 40.
Her weight had always fluctuated. Although she was active as a high-school color guard performer and dancer in a traveling competition group, she says her weight often increased during the off-season.
When competition time came around again, Etienne would go on fad diets, starve herself and exercise obsessively to lose the weight. She says she took diet pills and laxatives and made herself throw up, all habits she continued while a student at LSU.
As a young adult, she worked out at a gym, competed in triathlons, and raced with a cycling team. But when she married and had children, Etienne stopped cycling outdoors after friends were killed while biking busy Baton Rouge roads.
Then life just got in the way.
She credits her husband, her "anchor," for getting her in touch with a group of cycling friends after her meltdown on the phone in August 2014. Soon she was spending three to four hours on the weekend cycling, a hobby she had all but given up due to her responsibilities as a mother and a medical equipment sales rep.
"You just put yourself last," Etienne says. "I didn't realize how far gone I was."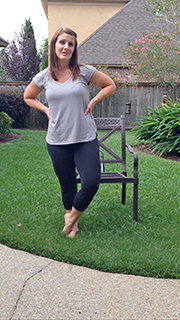 Over six months, she continued cycling, went back to the gym and began cooking healthy meals. She lost about 35 pounds and now maintains her weight between 115 and 120 pounds.
She strives to encourage others to take back their lives and get healthy. "We have to stop thinking about why we can't do something, and we need to focus on how we're going to make it happen," Etienne says.
Today, she teaches a spin class once a week and does combination cardio and weight-training sessions to stay in shape.
Etienne starts with 20 to 30 minutes of running on the treadmill or riding a stationary bike to get her heart rate up and then focuses on weight training for one or two body parts, like biceps or back, during each session to increase and maintain muscle.
"I need to be efficient," Etienne says. "I'm a mom of three who works. I don't have three hours to spend in the gym."
Etienne says she is active every day, although she doesn't always engage in high-intensity workouts. She advises "finding your happy," an activity you truly love, to ward off boredom.
She also warns against texting or taking phone calls at the gym, two barriers to fitness she sees on a daily basis. "If you can, leave the cell phone out," Etienne says. "Let this totally be about you."
But learning about the proper foods to eat from a registered dietician is perhaps the most important step Etienne recommends to friends. She tries to "eat clean" most of the time and cooks and serves her children nutritious foods as a way to teach them how to be healthy, she says.
For instance, her children don't like the texture of Brussels sprouts, but when she uses a mandolin to shave them down and adds garlic and lemon, the children enjoy them.
For Etienne and her family, this healthy lifestyle is here to stay. "I don't want to go back," she says, "and lose myself again."
---
Kylie's training tips:
• Make an appointment with a registered dietician to learn about food and what you should eat.
• Making working out part of your daily routine.
• Maximize your time at the gym (get off your cell phone and disconnect while working out).
• Find an activity that brings you joy.
• Live by example and pass on your success and tips to your family and friends.
---
Kylie's favorite healthy recipe:
Tequila Lime Shrimp
24 peeled and deveined jumbo shrimp (about 1 lb.)
1⁄4 tsp. ground cumin
1⁄4 tsp. kosher salt and freshly ground black pepper
1⁄2 Tbsp. extra-virgin olive oil
4 garlic cloves, crushed
1⁄4 tsp. crushed red pepper flakes
2 oz. tequila
2 Tbsp. lime juice
3 Tbsp. rough chopped fresh cilantro
Season shrimp with cumin and salt and pepper to taste. Heat a large nonstick skillet over high heat. Add oil and shrimp to the skillet and cook for about 2 minutes. Turn shrimp over and add garlic and red pepper flakes, and cook for about 1 minute or until opaque. Add tequila and cook for 30 to 40 seconds or until alcohol is slightly evaporated. Remove from heat and squeeze lime juice over shrimp. Add cilantro, toss well and serve. Makes 4 servings.