On exhibit: 'Juke Joint Men' at West Baton Rouge Museum
---
Through December 29
'When people think of the blues, they think of Mississippi," says West Baton Rouge Museum director of interpretation Kathe Hambrick. "But some of the greatest blues musicians are actually from around West and East Baton Rouge."
Celebrating those musical masterminds through eclectic art is the focus of the museum's new "Juke Joint Men" exhibition. Curated by Hambrick, the show riffs on the permanent juke joint building that's part of the museum's Port Allen campus while also harmonizing with the current traveling exhibition, "A Cast of Blues," which will be here through October 20.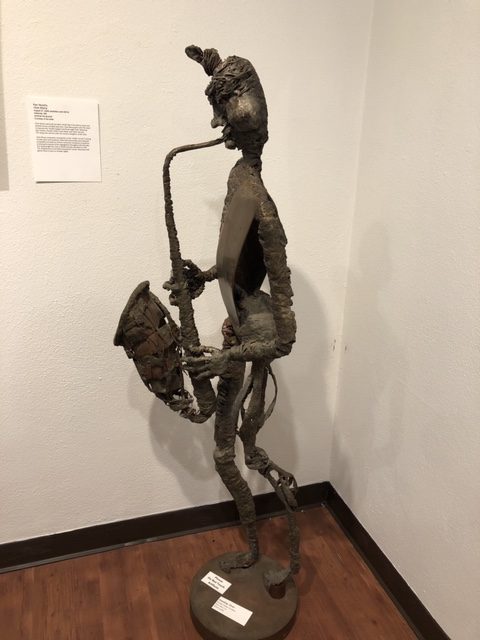 "Juke Joint Men" pairs 14 multimedia collage portraits of local blues performers by British-born artist John K. Lawson with bronze and brass sculptures by Port Allen artist Ronald Trahan. Lawson, who now lives in south Louisiana, layered images of maps, butterflies, flowers, Mardi Gras beads and more to create vibrant likenesses of musicians including Slim Harpo, Henry Gray, Kenny Neal, and both Tabby Thomas and his son Chris Thomas King. Trahan used techniques honed during his studies with acclaimed Southern University professor Frank Hayden to capture the movement of three-dimensional figures dancing and performing.
"We have both a local artist interpreting the music of his memories and an artist who came here from the United Kingdom drawing on his perspective on these bluesmen," says Hambrick. "It's an interesting juxtaposition."
In conjunction with the exhibition, the West Baton Rouge Museum is set to release the hardcover book Juke Joint Men—featuring images of Lawson's collages, poems written by Lawson about the Southern blues and its icons, and biographies of local blues musicians written by Hambrick—in November, and a book signing will take place next month. In the meantime, the museum will host its annual SugarFest on October 6, combining folk art and craft demonstrations with live musical performances and tours of these two blues-focused exhibitions.