From the January issue: Country Club of Louisiana ensures the future
Tucked away off of Highland Road, surrounded by lush landscaping and tree-lined walkways, lies The Country Club of Louisiana. The Louisiana landmark launched in 1985 as a premier golf, tennis and social club. The club is centered around its course–designed by legendary golfer Jack Nicklaus–and is recognized as one of the top championship courses in the South. The club itself is visually appealing, boasting a plantation-like exterior that neighbors century-old oaks, scenic lakes and picturesque bluffs. These are the things that bring people to CCLA.
An $8.5-million renovation will make them stay. The renovation was a no-brainer for its members, who voted overwhelmingly in favor of changes that will improve the clubhouse, restaurants and tennis and fitness facilities. These renovations are what Omar Manriquez, general manager and COO of CCLA, says will ensure the future of generations to come at the club.
"This will be a game changer for the club," says Manriquez. Changing the game at CCLA will not only satisfy current members, he says, but will fulfill the desires of prospective members as well.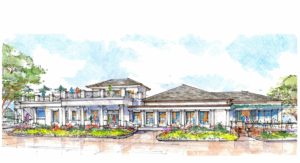 "It's really about transforming CCLA to meet the expectations and desires of both current and future members," says Jay Bruno, CCLA Board of Directors president. "We want to maximize member enjoyment in 2018 but also for the decades to come."
To learn more about the transformation process at The Country Club of Louisiana, read this article from the January issue of inRegister, on newsstands now.