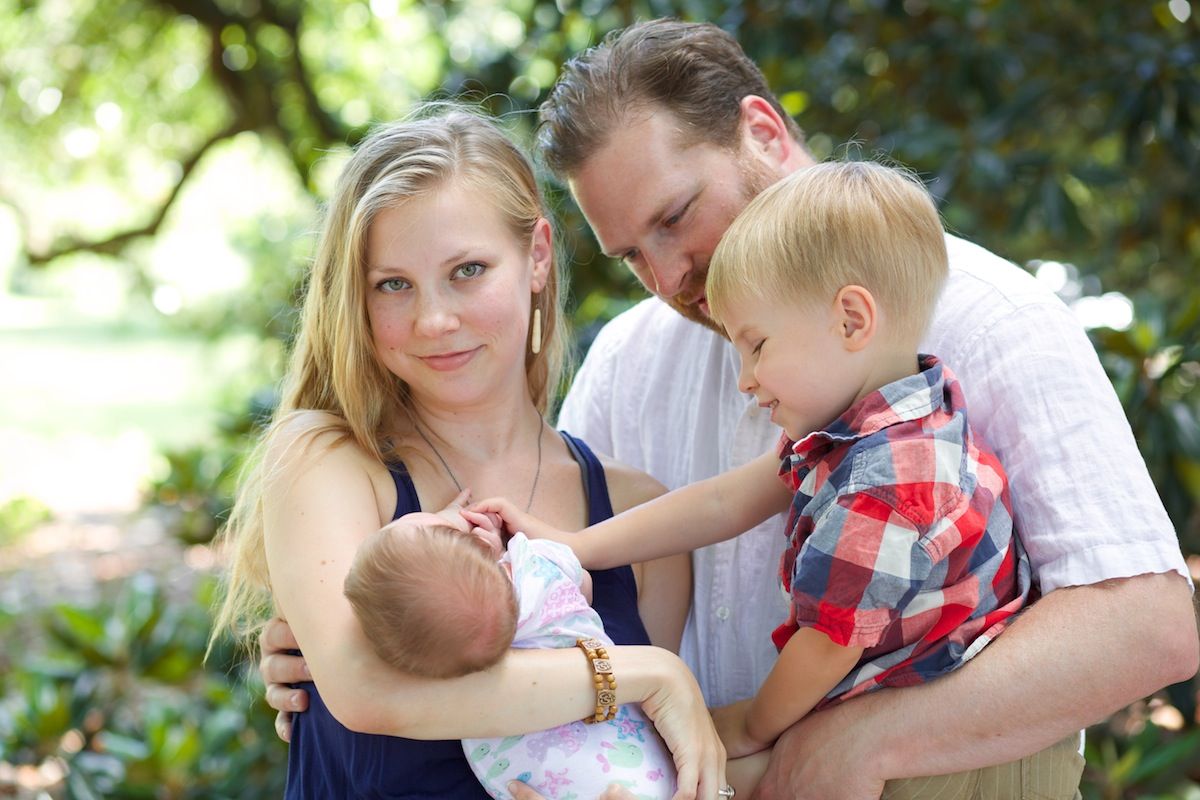 The opening of a new birth center gives Baton Rouge moms-to-be more options
By April Capochino Myers
Photos by Frank McMains
When Joanna Bryant entered the Birth Center of Baton Rouge one late May evening, she was greeted by a midwife, a doula and a nurse. They agreed she was in active labor, so she walked into one of the birthing suites, turned her music on and put on comfortable clothes. A few hours later her daughter Savannah was born.It was an intimate setting and different from her son's birth at an area hospital three and a half years ago.
"I had a good hospital experience overall, but I didn't like the admitting process and the triage," says Bryant, 28 of Baton Rouge. "It was very different walking into the birth center. I called the midwife and doula before I went there. I knew these women; they were women I was comfortable with. At a center like this you really get the sense that birthing a child doesn't have to be scary and painful; it can be magical and even euphoric."
The Birth Center of Baton Rouge opened in May. It is the only freestanding birth center in the Capital City and the second to open in the state. The other one is in Lafayette. A freestanding birth center is a homelike facility not affiliated with a hospital. It provides family-oriented care for healthy women before, during and after a normal pregnancy, labor and birth, according to the American Association of Birth Centers.
The Birth Center of Baton Rouge is run by certified midwives, doulas and nurses. Dr. Ryan Dickerson, an OB-GYN with Louisiana Women's Healthcare, is the center's medical director and owner. He spent two years developing it and $500,000 to open it. While a freestanding birth center is novel to the Capital City, there are 236 birth centers operating across the United States, according to AABC.
"It's considered a bold move in Baton Rouge, but the rest of the country has already done this," says René. Johnson, administrative director for the center and a certified doula and childbirth educator.

Natural birthing has gained momentum in Baton Rouge, partly because the C-section rate is so high in the state. Louisiana ranks No. 1 in the nation with a C-section rate of 39 % according to the most recent data from the Centers for Disease Control and Prevention. There's an increase in demand from Baton Rouge women who want to give birth naturally and are rallying together on social media sites.
"I do think that this can be a catalyst for change," says Dickerson. "It will take a grassroots effort for women to demand changes in hospitals. Our goal is not to funnel everyone into birthing rooms. We hope women will come in and utilize our different services and that our philosophies will permeate into the hospitals."
In addition to offering delivery options for low-risk expecting mothers, the birth center also offers well-women care, annual exams, lactation support, counseling, birth and parenting classes, along with massage therapy and chiropractic services to anyone interested.
The birth center's exterior looks like a brick home located in many Baton Rouge subdivisions, complete with manicured flower beds. Its small parking lot is adequate for its clientele. In contrast to Woman's Hospital boasts about delivering 300,000 babies in the last 45 years, the birth center's goal is to provide an intimate setting. There are two midwives who see an average of 7 to 10 patients per month. There are five people employed at the center and they currently have 30 patients.
"We don't want the feeling of a hectic, chaotic pace.," Johnson says. "Big volume isn't what we're into; it's quality. And we want a homelike, spalike feel here. We want women to go 'Ahhh.' "
The birth center looks like a spa. Its walls are painted in soft greens, blues, tans and grays. There is hardwood floor throughout. It has three birthing suites: Serenity, Sanctuary and Seaside. A giant tub anchors each room, and medical equipment is stored in dressers. A few cozy chairs and a queen-size bed are inside each room, a few cozy chairs and a birth ball is available for all moms. Dimmer switches control the lighting. Most patients and their babies stay between six and eight hours at a birth center.
Myndi McCallum was the second mother to deliver at the birth center. In May, she gave birth to her second daughter in the Seaside suite's bathtub.

"I felt very safe and secure and just hard at work listening to my body," she says. "My daughter is such a peaceful baby, and I know it's because she was born in such a peaceful environment."
After her daughter was born, McCallum had complications. She says her placenta was "trapped," and Dickerson, who is on call for the center, had to come to physically remove it.
"I was privileged, blessed and honored for Dr. Dickerson to come there," she says. "I didn't have to get in my car, leave the center or get in an ambulance and go to the hospital. I was thankful for that."
The birth center is on Picardy Avenue, between Bluebonnet Boulevard and Essen Lane and minutes from Our Lady of the Lake Regional Medical Center, Ochsner Health Center and the Baton Rouge General Medical Center's Bluebonnet campus. It is less than 8 miles from Woman's Hospital. In an emergency, the patient could be driven or take an ambulance, if necessary, to one of the area hospitals, Dickerson says.
Research shows such emergencies are not common. In a study published by the Journal of Midwifery and Women's Health, more women delivered their babies at birth centers than in an emergency hospital situation. Of the more than 15,000 patients from 79 midwife-led birth centers across 33 states, 84% of women gave birth at the birth centers, 2.5% of mothers or newborns required transfer to the hospital after birth, and 1.9% of mothers or newborns required emergency transfer to the hospital before or after birth.
For Amanda Boggs, the midwifery model of care offered by birth center just feels right.
"I saw a midwife when I lived in Cincinnati, and when I moved here there weren't any so I saw a couple of nurse practitioners but it wasn't a good fit," says Boggs, a 33-year-old mother of two who moved to Baton Rouge 11 years ago from Ohio. "When I switched to Dr. Dickerson, he told me about the birth center and I switched from him to the midwives here. I'm not pregnant, but if I was having baby number three, I would have her here."
A birth center is also a cost-effective choice. According to Childbirth Connection, it costs an average of $2,277 to give birth vaginally at a birth center versus $10,657 to do so in a hospital without complications. A C-section without complications performed in a hospital costs on average $17,859.
Leanne Redman is an associate professor of reproductive endocrinology and women's health at LSU's Pennington Biomedical Research Center. She's also a mom and advocates for women to take care of their bodies before, during and after pregnancy. Redman says the Birth Center of Baton Rouge is a great addition to the city.
"I had goose bumps most of the time while I was at the opening," she says. "I hope that the women in our community embrace the opportunities that the birth center can provide for their families and engage in conversations with care providers early in pregnancy or, better yet, before becoming pregnant on how to be physically and mentally fit for pregnancy. I feel so proud that Baton Rouge has come this far. This is a real gift here."