Inspiring: Flock together
Every day, Baton Rougeans are bombarded with information about great causes worthy of their support. While many issues evoke sympathy or anger, it usually takes a personal connection to spur an individual into action.
That's why Baton Rouge author Wendy Carbo invites children to join fictional friends Marie and Brian on a journey in her book, Harry the Snakebird.
At Capitol Lake, the kids meet Harry, who appears to be a hairy snake poking his head out of the water but is really an anhinga or snakebird. After a torrential rain, the kids return to the lake to find floating trash and their feathered friend in distress. While trying to spear a fish, Harry's beak become encircled by a ponytail holder, which prevents him from eating. After the kids and some adults remove the band and save the bird, the kids try to find out where the trash came from and what they can do to prevent water pollution.
An educator with a master's degree in library science, Carbo was inspired to write the book after cleaning up litter at Capitol Lake with a neighbor and founder of the Louisiana Stormwater Coalition. The grassroots nonprofit educates the public about the benefits of permanently funded stormwater management programs and their potential to minimize the flooding and reduce pollution on streets and in watersheds.
Seeing the trash in the lake, hearing stories of wildlife saved from death by litter and understanding the urgency of protecting natural resources for the next generation, Carbo identified an overlooked audience likely to internalize the importance of the issue and answer the call-to-action.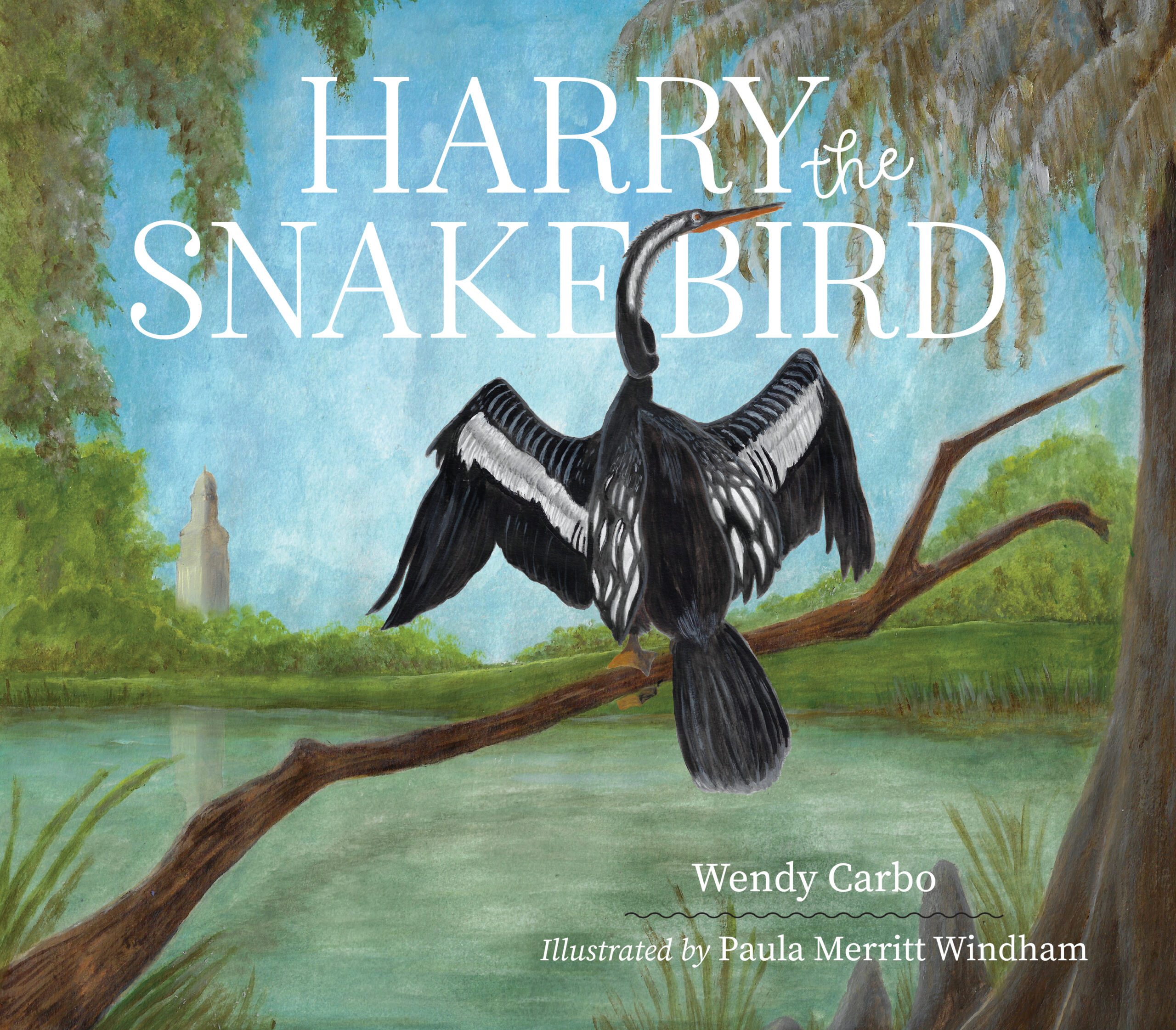 "We really needed to make children aware of what's happening to these animals on the lake because this is a common thing," she says.
Relying on her 15 years of elementary school experience, Carbo chose a central character who would capture kids' attention.
"There's no better way to reach children than through animals because they love animals," she says. "If you can help them to emotionally connect with a character like Harry and understand this bird really suffered, they won't want to see a ponytail holder or trash on the ground ever again."
Carbo and the Louisiana Stormwater Coalition team developed a strategy to make the book accessible to children of all reading levels and at a variety of locations throughout the state. The Stormwater Coalition also collaborated on a classroom distribution plan with Keep Louisiana Beautiful, which engages elementary students throughout the state in environ- mental education.
Since the book's release in December 2022, Carbo has been surprised by its ability to attract an audience ranging from toddlers to teens. Carbo finds the youngest children are captivated by the flowing, soft, swampy watercolor illustrations of Slidell artist Paula Merritt Windham.
And the fact the story is true resonates with older kids, who flip to the back pages to see pictures of the real Marie (Constantin) and Brian (Boudreaux) and, of course, Harry. Even adult readers can appreciate the book's underlying truth: Something or someone small can have a big impact on the world.
"How many times do we see some- thing on the ground and don't think anything of it because it's small," Carbo asks. "You don't realize a little ponytail holder could actually kill a bird."
While something small and seemingly insignificant can be the source of problem, small actions taken
by even the youngest children can contribute to the solution.
"Even though they can't fix the problem themselves," she says, "I hope children realize they have the power and influence to make a difference."
Harry the Snakebird is available at Knock Knock Children's Museum, the Foyer and Red Onion as well as at harrythesnakebird.com. Proceeds benefit environmental causes in Louisiana.
---
Find more inspiring stories in our August issue, and sign up for the inRegister@HOME newsletter here.